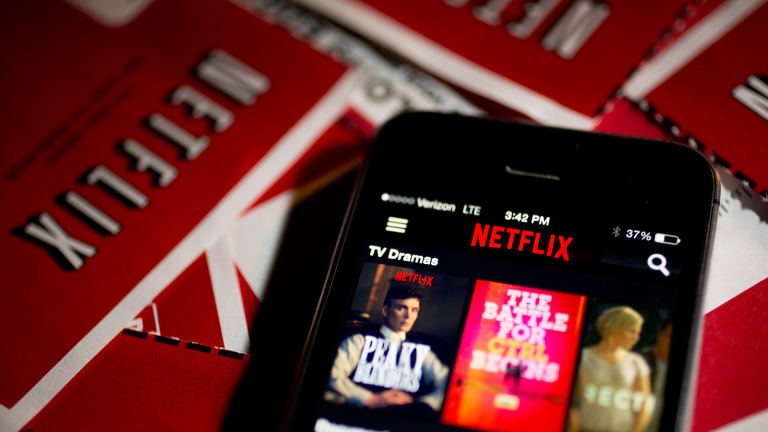 Netflix Has Analysts Bolting After Split, Big Gains: What Wall Street's Saying
Shares of streaming video giant Netflix have doubled in 2015, and it's planning more high-cost international expansions -- two of several good reasons it may be time to sell.
NEW YORK (TheStreet) -- Netflix's (NFLX) stock-split announcement may have impressed some investors on Wednesday, but analysts were planning a different sort of split Thursday as some downgraded shares of the Internet streaming service.
Shares of the Los Gatos, Calif.-based company rose to a record price of $706.24 on Wednesday after the company announced late Tuesday that it will enact a 7-for-1 stock split on July 2, with shares trading at the new price starting July 15.
Following the news, billionaire investor Carl Icahn said he had sold his remaining position in the company -- about 1.4 million, according to filings made at the end of the first quarter of 2015 -- pushing the stock to close in the red on Wednesday, ending at $678.61.
Icahn purchased much of his stake in the company in October 2012, when shares of the company were trading below $80.
Shares continued to sell-off on Thursday, falling another 1.4% to $669.21 as several analysts changed their opinions on the Reed Hastings-led company.
When the company posted first quarter results in April, a higher-than-expected increase in subscribers was strong enough to pull the stock to a new high. Now, expansion is worrying analysts, who fear the cost of moving into other countries will stunt growth in the short-term though possibly lead to better results in the coming years.
Here's what a few had to say:
Pacific Crest analyst Andy Hargreaves (Overweight, $665 PT)
"We see a neutral near-term risk/reward as NFLX likely prices in potential upside prior to the global expansion in 2016. Beyond that, we continue to believe the secular transition to online video, Netflix's leadership position, and potential upside in the model can drive the shares higher. We remain Overweight and recommend buying on any material pullbacks."
Citi analyst Mark May (Neutral, $722 PT)
"We are downgrading NFLX to Neutral from Buy for 4 main reasons: 1) shares are up 99% YTD, 43% since the 1Q15 report, 49% since our 4/10/15 upgrade, and now trade only 6% below our $722 target; 2) while we've presented an upside case of more than $950/share, we believe investors are unlikely to ascribe this full value until there are more signs of traction in recently launched markets, which may not be imminent; 3) in each of the past three years, NFLX shares have consistently sold off meaningfully following the 2Q and 3Q earnings reports (see Figure 5); and, 4) the ratio of sell-side Buy ratings has only been this high once before (and that was nine years ago). To be clear, this is not a call on NFLX's 2Q results or 3Q guidance (which we believe are not at risk), and we remain  positive on the long-term growth outlook for Netflix."
Societe Generale analyst Christophe Cherblanc (Sell, $585 PT)
"Netflix's investment case is fiendishly simple and attractive, as the only low-price, ad-free, online streaming platform boasting a global opportunity of 730m broadband homes, a figure that should steadily increase over the coming years. We continue to believe Netflix's value proposition, which is deeply disruptive in its domestic market at a price point equivalent to one-tenth of average US cable TV bills, will prove less compelling in International markets enjoying more affordable TV free/pay TV content."
This article is commentary by an independent contributor. At the time of publication, the author held no positions in the stocks mentioned.