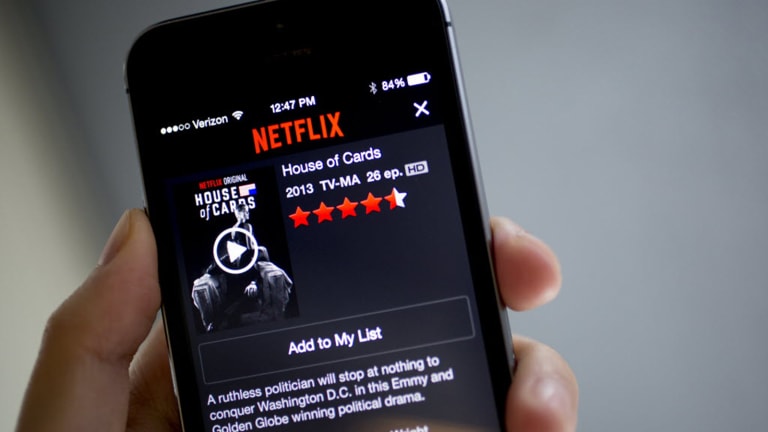 Netflix Has a Lot to Say but Not About This One Thing
When Netflix reported its first-quarter results, it touted the success of many shows and the anticipation for new ones. But it's being mum on the expensive prestige drama 'Marco Polo.'
NEW YORK (TheStreet) -- When Netflix (NFLX) - Get Netflix, Inc. (NFLX) Report reported its first-quarter results late on Wednesday, there seemed to be little that the online video-streaming company was willing to not talk about.
The number of subscribers rose by 4.9 million from the fourth-quarter of 2014 to 62.3 million worldwide. Revenue from video streaming climbed to $1.4 billion from about $1 billion a year ago. Market reaction was uniformly positive, with Netflix shares soaring, hitting an all-time high. Netflix shares were priced at $571.55 at the market's close on Friday.
Since Netflix continues to put more attention on its original and exclusive programs, it used the earnings report to tout the success of the Kevin Spacey-led political drama House of Cards, Tina Fey's new comedy, Unbreakable Kimmy Schmidt, and the drama Bloodline, starring Kyle Chandler, formerly of Friday Night Lights, an offering from NBCUniversal, which is now fully owned by Comcast (CMCSA) - Get Comcast Corporation Class A Report. 
Yet with all those mentions and with nods to the upcoming third season of Orange Is the New Black as well as other original shows in the works, one major Netflix exclusive didn't get covered by the company: its $90 million, 10-part period drama, Marco Polo.
"Their three duds are
Marco Polo
,
Hemlock Grove
and
BoJack Horseman
," said Michael Pachter, who covers Netflix for Wedbush Securities. There was no mention of any of them, which have on average a "score of 50 on Metacritic. But they called out the new ones that averaged 75. I don't blame them for bragging about what works and ignoring what doesn't."
Being able to determine whether Marco Polo or any Netflix offering qualifies as a hit among viewers is almost a fool's errand. Netflix doesn't release any exact data on how many subscribers watch its shows, but the company did say viewers watched 10 billion hours on Netflix in the first quarter without breaking that figure down by show. Nielsen is attempting to generate data on the viewing habits of Netflix's 62.3 million subscribers.
Netflix said in January, upon releasing its fourth-quarter results, that Marco Polo had "struck a chord" with its viewers and it had given the show the green light for a second season to premiere in 2016. The program, which debuted its first season in December, has almost vanished from Netflix's promotional efforts and public attention amid mixed critical reviews.
Marco Polo is different from many of Netflix's original shows in several respects.
The program was originally intended to debut on Starz (STRZA) . But Starz reportedly backed out of carrying the show due to its high production costs. The show was released back to the Weinstein Co. and then picked up by Netflix. And unlike Netflix's other originals, the cast of Marco Polo is loaded with actors largely unknown to American viewers. For the U.S. market, the most-recognizable name is probably actress Joan Chen, who was on the ABC series Twin Peaks in the in early 1990s.
"That makes its a little more difficult to bring some viewers into that kind of situation," said Bill Carroll, vice president and director of content strategy at media-representation firm Katz Television Group. "But Netflix has been expanding more internationally," he said. The thought was that "Marco Polo would have a broader canvas and greater appeal in an international arena."
And then there's the matter of the $90 million price tag.
Wedbush's Pachter, who holds an underperform rating on Netflix's stock, said the amount the company spent on Marco Polo is emblematic of Netflix's rising content costs. In the first quarter, streaming liabilities rose $626 million and there was deferred recognition of $1 billion in streaming content spending over the last two quarters.
"It's crazy how they spend so much and nobody cares," Pachter said. "It reminds me of Pets.com and the sock puppet."
Carroll tried to put Marco Polo's price tag in perspective. "If you put that [amount] in theatrical parlance, that's half of what would be spent on a Tom Cruise movie. So, in a sense, that $90 million is a lot, but at 10 hours, that's the equivalent of five two-hour movies."
Still, considering Marco Polo is a high-profile prestige show, Caroll said he is surprised to hear so little about it from Los Gatos, Calif.-based Netflix.
"If I spent $90 million, I'd be talking about it," Carroll said. "But it's hard to know because Netflix doesn't really tell you a lot."
This article is commentary by an independent contributor. At the time of publication, the author held no positions in the stocks mentioned.