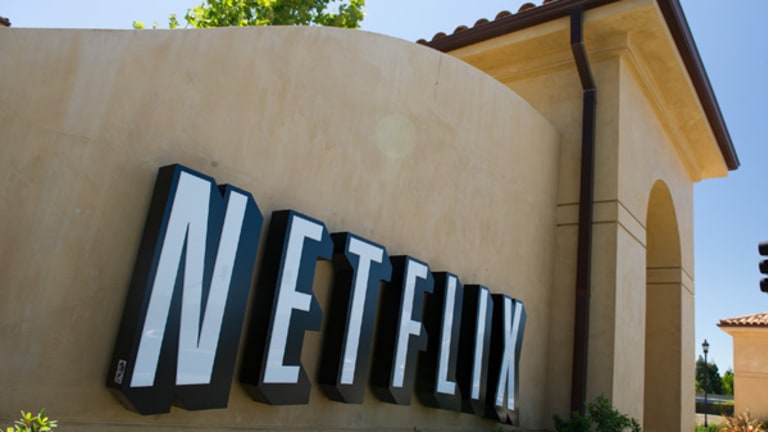 Netflix Dominates Internet Traffic
Netflix now dominates all the traffic on North American networks, according to research from Sandvine.
NEW YORK (
) - Internet usage continues to grow at a red-hot pace in North America. It's up 120% since 2011, on fixed-line networks, according to the people who measure such things at
.
But the larger story is exactly what kind of Internet traffic is fueling the explosive growth. It's not email or Web browsing. It's video - and lots of it.
The experts say
Netflix
(NFLX) - Get Free Report
now dominates all the traffic on North American networks. Sandvine's research shows that Netflix now accounts for one-third (33%) of peak period download traffic. When you add all time periods, Netflix commands 29% of all North American Internet bandwidth.
Amazon
(AMZN) - Get Free Report
, Hulu and
Time Warner's
(TWX)
HBO Go are also showing increased traffic.
In second place overall is
Google's
(GOOG) - Get Free Report
YouTube with 13%. Old-fashioned HTTP Web browsing garners just under 12%, BitTorrent 10.3%, and
Apple's
(AAPL) - Get Free Report
iTunes has 3.4% to round out the top five.
Facebook
(FB) - Get Free Report
sits in ninth place with 1.5%.
Looking at the numbers another way, if you add all the video with audio streaming as well (from sites like iTunes, Amazon, Spotify and others), you come up with an amazing number - 65% of all Internet traffic between 9 pm and midnight is now consumed by audio/video streaming.
Around the world, YouTube now accounts for 20% of peak period Internet traffic in Europe and in Asia, where pay video services are scarce, BitTorrent registers a whopping 36% of the total Internet traffic in the region.
--Written by Gary Krakow in New York.
>To submit a news tip, send an email to:
.
Gary Krakow is TheStreet's senior technology correspondent.