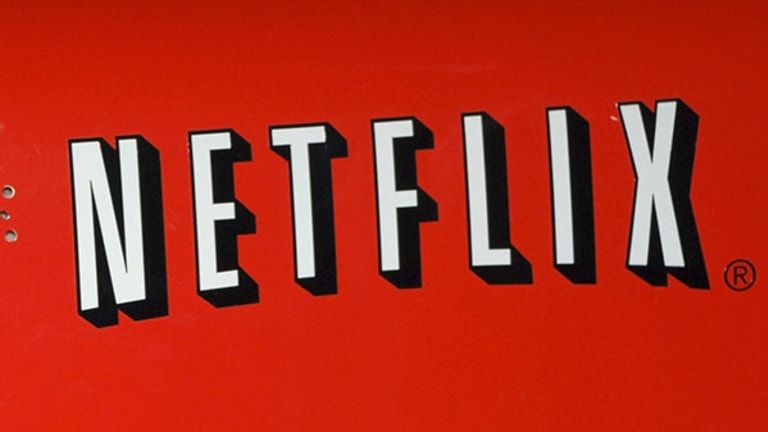 Netflix Attacks Comcast, Time Warner Cable Merger
Netflix continued to criticize Comcast's proposed $45 billion takeover of Time Warner Cable, calling the merger anticompetitive in a letter appended to the company's better-than-expected first quarter earnings.
NEW YORK (TheStreet) - Netflix (NFLX) - Get Netflix, Inc. (NFLX) Report continued to criticize Comcast's (CMCSA) - Get Comcast Corporation Class A Report proposed $45 billion takeover of Time Warner Cable (TWC) , calling the merger anti-competitive in a letter appended to the company's better-than-expected first quarter earnings.
In a manner characteristic of Netflix's iconic character, Frank Underwood of House of Cards fame, CEO Reed Hastings may smell an opportunity in the merger to solve a long-running risk for the steaming video service. Netflix has successfully used Comcast's merger with Time Warner Cable to strike fear in Washington that broadband providers will soon set up a prohibitively expensive toll road between shows such as House of Cards and TV sets across the U.S.
Undue power through mergers and acquisitions or cartel pricing could force Netflix and its streaming video competitors to pay up for their broadband usage, Hastings & Co. have argued. Those costs, of course, would be borne by consumers.
It doesn't appear Netflix is going to back down anytime soon. Ultimately, however, Netflix may see that it currently wields the leverage to solve a standoff between streaming video firms and broadband providers.
After all, Netflix already solved its issues with Comcast through an interconnection agreement. Other than a rejection of the Comcast and Time Warner Cable merger, similar deals may prove its desired outcome.
What Netflix Said
Netflix didn't mince words when addressing the Comcast and Time Warner Cable merger on Monday.
"Comcast is already dominant enough to be able to capture unprecedented fees from transit providers and services such as Netflix. The combined company would possess even more anti-competitive leverage to charge arbitrary interconnection tolls for access to their customers. For this reason, Netflix opposes this merger," Netflix said.
The company's comments are unsurprising. In March, Netflix criticized what it perceived to be an assault on so-called net neutrality, which could allow broadband providers to charge a toll for interconnection to services like Netflix, YouTube, Skype or intermediaries like Cogent, Akamai and Level 3 Communications.
Those comments were aimed at Internet service providers (ISPs) such as AT&T, Comcast and Verizon. However, Netflix has also been willing to point its finger directly at Comcast, which is lobbying for the merger of the two biggest cable and internet providers in the United States.
"If the Comcast and Time Warner Cable merger is approved, the combined company's footprint will pass over 60 percent of U.S. broadband households, after the proposed divestiture, with most of those homes having Comcast as the only option for truly high-speed broadband (>10Mbps)," Netflix said on Monday.
"As DSL fades in favor of cable Internet, Comcast could control high-speed broadband to the majority of American homes," the company added.
Netflix's lashing criticisms of the Comcast and Time Warner Cable merger came as somewhat of a surprise in March.
Netflix and Comcast Reach Deal
In February, just after the merger was announced, Netflix signed an interconnection that will all-but guarantee Comcast's U.S. broadband customers with a high-quality Netflix video for years to come. In defending its Time Warner Cable merger effort, Comcast has even pointed to its Netflix interconnection deal as a benefit to consumers.
The agreement amounts to a multi-year punt by Netflix and Comcast on a controversial network-access issue that's hung over the broadband industry for years. A punt, instead of a stand-off between Netflix and Comcast can be seen as a win for consumers, especially if other large broadband providers follow suit.
Verizon (VZ) - Get Verizon Communications Inc. Report indicated in February it would soon pursue an interchange deal with Netflix, while AT&T has criticized Netflix's tone on interconnection.
When subscribers stream Netflix video, there is an interchange between Netflix and a subscriber's ISP. Whether Netflix should or shouldn't pay for that interchange has been an issue hanging over the broadband industry for a long time.
Through its Open Connect program and relationships with third parties like Cogent Networks, Netflix has generally accounted for about 30% of an ISP's Internet traffic in peak hours, meaning the streaming service has benefited from a one-way flow of data.
After saying it wouldn't pay ISP's for that asymmetrical data flow, Netflix did just that. Terms of February interchange deal weren't disclosed.
Then the company changed tune.
In March, Netflix said it cut the interconnection agreement with Comcast because it had no other options and because it wanted to protect consumers. "A few weeks ago, we agreed to pay Comcast and our members are now getting a good experience again. Comcast has been an industry leader in supporting weak net neutrality, and we hope they'll support strong net neutrality as well," Netflix said in March.
"Netflix believes strong net neutrality is critical, but in the near term we will in cases pay the toll to the powerful ISPs to protect our consumer experience. When we do so, we don't pay for priority access against competitors, just for interconnection," the company added.
A Settlement on the Horizon?
From Comcast's perspective, issues surrounding interconnection and net neutrality are irrelevant to the company's Time Warner Cable merger effort.
At a Senate hearing in April on the merger, Comcast executives reiterated that they are bound by net neutrality pacts stemming from the company's takeover of NBCUniversal through 2018. By the time those commitments expire, David Cohen, Comcast's head of public affairs said he believed issues such as interchange fees should be solved.
Bottom Line: Netflix continues to use Comcast's merger with Time Warner Cable to advocate stronger net neutrality protection. The merger, however, may ultimately mark the beginning of the end of a standoff between Netflix and broadband providers.
-- Written by Antoine Gara in New York.