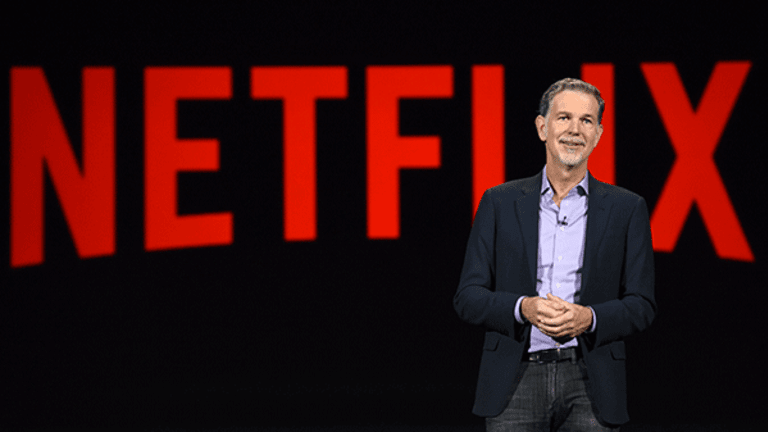 Netflix, Amazon Build on Momentum as Their Content Efforts Are Paying Off
A 451 Research survey shows that 33% chose their streaming service for its original content.
The billions that Netflix (NFLX) - Get Netflix, Inc. Report  and Amazon (AMZN) - Get Amazon.com, Inc. Report are spending to develop original content are paying off, with an increasing number of subscribers saying that's why they're willing to pay for the services, according to a note from IT research firm 451 Research on Monday. 
According to the firm's quarterly Voice of the Connected User Landscape (VoCUL) survey of 1,270 North American respondents, 33% chose their streaming service for its original content, which is up eight percentage points from a year ago. The survey choices of "access to movies" and "access to complete seasons of TV shows" were the top reasons to choose a streaming service at 50% and 45%, respectively, but they saw less year over year growth than "original content."
"The momentum which original content has grown in terms of importance over the years in these quarterly surveys is pretty incredible," said 451 Research managing director Andy Golub. "If you look back in our surveys over the past few years, original content was not nearly as high as the movies and TV categories." 
This means there shouldn't be as much investor push-back about expectations for Netflix to spend $6 billion on content in 2017, up from $5 billion in 2016 or about Amazon spending $4 billion on content in 2017, up from $3 billion this past year. 
With both services pushing further into the original content scene, its importance has increased for the subscribers of Netflix and Amazon in particular vs. Time Warner's (TWX) HBO and CBS's (CBS) - Get CBS Corporation Class B Report Showtime. The VoCUL survey showed that 36% of Netflix subscribers chose the service for its original content, an increase of nine percentage points year over year, and 36% of Amazon Video users chose it for its original content, up 14 percentage points year over year. 
The survey's findings are in line with a survey of 1,000 German consumers and 600 Indian consumers that Jefferies released a note on last week. According to the survey, the majority of both Indian and German SVOD (subscription video on demand) respondents said that the shows they watch the most on Netflix were the high-quality original shows, even saying they would accept a moderate price increase to keep watching them. "Strong original content launches offset the effect of price increases and higher levels of global competition," the firm wrote. 
As Netflix and Amazon continue to increase their content spending to stay ahead, the original content should only get better. "Based on our survey results, it appears that the majority of respondents believe that each platform's content is 'improving' or 'getting much better,'" Jefferies noted about Netflix's Indian and German users.
Since Amazon got into content after Netflix, Amazon Video users are growing at a steeper rate than Netflix year over year. However, Netflix is still the dominant player in the space with 79% of respondents saying they subscribe to Netflix, vs. 53% to Amazon Video (up 5 percentage points year over year). "Netflix has been the 800 lb. gorilla in the room for many years, hovering around the 80% mark, while Amazon has shown the most growth, ticking up by a few percentage points each quarter," Golub said. 
Having original content is important for streaming services as a differentiating factor that can attract and keep subscribers in an increasingly competitive environment, Golub said. "One big hit in original content can drive sales in and of itself for streaming services," he said.
Currently, Amazon Video is attracting viewers for its original content at a higher rate than Netflix. Amazon Video user respondents who said original content was what they watched most on the service increased to 31% from 7% year over year, vs. 32% from 20% for Netflix. That should even out as Amazon Video becomes a more mature player in the sector, like Netflix. 
In addition, the survey found that an increasing number of people are willing to pay for more than one streaming service, with 19% of streaming subscribers saying they now pay for three or more services. That's because viewers are starting to "create their own bundle of content" with HBO, Showtime, Hulu, controlled jointly by Disney, Comcast's (CMCSA) - Get Comcast Corporation Class A Report NBCUniversal and 21st Century Fox (FOXA) - Get Fox Corporation Class A Report, Netflix, Amazon Video and other players. Each service has its own branding to try to differentiate itself, such as Hulu being known for its vast TV library, Golub said.
"It's getting pretty muddy in terms of competition and subscribers are going to have a hard time sorting through all the nuances so the more they can separate themselves through things like original shows, the better," he explained.