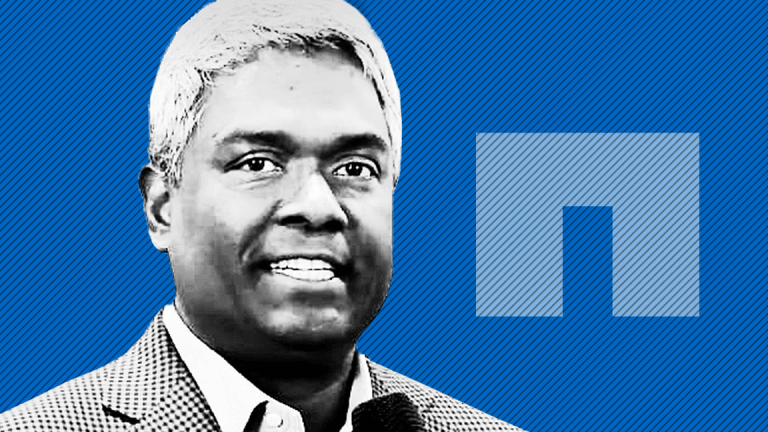 NetApp's Stock Tumbles Post-Earnings; CEO Makes His Case to TheStreet
Following NetApp's release of downbeat results and quarterly guidance, CEO George Kurian argues larger contributions from NetApp's growing flash storage and cloud software businesses will help sales rebound.
NetApp's (NTAP) shares were plummeting on Thursday after the storage hardware and software giant shared disappointing results and quarterly guidance that were blamed on several factors.
At the same time, NetApp did issue a somewhat better full-year outlook -- an outlook that its CEO says is attainable with the help of sales team changes and larger contributions from high-growth businesses.
NetApp's Results and Guidance
On Wednesday afternoon, NetApp reported April quarter (fiscal fourth quarter) revenue of $1.59 billion (up 4% annually) and non-GAAP EPS of $1.22, missing consensus analyst estimates of $1.64 billion and $1.26, respectively. The company also guided for July quarter revenue of $1.315 billion to $1.465 billion and EPS of $0.78 to $0.86; that's below consensus estimates of $1.48 billion and $1.05, with the midpoint of the revenue outlook implying a 6% annual revenue drop.
For the whole of fiscal 2020 (it ends in April 2020), NetApp is guiding for revenue to grow at the low end of "[a] mid-single-digit range." In addition, CFO Ron Pasek said on NetApp's earnings call that the company is "committed to delivering low-teens EPS growth" before accounting for the impact of new stock buybacks, and that it has recently "conducted workforce realignments." Relative to the company's reported fiscal 2019 numbers, pre-earnings consensus estimates implied 4% revenue growth and 11% EPS growth.
As of the time of this article, NetApp's stock is down 10.4% in Thursday trading to $60.05, leaving them up just fractionally on the year. They now sport an enterprise value (market cap minus net cash) equal to less than 10 times a fiscal 2020 free cash flow (FCF) consensus estimate of $1.32 billion.
Following the release of NetApp's report, I had another chance to talk with CEO George Kurian -- previously interviewed following NetApp's April, July and October quarterly reports in 2018 -- about his company's numbers, as well as his thoughts on several of NetApp's businesses.
Here's a look at some of Kurian's remarks on topics of interest: 
What's Behind Near-Term Sales Pressures
When asked about NetApp's light quarterly guidance, Kurian said NetApp is seeing "continued caution" among customers with regards to large data center purchases. Some of this caution, he added, exists in regions where macro pressures are a concern. However -- at a time when public cloud infrastructure demand continues eating into sales of traditional enterprise servers and storage systems -- Kurian added that there are "ongoing discussions about what part of the data center stays within the data center, and what part goes to the public cloud."
Separately, on NetApp's call, Kurian said NetApp was inconsistent in its "go-to-market execution" in the April quarter, and is responding by overhauling its sales and distribution efforts. He also said NetApp didn't execute well on deal renewals, and that the part of its business that involves products sold by OEM partners fell significantly.
Also mentioned during our talk: NetApp is dealing with tough annual comparisons in the July quarter, since year-ago revenue was up 12% annually with the help of $90 million worth of one-time enterprise license agreement (ELA) payments. In addition, Kurian observed forex swings (a problem for many U.S. multinationals) are expected to act as a 1.5-percentage-point headwind to revenue growth during the quarter.

Flash Storage and 'Private Cloud' Product Sales
Though its performance disappointed in the April quarter, with revenue growth slowing to 11% from the January quarter's 19%, Kurian remained upbeat about the ability of NetApp's all-flash storage array (AFA) business to be a growth driver in fiscal 2020. The annualized revenue run rate for NetApp's AFA products is now at $2.7 billion.
Kurian also forecast another strong year for the various offerings referred to by NetApp as its private cloud solutions -- its modular SolidFire AFAs, its StorageGRID object storage solutions and its hyperconverged infrastructure (HCI) offerings, which integrate server and storage capabilities. These products are collectively said to now have an annualized revenue run rate above $600 million, and to have recorded triple-digit revenue growth in each of the last three quarters.
Cloud Storage Software Growth
NetApp's various "cloud data services" -- subscription-based offerings used to manage, secure, back up and optimize the performance and reliability of cloud storage assets -- grew strongly off a relatively small base. Their annualized recurring revenue (ARR) grew 55% sequentially to $51 million.
Kurian says NetApp saw "really strong performance" for its Cloud Volumes storage management software on Amazon.com (AMZN)  and Microsoft's (MSFT) public clouds. He also forecast the general availability of Azure NetApp Files, a file system solution for Microsoft Azure, will provide another "inflection point" for the business, and mentioned NetApp is now directing more sales resources towards growing both its cloud data services and private cloud businesses.
Last year, Kurian said NetApp expects offerings running on public clouds to produce $400 million to $600 million in ARR by the end of fiscal 2021.

Next-Gen Memory and Cloud Backup Software
While cautioning that it's still early, Kurian mentioned NetApp is seeing some interest in the use of Intel's
(INTC)
Optane next-gen memory -- it strikes a middle ground between DRAM and flash memory in terms of performance, density and cost -- to improve the performance of demanding workloads such as in-memory databases and the running of complex algorithms. In April, around the same time that Intel made Optane main memory modules (DIMMs) generally available,
its systems would support Optane DIMMs via its MAX Data software, which leverages technology obtained in 2017 through the acquisition of startup Plexistor.
Along similar lines, Kurian says NetApp is seeing some momentum for software offerings used to back up data from popular cloud apps. The majority of this business is said to currently involve Microsoft's Office 365 platform, but Kurian noted NetApp is also seeing some "early traction" for its Salesforce.com (CRM)  backup solution.
The Lenovo Partnership
Ten months ago, NetApp announced a partnership with Chinese IT giant Lenovo that called for Lenovo to resell NetApp's products and for the companies to launch a Chinese storage joint venture. Kurian says the JV is now operational, and "off to a good start." However, he adds there's "more work to do" when it comes to the partnership's OEM distribution efforts.
"I think what we recognized earlier than most is that to continue to be a viable player in the China market, you need to work with a local partner," Kurian said, while also talking up Lenovo's reach outside of China and calling the partnership a "multi-year strategic relationship."
Thoughts on M&A
When asked about NetApp's thinking regarding M&A, Kurian suggested NetApp will make additional moves to strengthen its cloud data services business. Recent deals that fit this description include the 2017 acquisition of cloud management software firm Greenqloud and the 2018 acquisition of Stackpoint, a provider of software used to manage deployments of app containers running the popular Kubernetes container orchestration software across cloud environments.
"I think you'll see a lot more from us [in terms of] looking at new ways to enable data services in the public clouds, and there will be acquisitions to support that over time," he said.
Amazon.com, Microsoft and Salesforce.com are holdings in Jim Cramer's Action Alerts PLUS member club. Want to be alerted before Jim Cramer buys or sells AMZN, MSFT or CRM? Learn more now.