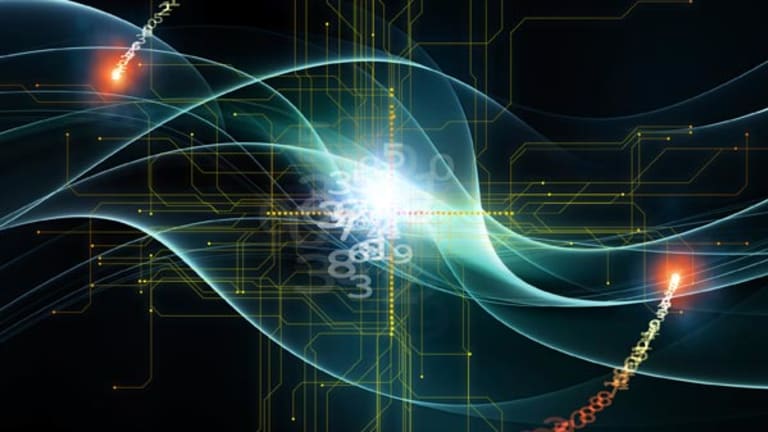 NetApp Stokes Recovery Fires, but Shares Slump
Investors are unmoved by NetApp's solid first quarter.
SUNNYVALE, Calif. (
) -- Storage company
NetApp's
(NTAP) - Get NetApp, Inc. Report
strong
provide yet more evidence that IT spending is creeping back, although the company's shares plunged in Thursday trading.
Tech has been challenging Brett Favre in the comeback stakes recently with plenty of
about a spending
. NetApp, however, was unwilling to give any hostages to fortune when it released its results after market close Wednesday.
Despite comfortably beating analysts' estimates, NetApp declined to provide second-quarter sales guidance, which appears to be weighing heavily on investors. The Sunnyvale, Calif.-based firm also announced that COO Tom Georgens had replaced Dan Warmenhoven as CEO as part of a "planned transition" which sees Warmenhoven become the company's executive chairman.
The market was underwhelmed by the news. NetApp's shares fell $1.09, or 4.78%, to $21.79, reversing the modest gain in tech stocks that saw the Nasdaq rise 0.59%.
Investors may also be spooked by NetApp's first-quarter operating expenses, according to Wedbush Morgan analyst Kaushik Roy. The company's OPEX came in at $444 million, above NetApp's own guidance, although Roy thinks that this should stabilize during the coming months.
"
The sudden increase in opex in FQ1 could be concerning to investors, but opex should return to a more normal level in the next few quarters," he wrote, in a note released Thursday. On a conference call late Wednesday, for example, NetApp indicated that they would not make any significant hiring until the company gets to its target operating margin of 15%-16%.
Roy also believes that NetApp's CEO swap could benefit the company, which is locked in a share battle with rivals
EMC
(EMC)
and
Hewlett-Packard
.
"Tom Georgens should be a positive for NetApp employees, customers and shareholders," he wrote, adding that Georgens worked at
LSI
(LSI) - Get Life Storage, Inc. Report
and EMC earlier in his career. "While Dan Warmenhoven has done an amazing job in building NetApp to a $3 billion plus company, we believe Tom Georgens brings an outside perspective and has more energy."
Warmenhoven had planned to relinquish the CEO's role prior to his 60th birthday, which is about five quarters from now, but decided that now is a good time to hand over the reins. With the tech sector in a state of flux driven by
and technologies such as cloud computing and virtualization coming to the fore, NetApp's timing may be spot on.
"It seems wise to make the CEO change at the beginning of an era," said Warmenhoven, during the conference call late Wednesday. "Tom is absolutely the right person to succeed me."
As for the wider spending climate, NetApp, like its rival H-P, said that there are signs of stability, something that can only be positive for other tech stocks. The Americas, in particular are creeping back, with revenue increasing 1% both sequentially and year-over-year.
"For the broader hardware group, NetApp provided additional evidence that tech spending is leveling out and should move back to closer to normal seasonality in the back half of the year," wrote David Bailey, an analyst at Goldman Sachs, in a note released Wednesday. "Whilecustomers are still stretching budgets, close rates are becoming more predictable and moving back toward more typical patterns."
NetApp, which recently
to rival
EMC
(EMC)
in the battle to
Data Domain
( DDUP), was also quizzed about its M&A strategy during Wednesday's conference call.
Data Domain is a leader in de-duplication technology, which ensures that the same pieces of information are not stored twice. With users wrestling with ever-growing volumes of data, de-dupe is quickly becoming one of tech's hottest technologies.
"While having Data Domain in our portfolio would have added another growth vector to the company, the absence of Data Domain will not diminish or otherwise make vulnerable the growth prospects of our core business," said Georgens, in response to an analyst's question.
NetApp's new CEO, however, would not dismiss the possibility of similar acquisition attempts down the road.
"I think we are always open to ideas," he said. "Given the opportunity to pick up a property like Data Domain, I think we would be glad to do it."
Georgens did not mention any likely candidates, although there are a handful of companies that provide de-duplication technology. These include backup software specialist
CommVault
(CVLT) - Get CommVault Systems, Inc. Report
, Virtual Tape Library (VTL) firm
FalconStor
(FALC)
, privately held
Sepaton
and
Quantum
(QTM) - Get Quantum Corporation Report
, which already has strong links with EMC.
Written by James Rogers in New York