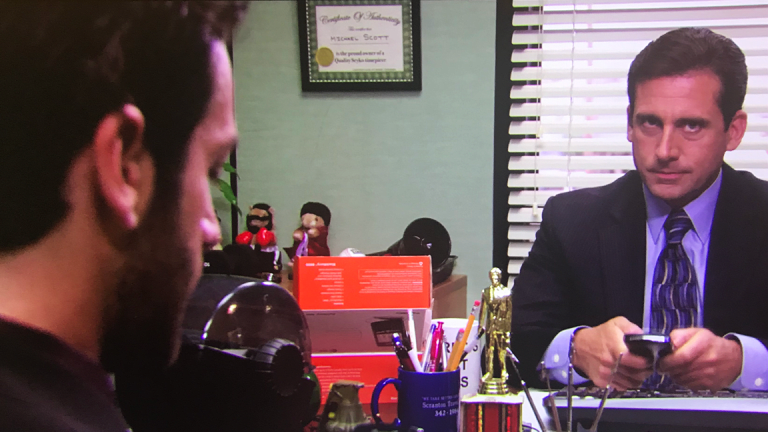 NBC's Plans to Pull The Office From Netflix Might Not Pay Off the Way It Hopes
Starting in 2021, The Office will be streamed via an ad-supported service that will reportedly be free to pay-TV subscribers and cost cord-cutters $10 per month. Such a move carries long-term risks.
While NBCUniversal has its reasons for pulling hit TV series The Office from Netflix, (NFLX) - Get Free Report , the move still feels very much like a case of swimming against the current.
NBCUniversal, which is owned by Comcast (CMCSA) - Get Free Report , will be removing The Office from Netflix at the end of 2020 (when an existing deal ends) and putting it on an ad-supported NBC streaming service that launches next year. The service will reportedly be free to subscribers of traditional pay-TV services, provided an agreement is reached with a particular pay-TV provider, and (though it seems unlikely that many cord-cutters will take up this offer) will be available for $10 per month to cord-cutters.
Netflix reportedly offered Universal Television, the NBCUniversal unit that produced The Office, up to $90 million per year to keep the sitcom, which according to Nielsen's data is its most-streamed show in the U.S.. But -- though this is really a case for money moving between the same company's accounts -- this offer was topped by a 5-year "bid" from NBC featuring a value of $100 million per year.
Assuming that few cord-cutters sign up for the NBC streaming service, the financial value of putting The Office, which was produced from 2005 to 2013, on the service will come from video ad sales and the indirect benefits provided to NBCUniversal and Comcast's pay-TV revenue streams. For NBCUniversal, those indirect benefits consist of potentially higher per-user affiliate fees from pay-TV providers in return for carrying its TV channels and streaming service; for Comcast, they consist of potentially increasing customer loyalty and reducing cord-cutting.
Just maybe, the value of such financial benefits will exceed the $90 million per year in cash that Netflix was reportedly willing to provide to keep The Office. But it's hard to ignore the fact that in an era that's awash in cheap ad-free streaming services with large content libraries, from Netflix to Amazon Prime to the soon-to-launch Disney+ service, The Office is likely to see a major drop in streaming activity, possibly even among pay-TV users who will be getting NBC's service for free.
Aside from hurting The Office's video ad sales and lowering the value it provides as a mechanism for protecting and boosting pay-TV revenue streams, there are indirect consequences to diminished streaming activity for the sitcom. As others have pointed out, The Office, like some other hit shows such as Breaking Bad and The Walking Dead, has obtained quite a lot of first-time viewers via Netflix. Removing such a powerful viewer acquisition vehicle hurts the long-term value that The Office possesses, and could also impact the success of potential reboots or spinoffs.
While some are drawing parallels between NBCUniversal's decision to put The Office on a home-grown service and Disney's (DIS) - Get Free Report decision to pull a host of popular films from Netflix at the end of 2019 and put them on Disney+, there are a host of differences. Disney+ will be ad-free, and initially cost just $6.99 per month for cord-cutters and pay-TV subs alike. And perhaps most importantly, it can lean on Disney's giant content library and intellectual property base, as well as other Disney assets such as its theme parks and retail stores, to help win over consumers. NBC won't have such advantages.
And as NBC works to get its streaming service off the ground, Netflix's scale -- both in terms of subscribers and revenue -- continues growing. Reed Hastings' firm has forecast it will end June with close to 154 million paid subs globally, and is expected on average by analysts to record 2019 revenue of about $20.2 billion.
Netflix's cash content spend totaled $13 billion last year, and the company has indicated it will spend more this year. The more that Netflix's subscriber and revenue bases scale, it can both justify larger investments in originals and justify paying more for popular licensed shows and movies. Likewise, as Amazon Prime keeps adding subscribers and potentially sees additional price hikes, Amazon.com  (AMZN) - Get Free Report can justify spending more on content for Prime Video.
For these reasons, it wouldn't be shocking if NBCUniversal, CBS  (CBS) - Get Free Report and/or other smaller media players that have chosen to keep some of their most valuable content off of Netflix and Prime Video in favor of placing it on their own services reverse course one day for at least a portion of this content. Streaming is very much a scale game, and what could work for Disney won't necessarily work for others.
Comcast, Disney and Amazon.com are holdings in Jim Cramer's Action Alerts PLUS member club. Want to be alerted before Jim Cramer buys or sells CMCSA, DIS or AMZN? Learn more now.
Join Jim Cramer's Action Alerts PLUS club for investors during our July 4th Sale and save 57% off your membership! Click here to save.