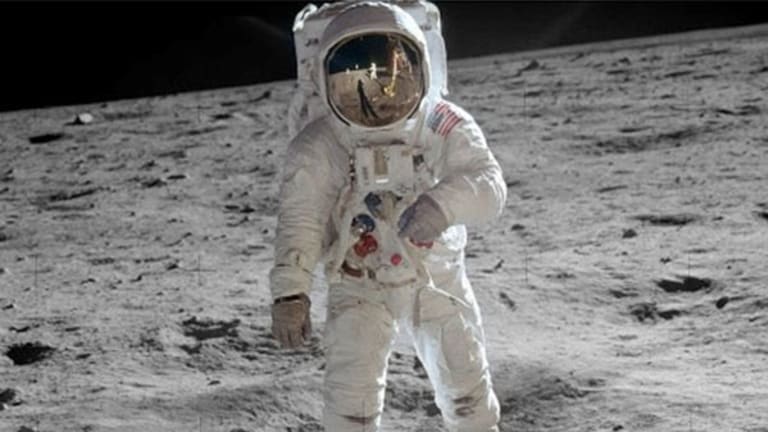 NASA Directors, Astronaut Address the State of the Extraterrestrial Economy
NASA directors Phil McAlister and Sam Scimemi and astronaut Joe Acaba weighed in on the blending of private and public sectors in outer space after Acaba rang the closing bell.
NEW YORK ( TheStreet) -- NASA has been contracting out multiple functions of its missions in space to companies like Boeing (BA)  and SpaceX to cut costs and increase efficiency. Blending the  public and private sectors has benefited space exploration, said Sam Scimemi, acting director for the International Space Station (ISS) division at NASA, Phil McAlister, current director of Commercial Spaceflight at NASA headquarters, and astronaut Joe Acaba, who rang the closing bell at the New York Stock Exchange on June 4.
They represented the Destination Station campaign by NASA's ISS division, which intends to grow national awareness and promote research and education opportunities about ISS. Destination Station also wants to showcase the advantages of ISS for taxpayers.
Unlike the Cold War era Space Race that pit the United States and the USSR against one another, fifteen countries have joined together on the ISS program. This has generated a more collaborative environment.  
With public and privately held companies now involved in an extraterrestrial economy once dominated by government funded agencies, funding for missions has fundamentally changed.
McAlister said that the involvement of the private sector has boosted quality and efficiency. 
"Mostly what we've seen is that the private sector is much faster at doing things," McAlister told TheStreet. "Sometimes they can introduce innovations into their designs a little bit faster, and they are more cost effective. So you put that together, along with NASA's experience and lessons learned, and you come out with a better product than either one of us could have produced individually. So the partnership has been very, very powerful."
With contracts like the one between NASA and SpaceX for the transportation of astronauts to the ISS, private companies are being paid by NASA, which is funded by taxpayer's money. However these private companies are not spending the money in the same way as the government agencies have been. "The government tends to take more risk in their missions than the private sector does," Scimemi said.
He added that companies are more protective about spending their money. "Because it's their own investment, they are not willing to take as much risk in their missions as NASA is," he said.  
Scimemi said that companies are also implementing new technologies at a much faster rate than government agencies have been able to, thus lowering the risk of the missions even further. McAlister went onto explain that this relationship is working well for all parties: "I think our goals are aligned, and we're both spending money on the same things that we both want, which is human space transportation."
This extraterrestrial economy is not only providing competition for the private sector but also for the job market. McAlister explained that "it used to be, there was no place to go for NASA employees, maybe one or two aerospace firms."
That's changed. "Now you've got small entrepreneurial firms, large, more traditional firms, and stuff in the middle," he said, adding, "and we've seen some flows back and forth, and I think that's making both organizations stronger."
The reason for NASA's outsourcing to private companies, similar to that of a multinational, outsourcing nonessential operating activities, is to find "more cost effectiveness,"McAlister said. 
While the ISS is currently a laboratory and research facility orbiting the planet, McAlister hopes to be able to expand space travel to the non-astronaut. "One of the reasons why we're trying to do this is to bring the price of space exploration down so that more average people, that don't necessarily have to be an astronaut, will be able to fly to space soon," he said. "You'll still have to be very wealthy, but you won't have to necessarily have to go through the astronaut corps to get to space. That is what we would like. We would like more people doing more things in space."
Sending untrained people into outer space has its safety concerns. "Human space travel will always be a risky endeavor, no matter if government does it or private industry, so I think attention to detail, attention to safety, it has to be a very, very high standard," Scimemi said, "not only in the government but in the private sector, as well."
But as McAlister points out, seeing the participation of the private sector into previously government run industries is not something new. "We see the private sector taking over other sectors of transportation all the time and nobody seems to be worried about that," he said. "We think the time is right: the companies are strong enough technically and financially that they can perform this mission."