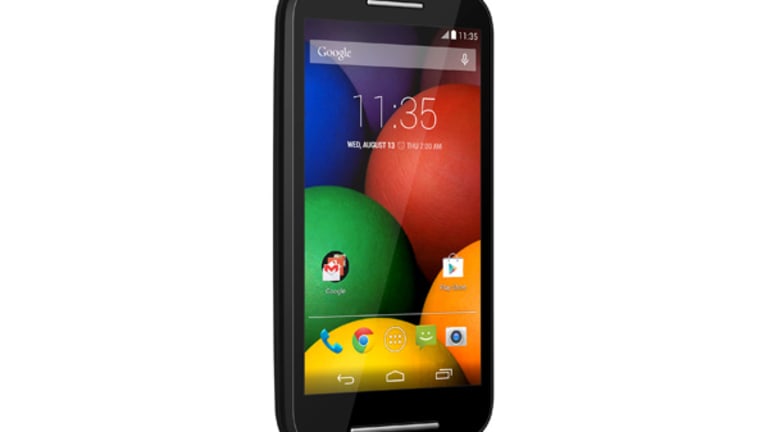 Moto E Smartphone: Review
Can Motorola build a modern $129 smartphone that people will actually like using? The answer is a resounding yes.
Can Motorola build a modern $129 smartphone that people will actually like using? The answer is a resounding yes.
NEW YORK (TheStreet) -- If I compared the importance of the new Moto E smartphone to iconic products of the 20th Century, I'd choose the Volkswagen Beetle as being the industrial model - not really bare bones and not cutting-edge but a solid, affordable product which will get you where you want to go. If the Moto E had a theme song, it would be Theme For The Common Man.
The Moto E is the third and probably final smartphone coming from the pairing of Motorola Mobility and Google (GOOG) - Get Report. The next smartphone model will come from the Lenovo-owned version of Motorola. The same team that brought you the innovative Moto X - and the super-successful $179 (non-contract price) Moto G, has tried its hand at producing an even less expensive device.
Moto E has darn good specs for a smartphone that costs just $129. The Moto E has a 1.2 GHz Qualcomm (QCOM) - Get Report Snapdragon 200 processor, an Adrino 302 graphics chip, 1GB of RAM, 4GB of built-in storage, a microSD expansion slot, a 5 MP rear camera and an almost full HD quality (540 x 960 pixels), 4.3-inch touchscreen which uses Corning (GLW) - Get Report Gorilla Glass 3 protection. Spec wise, the Moto E is similar to what top-of-the-line Android phones were just two to three years ago.
It also has Wi-Fi and Bluetooth capabilities and a 1,980 mAh (not user replaceable) battery pack which does a great job, in concert with the Snapdragon processor, to provide more than two days of battery life.
Like its Moto brethren, the E runs on the latest version of the Android OS 4.4.2, codenamed KitKat. Like the other phone, there's no bloatware, or extra apps stuffed inside. That's a giant plus when you compare any recent Moto phone to model to those from Samsung, HTC, LG and most others Android-based smartphones.
Where the Moto E falls short is that it doesn't have is a front-facing camera or 4G, LTE coverage. Cellular download speeds are limited to 3G and 3.5G networks which is plenty fast for most of the world. The device we reviewed was made for American GSM carriers: AT&T (T) - Get Report or T-Mobile (TMUS) - Get Report and has room for only one SIM card. Global variants will allow the use of dual SIMs. There is even mention of a model which will work on Sprint (S) - Get Report and Verizon (VZ) - Get Report 3G networks if they ever decide to market the phone.
There are other parameters that will remind you this is not a luxury model. It's not really heavy but neither is it lightweight. It's also a little thicker than either of its predecessors, the Moto X or the Moto G. We also noticed that once we opened the phone to see what was inside, the back cover fit was less than solid. It's nothing to worry about, but it's not up to Motorola's usual super-perfect build quality.
For the record, the phone comes in your choice of black or white but, like the Moto G, you can purchase $14.99 "Shells" in one of seven additional colors to brighten up the back.
How It Runs
It's not the world's fastest Android phone on the market today nor should you expect it to be. I did catch it slowing-down once or twice when transitioning from one screen to another, but it's plenty fast for what most people need to do with a smartphone. For those who don't get to test premium handsets, the Moto E is a wonderful performer.
It was able to deal with almost everything I threw at it from handling numerous email accounts, and intense Web searching sessions, to flawlessly streaming video from Netflix  (NFLX) - Get Report, YouTube and audio from Spotify and WiMP. Yes, it also handled my voice calls and SMS messaging with aplomb.
The phone was always able to squeeze the most out of my AT&T cellular and data connection. I never felt hampered in any way by using a budget Android device. As a matter of fact, I never gave it a second thought. The Moto E is just that good.
Add to that the E's super-long battery reserves, and you have a high-performance monster of a "cheap" phone which will soon be available for people living nearly everywhere on this planet.
The Moto E is available for pre-ordering now on Motorola's Website. U.S. phones ordered now should be delivered in early June.
-- Written by Gary Krakow in New York.
To submit a news tip, send an email to tips@thestreet.com.
Gary Krakow is TheStreet's Senior Technology Correspondent.