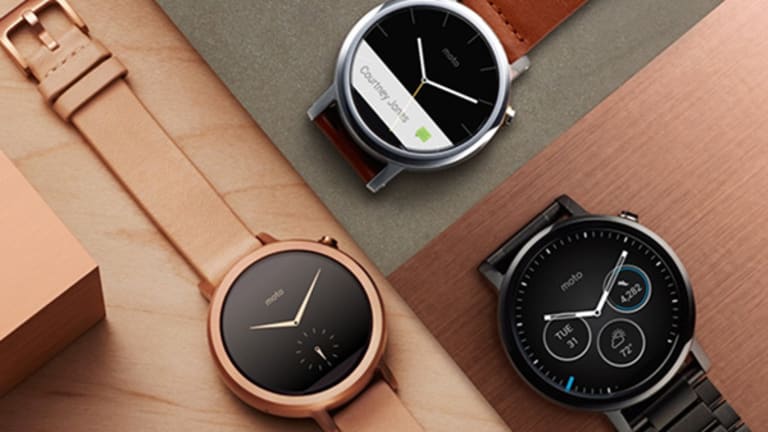 Moto 360 Smartwatch -- Classy and Refined
The new model is more of a very smart watch than a wrist computer that can also display the time.
NEW YORK (TheStreet) -- The 2014 version of Motorola's Moto 360 was one of the better, first-round Android smartwatches. This year's version is even better.
Now that the company is a division of Lenovo (LNVGY) , the 2015 Moto 360 adds a number of new software features as well as more refined, even better looking hardware. The new 360 is a stunner.
Moto 360 comes in two sizes -- 46mm and 42 mm. Both LCD touchscreens are protected by Corning (GLW) - Get Report Gorilla Glass 3. The smaller size device can come with either a 20 mm band for men or 16 mm band for women. The larger model, for men, has a wider 22 mm band.
Crammed inside is a 12 GHz, quad-core Qualcomm (QCOM) - Get Report Snapdragon 400 processor, 512 MB of RAM and 4 GB of internal storage. It wasn't so long ago that that quality of components would have been found in a top-of-the-line smartphone or tablet. Connectivity is accomplished via Wi-Fi and Bluetooth.
Also included are the usual premium smartwatch items such as an accelerometer, ambient light sensor, gyroscope and a vibration/haptics engine for notifications. The 360's rechargeable battery is either 300mAh in the small size or 400mAh in the 46mm design. All Moto 360s are charged in the wireless charging dock included with your watch. In our 46mm test unit, the battery was able to power the device for about a day and a half on a full charge.
The new Moto 360 runs on the latest version of Google's Android Wear operating system. Without detailing exactly what was improved (including watch-to-watch communication, better turn-by-turn on-screen Map directions, battery life), the new software does its job quite well. The most noticeable improvements actually come from Lenovo/Motorola in the form of of a new generation of watch faces and dials. Some of the new, easy-to-install choices are amazing.
That's the major takeaway from our testing of the new design. It looks more like a classic mechanical/electric timepiece than most other smartwatches available today. I had a number of people stop me to ask what kind of watch I was wearing. Most were amazed - even the guy wearing an original Moto 360.
It does all the things you expect from a 2015 smartwatch including health and fitness monitoring (Moto Body), mail, message and voice call alerts as well as downloading/using apps from the Google Play store. But, above all, Motorola has designed a great-looking wristwatch with additional modern-day computer features.
You can purchase a new Moto 360 already that has been designed/configured for you from retailers, but it's more fun to design your own at the Moto online Store. Prices start at $300 for the men's 42mm model, $330 for the women's or $350 for the larger 46mm watch. Chamfered bezels are free and micro-knurled versions are an additional $20. A gold-colored outer case adds $30 and great looking metal bands are an additional $50. Handsome leather bands, not plastic straps, are standard equipment. The 360 we designed retails for $350.
The new Moto 360 is a 100% class act. It works with both Android and iOS devices, looks amazing and accomplishes its goals with aplomb. Highly recommended.
Overall Score: 8.8/10
Buy the Moto 360 Smartwatch on Amazon.
This article is commentary by an independent contributor. At the time of publication, the author held no positions in the stocks mentioned.