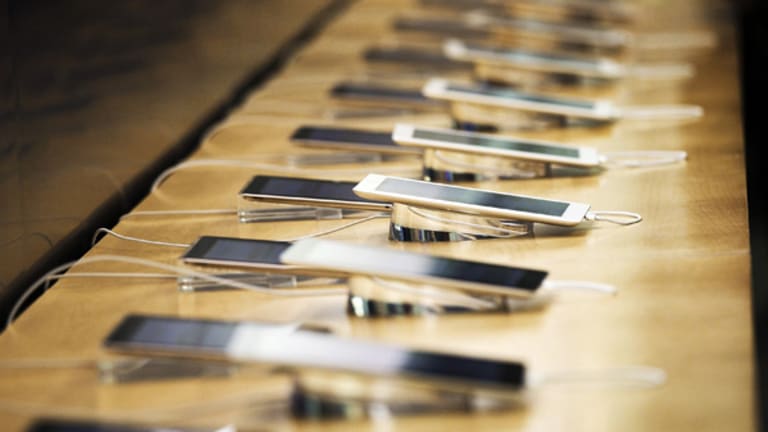 MOST READ: Top 5 Cell Phones of 2008
Culled from a long list of worthy contenders, these phones are the best.
Coming up with this list was not easy, given such a large field of worthy candidates, from the smartest smartphones to the tiniest talkers
But whittle I must. So without further ado and after much testing, using and angst, here are what I believe are the Top 5 cell phones of 2008:
1) Apple (AAPL) iPhone 3G
: This is the best smartphone on the market. It is a multiband world phone, a POP/IMAP/
Microsoft
(MSFT)
Exchange email device, an iPod, a PDA, a master of Web pages, a digital camera and lots more. Basically, it's the best miniature tablet computer/cell phone on the planet.
On the other hand, its battery life is terrible, it lacks cut-and-paste functions, and its cell-phone call quality is sketchy. I used to blame
AT&T's
(T)
3G network for the iPhone's problems, but after testing other phones on the same network, I think the problem lies within the Apple device. The entry price point is $199 (8GB) or $299 (16GB), but when you add in AT&T's service plan charges, the iPhone can become a very expensive cell phone. AT&T lists refurbished iPhones on its Web site for $50 less than un-refurbished handsets.
var config = new Array(); config<BRACKET>"videoId"</BRACKET> = 5611729001; config<BRACKET>"playerTag"</BRACKET> = "TSCM Embedded Video Player"; config<BRACKET>"autoStart"</BRACKET> = false; config<BRACKET>"preloadBackColor"</BRACKET> = "#FFFFFF"; config<BRACKET>"useOverlayMenu"</BRACKET> = "false"; config<BRACKET>"width"</BRACKET> = 265; config<BRACKET>"height"</BRACKET> = 255; config<BRACKET>"playerId"</BRACKET> = 1243645856; createExperience(config, 8);
2) LG Incite
: This phone was a huge surprise for me. I wasn't expecting LG's GSM/GPRS/EDGE/HSDPA world phone to be such a terrific device. The
runs on the latest version of Microsoft's Windows Mobile operating system (6.1) and is a dream to use. Sure, its touchscreen isn't as slick as the iPhone's, but it does work very well. Add to that a 3 megapixel camera, expandable memory, Wi-Fi, Bluetooth and nearly every doodad you can think of, and you get yourself a terrific smartphone. You also get superior battery life (more than a day per charge).
There is no applet store that compares to Apple's, but the phone's operating system can update without its user synching it to a PC. Finally, the LG Incite doesn't drop voice calls, even though it operates on the same AT&T network as the iPhone. After rebates, it sells for $199 on AT&T's Web site.
3) Nokia (NOK) e71
: This little world phone is an absolute gem. It doesn't have a touchscreen (there's a nifty looking touchscreen Nokia coming next year) but it seems to have everything else one could ask for. The
is smaller in person than it looks in a photo but sports an incredibly usable keyboard (even though the keys are small) and nearly every smartphone feature you can think of. The aluminum case gives the phone a wonderful, high-tech feel. Users can even set up two home screens: one for work and one for personal play, each featuring different icons and applications. It can handle Microsoft Exchange mail as well as POP and IMAP mail.
In my tests, the e71 provided three days of battery life per charge with every feature turned on. That's days, not hours. Nokia's application download store should be coming online soon. Unfortunately U.S. carriers aren't offering this amazing handset, but buyers can find it unlocked on Nokia's Web site and through select retailers for $442.
4) Research in Motion's (RIMM) BlackBerry Storm
: I know this pick is somewhat controversial. Some reviewers and early adapters had problems with this phone, but I'm among the testers who did not. This CDMA/world phone and smartphone's mode of operation is unique: The
's entire touchscreen is a mechanical button, so the screen actually clicks when you press it twice. The screen worked perfectly for me, though I wish the one-finger scrolling was a little less sensitive to the touch. Once you get used to the screen's action, the phone is just as addictive to use as the iPhone. The built-in camera measures 3.2 megapixels.
So far the online application downloads are limited. Battery life is average: Figure on getting a full day's use per charge.
Verizon
(VZ)
is selling the Storm for $199 after rebates. Overseas, GSM/GPRS/EDGE/HSDPA phone service worked perfectly in Europe, but service charges could be expensive.
5) BlackBerry Pearl Flip
: Best known as the "
," this does nearly everything that its bigger brothers can do, only slightly more slowly, and it does so in a much more user-friendly package. The Flip is the smallest BlackBerry smartphone ever and it runs on worldwide 2.5G networks (GSM/GPRS/EDGE) which means very slightly slower than the 3G speeds offered in the above examples. That's like the difference between an email loading in one or two seconds.
This phone has no GPS, and the camera is only 2 megapixels. On the flip side, it's a BlackBerry, so it excels at handling your corporate email and nearly everything else. The Flip is also the only phone on my list that costs less than $100.
T-Mobile
(DT)
is offering the Flip for $99.99 after rebates. At that price, it's a true steal among smartphones.
For the record, honorable mentions include the T-Mobile/
Google
(GOOG)
G-1 phone,
Sprint
(S)
Incite, BlackBerry Bold,
Palm
(PALM)
Treo Pro and Nokia N96.
Gary Krakow is TheStreet.com's senior technology correspondent.