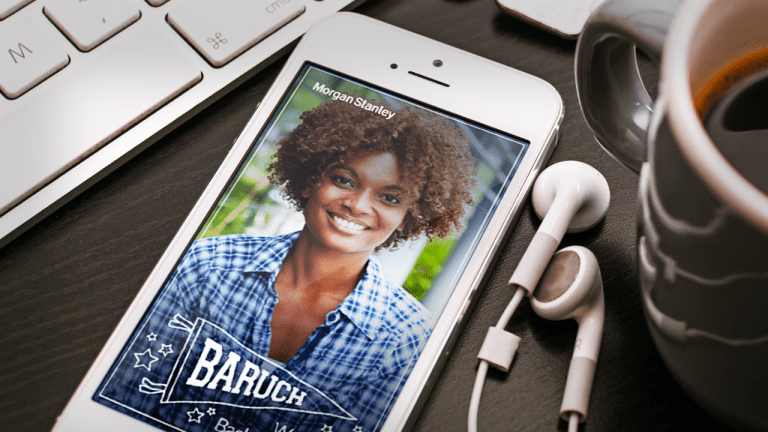 Morgan Stanley Is Using Snapchat to Recruit College Students and Make Them Rich
Snapchat is helping Morgan Stanley recruit college students with a geofilter as more investment banks turn to social media in effort to attract Millennials to its workforce.
Snap Inc.'s (SNAP) Snapchat is helping Morgan Stanley (MS) recruit college students as potential bankers. While banking may get a bad rap as a staid, if lucrative, profession, this marketing move is a sign the global financial services firm is innovating to appear hip to the kids. And it's not the one trying this strategy out for size.
The infamous messaging app is, indeed, giving the 82-year old bank some tech panache as students across 27 colleges and universities in the U.S. were able to take selfies with the Snapchat's geofilter with a Morgan Stanley theme starting on September 13. The universities include Baruch, Brown, Rutgers, Villanova, Harvard, Howard and the University of Pennsylvania, but the bank declined to disclose the other schools.
Morgan Stanley launched its campaign with Snapchat earlier in 2016 in an effort to attract college students, and geofilters were created this summer for its analysts and associates.
"We have to be where the students are," said Lisa Manganello, head of integrated brand marketing at Morgan Stanley. "We want to build on the momentum and leverage and it fits naturally with student behaviors."
The filters include the college or university's name and are designed with the pennant style. The feedback from students has been positive as classes have started again, she said.
The bank could expand the geofilters to include other colleges across the U.S. if this initial program is successful to help them garner a broader and more diverse group of future investment bankers, Manganello said.
Other investment banks are utilizing Snapchat to attract potential Millennial bankers - JPMorgan (JPM) launched a program in 2016 for college graduates at 80 campuses with a 10-second ad and two years ago videos were posted by Goldman Sachs (GS) via Snapchat's Campus Stories platform.
Snap Inc., the parent company of Snapchat, was trading at $15.18 at 2:43 ET on Friday, up by 1.88%. As the lead underwriter the IPO in March, Morgan Stanley yielded $25.71 million in fees or 60 million shares of Snap, according to SEC filings. Goldman received almost 50 million shares or $21.08 million while Deutsche Bank (DB) and JPMorgan and over 20 other banks netted profits.
After the first day of trading, Snap closed at $24.48, but the stock's performance since its IPO has been weak. This yielded a downgrade from Morgan Stanley's analysts which priced the IPO at $17 a share.
While the underwriting team is separate from its analysts department, the appearance is troublesome since its analyst Brian Nowak downgraded the stock and stated it does not expect the company to generate a profit through 2020.
"SNAP's ad product is not evolving/improving as quickly as we expected and Instagram competition is increasing," Nowak said in a note to investors. "We have been wrong about SNAP's ability to innovate and improve its ad product this year (improving scalability, targeting, measurability, etc.) and user monetization as it works to move beyond 'experimental' ad budgets into larger branded and direct response ad allocations."
More of What's Trending on TheStreet:
Trump Takes Fight Over 'White Supremacist' Comment to Disney's Front Door