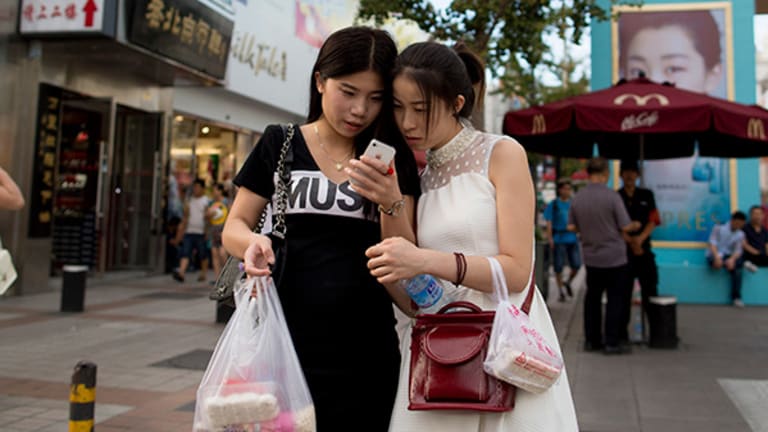 SAN DIEGO (TheStreet) -- Six months after Apple (AAPL) - Get Apple Inc. (AAPL) Report released its larger iPhone 6 and 6 Plus smartphones, people in China are still anxious to get their hands on them, according to new research from Cantor Fitzgerald.
The firm, which visited company-operated Apple stores, resellers, and consumer-electronics stores across Hong Kong and nearby Shenzhen over three days, witnessed "jam-packed" stores and long iPhone lines with estimated wait times of up to two hours. The on-the-ground research further explains why Apple CEO Tim Cook has said that he is a "big believer in China," and suggests that the iPhone maker can continue to boost sales in the area, even after experiencing unprecedented demand at the end of 2014.
For its fiscal 2015 first quarter, Apple posted sales of $16.14 billion from the Greater China region, which includes Hong Kong. The company grew revenue in the region by 70% from the year-ago quarter. In China alone, Apple's second-largest iPhone market, the company doubled its sales in the first quarter. Apple "generated record revenue in both our physical and online stores," CFO Luca Maestri said during Apple's first-quarter earnings conference call.
The Greater China market helped Apple post record total sales of $74.6 billion in the first quarter, a quarter that Cook described as "historic." Still, based on Cantor's checks, demand for iPhones in China and Hong Kong is high, which means Apple has room to grow.
"At one of the Hong Kong stores, the line began outside the Apple store and wound around the inside with an estimated wait time of 1.5 hours to 2 hours, while the other Apple store in Hong Kong had an estimated wait time of over an hour," Cantor Fitzgerald analyst Brian White wrote in the firm's Monday note. "We believe the fact that consumers are still waiting in line for the iPhone 6/6 Plus in Hong Kong this month speaks to the strength of this cycle relative to iPhone upgrades in the past."
Despite what White characterized as "increased visibility" of local smartphone brands such as Xiao Mi, Oppo, Huawei, and Meizu, Apple's larger iPhone models are the best-selling smartphones in two of the top electronics hub in Shenzhen, according to the firm's field research. 
Apple, which currently operates 21 stores in Greater China, plans to capitalize on growing demand in the region with an aggressive expansion strategy. The company is on track to double up and have 40 stores in Greater China by mid-2016. Apple's online presence in China appears to be just as strong.
"Our online store has expanded to over 350 cities now, and in fact our online revenues in China last quarter were more than the sum of the previous five years," Cook told analysts following the first-quarter report. "And so it's an incredible market. I think people love Apple products and we are going to do our best to serve the market."
If Apple is lucky, the company can convert its booming iPhone prestige in China into desire for its forthcoming Apple Watch. As it stands, Apple resellers in the region are preparing for an onslaught of Apple Watch buyers, according to Cantor's research. 
"Already, many of the resellers have adorned their walls with Apple Watch images, advertising their plans to sell this new device," White said.