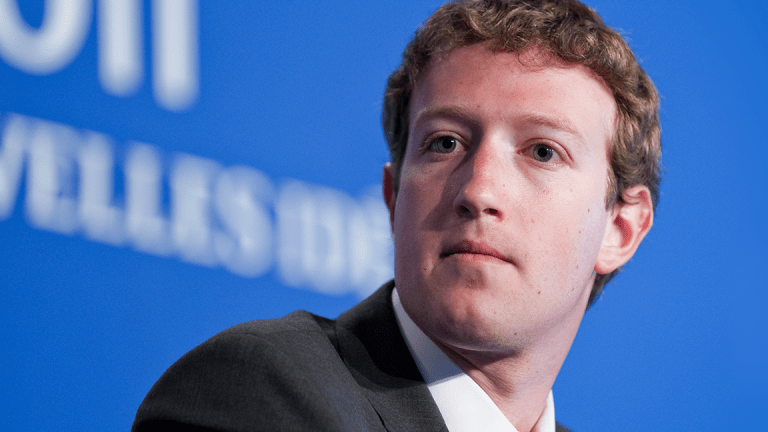 What Heavier Regulation Could Wind Up Costing Facebook
More restrictions on Facebook's gathering and usage of user data could challenge the tech giant's very business model.
More regulation may finally be coming for U.S. tech giants such as Facebook Inc. (FB) - Get Meta Platforms Inc. Report  and if it does, it could come at a steep cost. 
The social media giant has been plagued with privacy and transparency concerns this week after reports that it allowed political data analytics firm Cambridge Analytica LLC to harvest the data of more than 50 million users without proper disclosures or permissions. CEO Mark Zuckerberg said in an interview on CNN Wednesday night that he is open to regulation in light of the most recent data breach scandal.
Tech companies such as Facebook, Alphabet Inc.'s Google (GOOGL) - Get Alphabet Inc. Report and Twitter Inc. (TWTR) - Get Twitter Inc. Report haveoperated without any supervision from the Federal Trade Commission or any similar regulatory bodies for years, noted Jonathan Taplin, the director emeritus of the Annenberg Innovation Lab at the University of Southern California. 
By contrast, the European Union has far stricter protections on user data. In 2016, European Parliament approved the E.U. General Data Protection Regulation, which contains rules requiring mandatory breach notification, "intelligible and easily accessible" requests for consent from users and penalties for noncompliance. 
Facebook could be expected to add similar restrictions for American users as well, Taplin said, potentially limiting advertisers' ability to target users based on their data and behavior. Advertising on Facebook would then be more like advertising on TV, where companies would know your general demographic but little else.
"So Facebook wouldn't be able to charge an incredible premium [for advertising]," Taplin said. Advertising comprises the vast majority of Facebook's revenue, rising 48% to $12.78 billion in last year's fourth quarter. New regulations would also likely extend to sites like Youtube, Google and Twitter, too, Taplin said, impacting their businesses.
Another step in regulation could be altering the "safe harbor" provision of the Communications Decency Act that gives internet companies immunity from liability for content that its users publish, said Taplin.
Pinar Yildirim, an assistant professor of marketing at University of Penn's Wharton School, said that new regulations could restructure or limit third-party developers' access to data. These changes might mean Facebook would have to charge for third-party apps, or limit the services that it offers, according to Yildirim.
Richard Forno, assistant director of University of Maryland, Baltimore County's Center for Cybersecurity, said that while he doesn't think Congress is best-suited to regulate tech companies, he doesn't expect that regulations would trigger a mass flight of users nor advertisers. "Advertisers will just find another way to adapt," Forno said.
But Facebook has to balance oversight and regulation with user awareness and education around how their data is used, Forno said, citing the oft-quoted tech adage, "If the product is free, you are the product."
Earlier this week, Facebook's stock plummeted, legislators have called for answers, and users and investors have filed lawsuits based on the events surrounding the data breach. Facebook shares were down 1.8% to $166.30 during afternoon trading Thursday. The stock has dropped almost 10% over the past five days, shedding about $50 billion in market cap.  
Facebook and Alphabet are holdings in Jim Cramer's Action Alerts PLUS Charitable Trust Portfolio. Want to be alerted before Cramer and the AAP team buy or sell FB or GOOGL? Learn more now