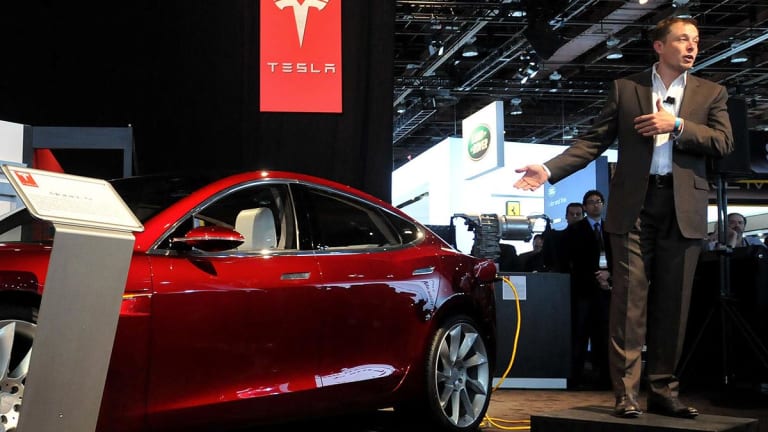 With More Electric Cars on the Way, Where Does That Leave Tesla in 2019?
The Detroit Auto Show kicked off this week, offering a glimpse at what's in store for the electric vehicle market. With more rival EVs coming to market soon, where could that leave incumbents like Tesla?
With the annual Detroit Auto Show kicking off this week, automakers are showing off their latest and greatest as well as sneak peeks at future offerings. 
This year's show could offer a glimpse into where the fast-growing electric vehicle market is headed -- and where that could leave Tesla (TSLA) - Get Report , the incumbent in electric vehicles. Tesla's stock was down 3.7% on Monday. 
Some automakers, including (GM) - Get Report are showing off future offerings like a Cadillac electric SUV that will use GM's forthcoming BEV3 electric vehicle platform. That platform is intended to power a range of future electric offerings by GM. And a handful of others, including Jaguar, Audi and Porsche, are aiming to launch brand-new, luxury electric vehicles this year at various price points. 
In 2019, however, the most significant developments in the electric vehicle market may be improvements to existing models, according to Matt DeLorenzo of Kelley Blue Book.
"It won't be quite a make-or-break year for EVs in 2019, however, there will be some significant developments that will point towards whether or not this technology is able to enter the mainstream," said Matt DeLorenzo of Kelley Blue Book. "The significant launches include additional longer range EVs in more affordable segments, as evidenced by the launch of the Hyundai Kona, Kia Niro EV and Kia Soul EV, all of which promise a per charge range of more than 250 miles. That, plus a longer range Nissan Leaf, will test to see if the average car buyer is ready and interested in EV tech."
Each of those models from Hyundai, Kia and Nissan have a comparable or lower starting price than Tesla's Model 3, which for now has a starting price of $45,000, although the company has promised to eventually drop that to $35,000. Additionally, Tesla has been working its way through a backlog of Model 3 orders, making it harder to project demand for the entry-level Tesla car amid rising competition. On Jan. 2, Tesla told investors that it delivered 63,150 Model 3s in the fourth quarter of 2018. 
For Tesla and others, however, the sunsetting of the federal tax credit for EVs will serve as an important test of their mainstream consumer appeal. The tax credits are due to be phased out as automakers cross a sales threshold of 200,000 electric vehicles. Tesla and GM are the only two companies that have crossed this threshold thus far. 
"Already Tesla's tax credit has been cut in half and will be halved again in six months before disappearing altogether six months after that," DeLorenzo said, adding that GM is in the same boat. "If Tesla and GM can sustain EV sales momentum without the federal tax break, it bodes well for electrics. If not, then it means that there needs to be further tech breakthroughs and lower costs before EVs can become truly competitive with conventional internal combustion engine vehicles." 
The tax credit phase-out also makes it tricky to gauge consumer demand amongst various electric car models because of the staggered nature of the phase-outs, added Stephanie Brinley, automotive analyst at IHS Markit. 
"The tax credit situation isn't a matter of how it affects demand for EVs; it's a matter of how it affects sales of EVs that have the credit versus those that don't," she said.