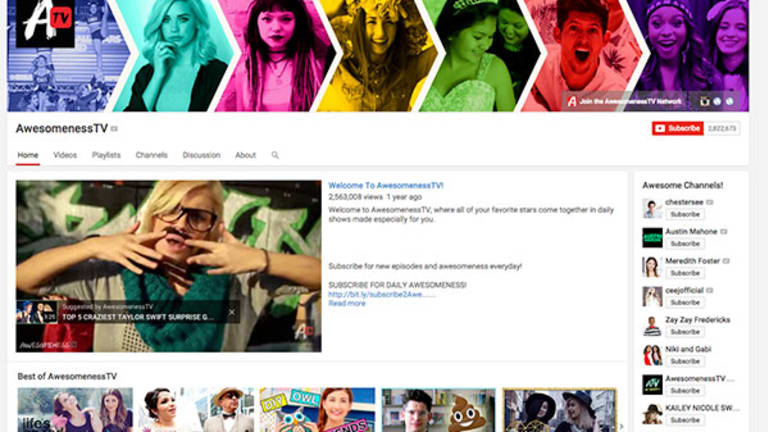 Publish date:
Money-Losing DreamWorks Betting on AwesomnessTV for Growth
After the 'most painful' weeks in DreamWorks history, Wall Street is laying fresh eyes on the animation studio. One wake-up call? Its stake in AwesomenessTV.
After the 'most painful' weeks in DreamWorks history, Wall Street is laying fresh eyes on the animation studio. One wake-up call? Its stake in AwesomenessTV.
NEW YORK (TheStreet) -- DreamWorks (DWA) investors are daring to dream again.
The makers of Shrek and Kung Fu Panda lost money in the first quarter and are bracing for much the same when the smallest of Hollywood's publicly-traded studios makes its second-quarter results public on Tuesday before the start of trading in New York.
Amid the hand-wringing and lingering questions about CEO Jeffrey Katzenberg's leadership, some Wall Street analysts are cautiously seeing an upside. DreamWorks' only feature film release of 2015, Home, beat analyst expectations, handing investors some cause for celebration given that three of the studios previous four films required a write down.
Since hitting a two-year low on Jan. 29, DreamWorks has surged 30% as Katzenberg cut costs and narrowed the company's focus after laying off 500 workers, or 18% of the company, in January. Central to the reorganized DreamWorks is a focus on television production that appeals to millennials and shares well on mobile devices.
Integral to that effort is DreamWorks' AwesomenessTV, which targets younger viewers mostly on Google's (GOOG) - Get Alphabet Inc. Class C Report (GOOGL) - Get Alphabet Inc. Class A Report YouTube. Investors on Tuesday are likely going to want to hear more from Katzenberg about AwesomenessTV -- specifically, whether it's making money, and if so, how fast it's growing.
DreamWorks bought AwesomenessTV in May 2013 for more than $33 million in cash. AwesomenessTV attracts over 2.8 million subscribers to its flagship YouTube channel. DreamWorks later sold a 25% stake to privately held Hearst for $81.25 million.
The investment in AwesomenessTV opens the door to a young audience more likely to watch video on a mobile device than on a television, said Eunice Shin, head of business advisory for Manatt Digital Media.
"DreamWorks was very strategic and very smart and is in a much better position for success" in comparison to other Hollywood studios investing in multi-channel networks, Shin said in a phone interview. "They might not be making a ton of money now, but soon enough they will be."
It's been a promising summer at AwesomenessTV, which includes channels popular with kids and young teens, as well as Awestruck, which hosts programs pitched at Millennial moms. Verizon (VZ) - Get Verizon Communications Inc. Reportwill feature the multi-channel network's content on its new mobile video service, Go90, which will start tests shortly. AwesomenessTV is also planning to expand its film lineup and has a deal with Google's YouTube to produce and distribute several features within the next two years.
Awesomeness has even ventured into the world of sponsored videos, partnering with Williams-Sonoma's (WSM) - Get Williams-Sonoma, Inc. Report PBteen brand for a new series and shooting an original music video for the Gap's (GPS) - Get Gap, Inc. (GPS) Report Old Navy featuring YouTube music stars.
"[Awesomeness] easily could be in the billion dollar club (and way more) at some point," wrote Jason Hirshhorn, formerly of Dish Network's (DISH) - Get DISH Network Corporation Class A Report SlingTV and curator of the Web site MediaREDEF, in a July 28 newsletter. "It reminded me of my best days at MTV and how important a creative culture is. It's the stuff between the numbers. People, frankly."
Not everyone is so bullish. Eric Wold, media analyst at B. Riley, said his team is taking "a wait-and-see approach" on AwesomenessTV to see if it can drive growth at DreamWorks.
"While the performance of ATV, as somewhat of a standalone entity within DreamWorks, has been impressive as of late, we would like to see more evidence of how it will work with the various other divisions more closely before thinking about its potential to accelerate growth or drive an even higher valuation for the overall company," he wrote in an email to TheStreet.
B. Riley lowered its second-quarter revenue and earnings-per-share estimates for DreamWorks, but boosted projections for earnings before interest, taxes, depreciation and amortization for the end of 2015 and beginning of 2016.
Wall Street had been concerned that DreamWorks chief executive Katzenberg had stretched himself too far as he incubated AwesomenessTV, expanded the company's consumer goods segment and built out other investments outside of DreamWorks' core film division.
Those fears are starting to abate, said Benjamin Mogil of Stifel Nicolaus.
"We found management to be exceptionally candid about what had creatively gone astray over the last few years from the movie creativity front and how they have pivoted," Mogil wrote in a June 4 research note, which upgraded DreamWorks to a buy rating ahead of earnings.
Mogil observed that the studio's television lineup is due to peak in 2017 and praised "younger skewing, lighter and more comedic" upcoming film releases.
DreamWorks is still recovering after the fourth quarter of 2014, which Katzenberg called "the hardest, most difficult, most painful eight weeks" in company history. The studio abandoned two unreleased movies, swallowed a writedown on its feature film, The Penguins of Madagascar, and laid off 18% of its staff on its way to a fourth-quarter net loss of $263.2 million, or $3.08 per share.
With a lighter staff, the studio now plans to slim down its feature film offerings from three movies a year to just two starting in 2016.
Things started to turn around at the beginning of 2015, even as the studio recorded a $54.8 million loss in the first quarter, ended March 31, due to the restructuring.
DreamWorks sold and then leased back its Glendale, Calif., campus, generating $185 million in its first sale in February and an additional $15 million in its second sale this month, according to SEC filings.
Another positive was
Home
, the studio's sole theatrical release of the year, which cost $135 million to make (excluding incentive-based pay) and generated $308 million in ticket sales.