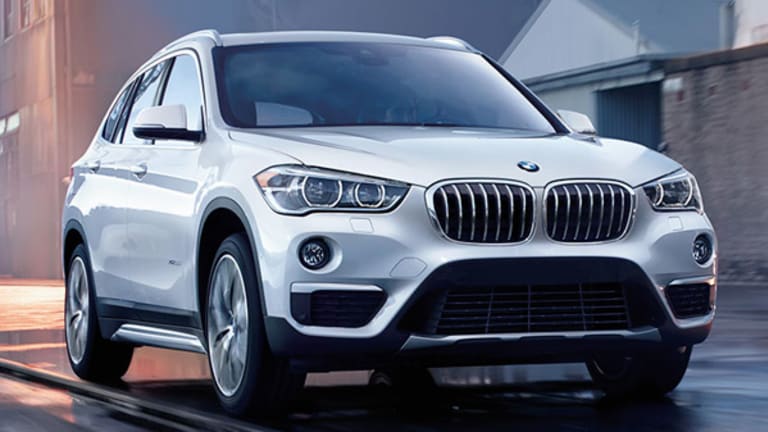 Mobileye's Reported Alliance With Intel and BMW Highlights Its Technology Lead
The company has a big head-start on rivals in developing autonomous driving processors.
The company has a big head-start on rivals in developing autonomous driving processors.
That Mobileye (MBLY) is partnering with BMW on self-driving solutions, as indicated by a Bloomberg report, isn't too surprising.
BMW, like many other automakers, has long used Mobileye's driver-assistance systems for features such as forward collision warning, lane departure warning and high beam assist within its cars. It's only natural that the alliance is extending to fully autonomous driving.
BMW has previously said it wants to bring a self-driving car to market by 2021, and it looks like Mobileye systems -- perhaps underpinned by its next-generation EyeQ5 processor -- will be used in the effort.
On the other hand, the fact that Intel (INTC) - Get Report is partnering with Mobileye is doubtlessly raising eyebrows, given that the chip giant has shown an interest in launching its own self-driving solutions. Indeed, Intel is only a month removed from announcing its purchase of Itseez, a developer of computer vision algorithms for autonomous driving and IoT devices.
The report, which Mobileye's chairman appeared to confirm in an e-mail to Bloomberg, shines a light on the big head-start Mobileye has on rival chipmakers in developing autonomous driving systems. The company, founded in 1999, has lots of experience developing algorithms -- embedded within its EyeQ processors -- that analyze images taken by a car's cameras to make driving decisions. And the fact Mobileye's products have been deployed within millions of cars has provided a ton of real-world driving data it can use to improve its algorithms.
This isn't to say credible competition doesn't exist. Nvidia (NVDA) - Get Report is going after the autonomous driving market with its Drive PX2 module, which -- thanks to the large AI-related investments Nvidia has made for its graphics processors -- is declared to be capable of handling up to 24 trillion AI operations per second.
NXP (NXPI) - Get Report, the largest player in the broader automotive chip market, recently unveiled BlueBox, an autonomous driving system featuring a "computing engine," numerous sensors and software. And Google, which wants to help bring a self-driving car to market by 2020, is using a proprietary solution that doesn't rely on Mobileye.
NXP is a holding in Jim Cramer's Action Alerts PLUS Charitable Trust Portfolio. Want to be alerted before Cramer buys or sells NXPI? Learn more now.
But given its historical investments and extensive customer relationships, Mobileye is well-positioned to remain the top supplier for automakers as they push ahead in trying to bring fully autonomous cars (or something close to it) to market. "[Mobileye's] part is the best in the world at what it does and that is why we use it," saidTesla (TSLA) - Get Reportnot too long ago.
As for Intel, Bloomberg's report highlights both the company's interest in lowering its dependence on a very weak PC market, and the pragmatism it's showing in pursuing this goal. Even if Mobileye is supplying the vision processors for BMW's cars, Intel can supply infotainment system processors, 4G modems and -- thanks to a recent acquisition -- functional safety solutions that prevent critical chips from failing. An infotainment processor win would be notable given market leader Nvidia's long-standing relationship with BMW.
There are some parallels here with Intel's mobile strategy: The company is (according to many reports) supplying a chunk of the 4G modems going into iPhone 7 units and is also investing heavily in 5G, but has pared its investments in a mobile app processor market dominated by Qualcomm and Taiwan's MediaTek. Intel wants to diversify, but is well aware now that it can't be everything to everyone.