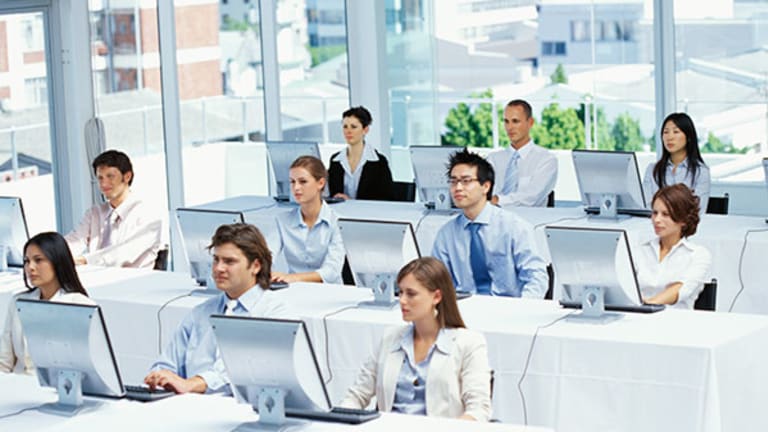 Mobile Phones Make Workers Think They're More Productive
But Pew researchers also found bosses have their own opinions on that matter.
NEW YORK (TheStreet) -- What makes a more productive worker? The Pew Research Internet Project asked more than 500 U.S. employees what they consider the most important communications and information tools they use. Email, the Internet and cell phones were the overwhelming choices as tools that allow them to be more productive.
Pew researchers surveyed adult Internet users with full-time or part-time jobs, asking them a series of questions about the role of digital technology in their work lives. The most recent survey data showed 94% of job holders are Internet users in jobs ranging from technology companies to non-technology firms, from big corporations to small proprietor operations, in urban areas to farms and everything in between.
The study revealed 46% of survey respondents said they were more productive when they used the Internet, email and cell phones as part of their job. Only 7% said using those same online tools makes them less productive. A very small portion said social media offered through Facebook (FB) - Get Meta Platforms Inc. Class A Report , Twitter (TWTR) - Get Twitter, Inc. Report  and LinkedIn (LNKD)  weren't "very important" to their jobs.
Respondents said that despite any possible problems, email and the Internet are particularly important for those who work in office-based occupations. They said those functions are critical for the 59% of employed online adults who occasionally take their jobs outside of the physical workplace.
Participants also told Pew researchers that using those tools allows them to expand the number of people with whom they communicated outside of their companies (51%), allows them more flexibility in their work hours (39%) and actually increases the hours they work (35%).
But here's the rub: Pew discovered many bosses don't believe these online tools are as beneficial as the workers do, and are adapting by changing the rules.
Nearly half of those surveyed say their employer blocks access to certain Web sites and implemented new, strict rules about what employees can say or post online. The number of new rules have reportedly more than doubled since Pew began asking about company rules in 2006.
Blocked access to Web sites and rules about employees' online postings are more common for those working in office-based professions than workers in traditionally non-office-based professions such as service, skilled and semi-skilled positions. A fairly high percentages of those workers say they are not sure if their employer controls employees' Web site access (29%) or has rules about what employees do online (35%).
-- Written by Gary Krakow in New York.
To submit a news tip, send an email to tips@thestreet.com.
Gary Krakow is TheStreet's Senior Technology Correspondent
This article is commentary by an independent contributor. At the time of publication, the author held no positions in the stocks mentioned.