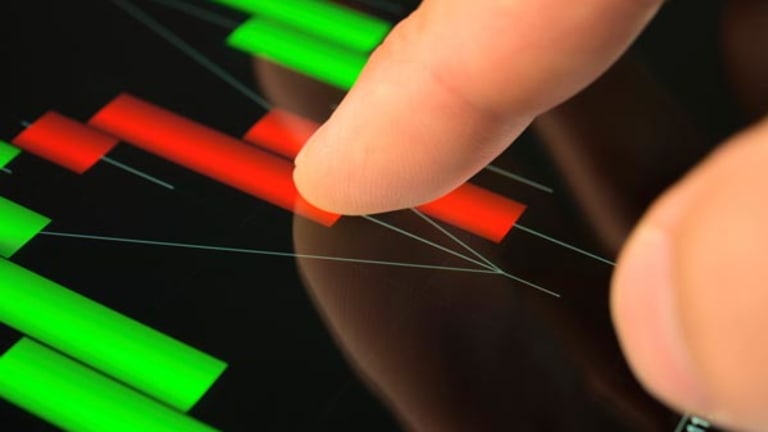 Publish date:
Mobile-Data Crunch to Boost Cisco, Qualcomm
A jump in smartphone use will test networks, helping some companies and hurting others.
A jump in smartphone use will test networks, helping some companies and hurting others.
BOSTON (TheStreet) -- Mobile-data growth goes into overdrive next year as 4G and tiered pricing fuel greater consumer use. The first effects of the spectrum crunch likely becomes a reality with New York and San Francisco as the epicenters.
A year ago, I first tried to quantify the data tsunami that is challenging wireless operators. Nielsen, again, provided information to quantify the strength of the data tsunami.
So what has happened over the past year? Nationwide operators introduced their own flavor of tiered-data pricing. The blogosphere was vocal in its outrage and the average consumer continued to increase his data consumption with a voracious appetite. More importantly for investors, consumers do not seem to have a preference, as indicated by relatively unchanged net subscriber and churn metrics.
Not only has the ownership of smartphones dramatically increased, but usage has risen within every usage percentile by a factor of two or more. Smartphone owners at the 20th percentile are now using 27 MB of data per month, over three times more than the 8 MB they used in 2010, and 479 times more than in 2009. The median customer (50th percentile) used 160 MB in in this year's first quarter, up more than two-fold from 77 MB in 2010, and eight times more than in 2009.
We are seeing the most dramatic increases among the heaviest users. Usage at the 90th percentile increased to almost 1 GB in 2011, up by about a factor of two from 2010, and 4.5 times more than in 2009.
The distribution of total mobile data usage among smartphone owners has also changed. While the new tiered-data plans have introduced more fairness to data pricing and usage because low-usage customers no longer subsidize high-usage customers as they did under the "one size fits all" model, they have not stymied usage or skewed take-up.
Apple's
(AAPL) - Get Apple Inc. (AAPL) Report
iPhone was launched with
Verizon Wireless
(VZ) - Get Verizon Communications Inc. Report
in February 2011 with an unlimited plan, whereas
AT&T
continued to offer 200 MB and 2 GB data packages. Per-day sales, in the following 60 days, was almost identical for both operators, with about 40,000 each. This is even more remarkable because, in the first quarter, the top 5% of bandwidth users consumed 41.9% of all data consumed, whereas a year earlier, the top 5% consumed 43.6% of bandwidth.
What the data above do not show is that this per-subscriber usage increase occurred simultaneously with a huge increase in smartphone ownership, which doubled compared with a year earlier, leading to the overall conclusion that total data consumption quadrupled over the past 12 months. While that is a slower growth rate than in 2009, the U.S. consumed more wireless data in 2010 than it did in the previous 10 years combined.
One of the most interesting facts from last year's research note was the share of smartphone owners who used only very small amounts of data. As we can see below, the percentage of smartphone users who used less than 10 MB per month almost halved from 14% in the first quarter of 2010 to 8% in 2011's first quarter.
At the same time, the segment using more than 500 MB per month increased from 10% to 23%, while the percentage of smartphone users using less than 50 MB declined from 37% to 22%. All the other usage buckets stayed basically the same over the course of the past year.
This is particularly remarkable because, during this period, the absolute number of smartphone owners more than doubled and we would expect low-usage categories to expand as more people are buying smartphones.
New devices with larger screens, faster processing capabilities and new video formats optimized for smartphones have made data usage more conducive and seductive and, consequently, data consumption increased significantly.
When looking forward to 2012, data usage per person will not only double, but triple. This is driven by the growing 4G networks and raw number of devices that can take advantage of the five-times-greater data speeds.
Combined with another doubling of the number smartphones in the U.S., total data consumption will jump six-fold.
Cisco
(CSCO) - Get Cisco Systems, Inc. Report
provides every year a valuable global forecast of global Internet traffic and, in it, also breaks out mobile-data traffic by region. Cisco estimates that overall wireless data traffic in 2010 for North America was 49 petabytes.
The Nielsen data indicate that single-line smartphones used roughly 34 petabytes of data at the end of 2010 in the U.S. alone. Considering that single-line smartphones are probably about 66% of the wireless-data market, two numbers are very close. But numbers are diverging for 2011. Cisco estimates a doubling of wireless-data traffic to 118 petabytes in 2011, which is consistent with either a doubling of smartphones but no increase in data consumption per user or a doubling of data usage with the same number of smartphones. Neither possibility seems likely.
The more reasonable six-fold increase (twice the smartphones, three times the traffic per smartphone) will bring this to 204 petabytes with family-plan smartphones, laptops, tablets and connected devices adding another 50% bandwidth usage for roughly 300 petabyte data usage in the U.S. in 2011. Cisco, as the major provider of Internet infrastructure equipment to wireless carriers, will benefit greatly from this significant increase.
While smartphone growth has hit its inflection point, the number of smartphones in the U.S. will exceed 200 million by the end of 2012. The major beneficiaries will be Apple,
Samsung
,
HTC
and
Motorola
(MOT)
, which will capitalize on the roughly 125 million smartphones that will be sold in the U.S. in 2012. Samsung, in particular, is well-positioned as it also provides many of the necessary components that the other handset vendors need to build their devices.
On the component side,
Qualcomm
(QCOM) - Get QUALCOMM Incorporated Report
will profit greatly from the smartphone boom, especially if Apple, as widely rumored, will switch to Qualcomm as its sole baseband chipset provider. By 2015, nobody will talk about smartphones anymore, just as people don't talk about "color TV" anymore -- the dumb phone will be an antique. The increase in overall data usage combined with tiered-data plans will help wireless carriers and consumers alike. Wireless carriers will see an increase in data revenue, driven by the heaviest data customers, while lower-tier pricing will make average to below-average usage more affordable than ever.
At the same time, wireless operators have to continue to invest heavily in their networks to keep up with demand. AT&T and Verizon will continue to spend $6 billion to $8 billion a year to upgrade their networks as well as the ongoing upgrade to 4G. The biggest beneficiaries in the continued network build-out will be
Ericsson
(ERIC) - Get Telefonaktiebolaget LM Ericsson Sponsored ADR Class B Report
, followed by
Alcatel-Lucent
(ALU)
and, to a lesser degree, Samsung.
The network-equipment provider struggling the most in North America is Nokia Siemens Networks, with its main customer T-Mobile USA being acquired by AT&T,
Sprint's
(S) - Get SENTINELONE, INC. Report
iDEN network being phased out, and not being selected by any operators as a 4G vendor. In the cases where data usage will outstrip the ability of the operators to build fast enough, either through zoning and building-permit holdups or because spectrum is simply used up, consumers will experience slower data speeds. The first markets to experience the spectrum crunch will be New York and San Francisco, where usage is already the highest and complaints are the loudest.
The writer owns shares of Cisco.
Roger Entner is an independent analyst who lives near Boston. Previously, he was head of telecom research at Nielsen, and has also worked at Ovum and the Yankee Group.