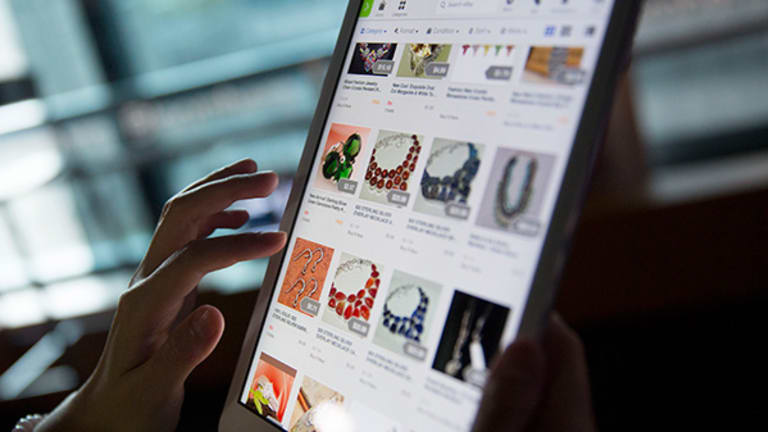 Mobile Commerce Expected to Surpass $100B in 2014. But Are Retailers Ready?
Mobile commerce is expected to surpass $100 billion by the end of 2014, but are retailers really ready to serve customers who are increasingly using their smartphones and tablets to make purchases?
NEW YORK (TheStreet) - Mobile commerce is expected to surpass $100 billion by the end of 2014, but are retailers really ready to serve customers who are increasingly using their smartphones and tablets to make purchases?
According to a report Monday by Forrester Research, 29% of all online retail sales in the U.S. will be transacted on smartphones and tablets by the end of 2014 with sales from the devices expected to reach $114 billion this year and $293 billion by 2018. Sales of media products (video, music and books), clothing and consumer electronics, account for $86 billion of mobile sales, with the other 25% being driven by categories such as travel and foodservice/restaurants ordering, which is not a part of Forrester's definition of online retail, it said.
The growth is driven by the nearly 200 million smartphone subscribers and nearly 100 million regular tablet users, noted Forrester, which expects that adoption rate to continue in the double digits over the next few years with 244 million smartphone subscribers by 2017 and 150 million tablet users by then.
Consumers comfortable with making purchases via tablets will drive $76 billion worth of transactions in 2014; smartphones will drive another $38 billion in transactions. Forrester said in the report that it expects the percentage of tablet buyers to "eclipse" the total percentage of smartphone buyers by 2018 because of the generally larger tablet screens and easier form of use.
But are retailers really ready for the opportunity in mobile commerce?
"While mobile phone and tablet growth rates are extremely strong, retailers continue to lament low mobile phone and tablet conversion rates, particularly for smartphones, which often have conversion rates that are one-fifth of those of desktops," the report said. "This is due to the fact that most retailers have simply 'shrunk' desktop experiences, rather than creating mobile-phone- and tablet-unique solutions that may gain larger adoption. We believe the best and most creative companies will accomplish just that."
Retailers vary widely on embracing mobile commerce platforms. E-commerce retailers like Amazon (AMZN) - Get Amazon.com, Inc. Report and eBay (EBAY) - Get eBay Inc. Report are obviously front-runners. But traditional bricks-and-mortar stores like Macy's (M) - Get Macy's Inc Report, Target (TGT) - Get Target Corporation Report, with its Cartwheel app, and specialty stores like Urban Outfitters (URBN) - Get Urban Outfitters, Inc. Report have optimized their selling experiences for the mobile customer. Walmart (WMT) - Get Walmart Inc. Report has invested heavily to catch up. Internet Retailer named home-shopping networks, QVC (LINTA) and HSN (HSNI) , as top mobile retailers. That said, traditional department stores like J.C. Penney (JCP) - Get J. C. Penney Company, Inc. Report and apparel stores have yet to catch up.
According to a recent study by Shop.org (the National Retail Federation's digital unit) and Forrester, mobile is retailers' most important initiative for 2014. Forrester said retailers and online merchants have "three unique opportunities" to take advantage of in the mobile phone and tablet channels.
First, they must acknowledge and embrace "cross-device behavior" by forcing customers to log-in (even if it's through social networks) or enable customers to email links of pages or shopping baskets to themselves which reduces shopper "friction" as they migrate between mobile devices and desktops, the report found.
Second, retailers must create "mobile moments" by creating solutions that "take advantage of the immediate, time-sensitive needs that mobile phones are particularly well suited to serve," Forrester said. The report pointed out that Uber, the car service retrieval app, does that by showing how many drivers are nearby and how long it will take for one to arrive. In another instance, Forrester said Walgreen  (WAG) has experienced success with a pharmacy refill feature on its mobile app.
Finally, retailers must understand and offer consumers ways to use mobile phones while in stores, such as assisting in finding out-of-stock products, paying for products when a queue is long, or retrieving a coupon or loyalty card number for shoppers.
"Retailers that effectively address customer needs with innovative solutions are likely to see greater mobile phone usage and transaction volume as a result," the report said.
A separate Forrester report on Monday forecasts that U.S. online retail sales will total $294 billion by the end of 2014. That figure will rise to $414 billion by 2018. The two main categories of apparel/accessories and consumer electronics will drive 25% of this year's total e-commerce volume. Still, online sales will represent just 9% of total retail sales in 2014, according to Forrester.
E-commerce sales as measured by the U.S. Department of Commerce totaled $263.3 billion last year, up 16.9% from 2012, but just 5.8% of total retail sales for 2013. The Commerce Department's first quarter e-commerce sales data will be released on Thursday.
--Written by Laurie Kulikowski in New York.
>>Read More:
Why Netflix Will Cost More Now
5 Free Wedding Apps for Every Bride (and Groom)
Here Are the Cities Where Amazon Now Delivers on Sunday
Disclosure: TheStreet's editorial policy prohibits staff editors, reporters and analysts from holding positions in any individual stocks.