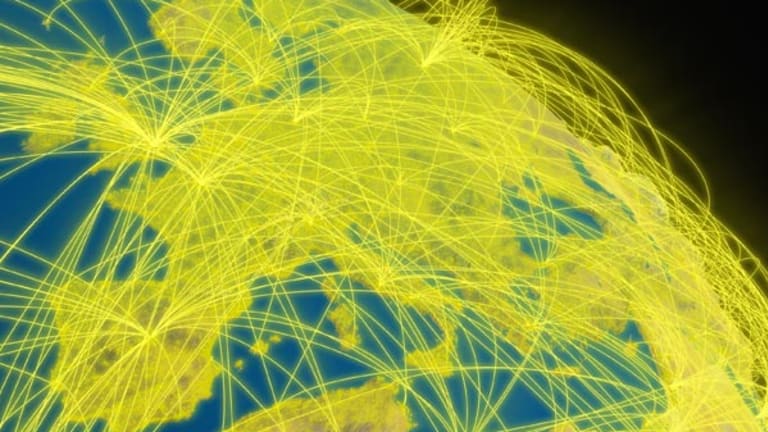 Microsoft's Yahoo! Masterstroke
The software giant's patience pays off as Microsoft overhauls its online search strategy.
Now that the dust is settling on
Microsoft's
(MSFT) - Get Microsoft Corporation Report
search deal
with
Yahoo!
(YHOO)
, it looks like Steve Ballmer may have pulled off something of an Internet
.
Although not quite up there with Tony Romo dumping Jessica Simpson or the Gosselins' ongoing media circus, Microsoft and Yahoo!'s off-again, on-again courtship has grabbed plenty of headlines in the last 12 months.
Earlier this week the two firms sealed a 10-year Internet-search partnership that is being touted as a win-win for both parties. Under the terms of the deal, Yahoo! will use Microsoft's Bing search engine and collect 88% of the advertising revenue for the first five years of the 10-year pact.
The deal, however, offers much more upside to Microsoft, which wants to get
Google
(GOOG) - Get Alphabet Inc. Class C Report
in its crosshairs.
Microsoft tried to acquire Yahoo!'s search business for $47.5 billion last year, but its bid was controversially turned down, much to the chagrin of Yahoo!
shareholders
such as
. Now, however, the software giant is able to plug a gaping hole in its strategy without paying top dollar, and, potentially, arousing the same level of antitrust scrutiny.
"Microsoft gets its milk without buying the cow," explained Allan Krans, senior analyst at Technology Business Research, in a note released this week. "The deal is a clear win for Microsoft, which receives the search volume it needs, without the risk and expense of a full acquisition of Yahoo!, all for a fraction of the proposed acquisition price."
Specifically, Microsoft is looking to triple its search traffic volumes, and may just have pulled off something of a Silicon Valley masterstroke.
Krans adds that, in hindsight, Microsoft's failed Yahoo! bid may seem like a blessing in disguise. The software giant has avoided not only a massive financial outlay, but also a sizable integration headache, he explained.
Yahoo! shares continued to fall Thursday, slipping 46 cents, or 3.06%, to $14.68, as investors reacted to the deal. Yahoo! expects to make annual operating income of $500 million from the partnership, as well as saving $200 million in capital expenditure each year, although this is a far cry from the multimillion-dollar payoff that was originally on the table.
"The long-awaited search partnership appears favorable to Microsoft," wrote Katherine Egbert, an analyst at Jefferies & Company, in a note released earlier this week, highlighting the lack of upfront fees and the potential impact on Bing. "The partnership with Yahoo! serves the interim step of driving much more traffic through Bing, which should help relevancy, and potentially increasing ad monetization rates."
Microsoft's 12% of search revenue could be worth around $1 billion over the 10-year life of the partnership, according to Jefferies & Company, although Egbert says that the partnership is not immediately about money.
"It seems clear to us that this deal is about attaining the software giant's long-term strategic goal of challenging Google for leadership in active search," wrote the analyst.
And why not? Technology Business Research estimates that spending on online services is fast approaching $6 billion, hardly small beer in this recessionary climate.
The timing is good for Microsoft to pursue its Yahoo! search partnership. Google, for example, side-stepped the economic meltdown in its second-quarter results, increasing its revenue by 3% compared to the same period last year. Microsoft, in contrast, recently
its first ever quarter of declining sales of its Windows operating systems, as the software giant reported lower-than-expected earnings.
At this point, though, Google is very much the 800-pound silverback. The Mountain View, Calif.-based firm owns more than 65% of Internet searches, according to ComScore research, while Microsoft and Yahoo! combined account for less than half of Google's reach.
Despite their also-ran status, Microsoft and Yahoo! are still expected to come under intense antitrust
from the
Department of Justice
. This, at least, is one area where Microsoft has an abundance of experience.
In addition to regulatory concerns, Microhoo! has other hurdles in its path, including merging their search technologies and the risk of being distracted from other parts of their business.
There is also an international aspect. Up to now, most of the media coverage surrounding the deal has focused on the U.S. and European markets and ignored Asia.
"In the Asian market there are very strong local competitors that continue to be more popular than Google, Microsoft, or Yahoo," explained David Mitchell, research fellow at analyst firm Ovum, in a note. "Given that the Internet population is growing fastest in Asia, both Google and the combined Yahoo-Microsoft proposition will need to work very hard to make inroads into this highly lucrative market."
This is a good point; Microhoo! will have its work cut out in China, where
Baidu
(BIDU) - Get Baidu Inc. Report
has a strong presence, not to mention South Korea, where
Naver
is the most popular search provider.
All these issues, however, are for the future. For now, Microsoft CEO Steve Ballmer is probably giving himself a big pat on the back.