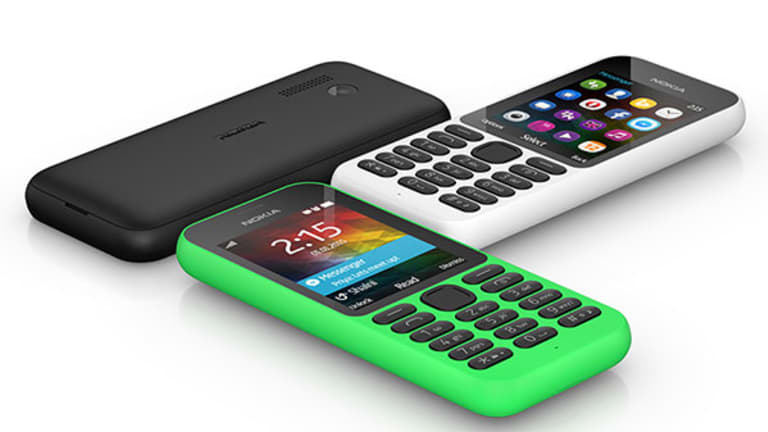 Publish date:
Microsoft's Nokia 215 Is Going for a Ridiculously Cheap $29
Microsoft believes the addition of Facebook, Twitter and Messenger will appeal to first-time buyers
Microsoft believes the addition of Facebook, Twitter and Messenger will appeal to first-time buyers
NEW YORK (TheStreet) -- Microsoft (MSFT) - Get Report isn't getting rid of the Nokia (NOK) - Get Report name from its new smartphone line just yet. But, the Asha brand name for its less expensive line of handsets seems to be gone -- at least for the moment.
This morning, Microsoft announced the new Nokia 215, a bottom-of-the-line device the will sold largely in lower-wage emerging markets for the ridiculously low price of $29.
The Nokia 215 is a candy-bar design with a small (2.4-inch diagonal), QVGA (320 by 240 pixels), LCD non-touchscreen plus a non-descript processor mated to 8 MB of RAM (that's megabytes not gigabytes). The phone accepts microSD memory expansion cards as large at 32 GB (that's gigabytes).
Microsoft was falling 0.8% to $46.38 in New York on Monday.
This phone doesn't run Microsoft's Windows Phone OS. The operating system in use here is Nokia's tried-and-true, very basic Series-30+ software. The plus stands for the improvement (camera, video, Bluetooth and more) added by Microsoft. Speaking of cameras, the 215 sports a 0.3 megapixel "main camera" on the back. It shoots stills and video. It has a 2x digital zoom function.
Buyers have a choice of two models - one with one GSM SIm card slot and the other with two SIM card slots - a very popular option is some regions. Microsoft says the 1100mAh battery is good for 209 hours of talk, 50 hours of music listening and as much as 29 days of standby time on a single charge.
Microsoft is careful not to call this a smartphone. Instead, it's described as the company's "most affordable Internet-ready entry-level phone yet, perfectly suited for first-time mobile phone buyers or as a secondary phone for just about anyone." Think of it as an enhanced feature phone or a slightly clever phone. It's not a smartphone by any means.
The 215 is designed to make voice calls, send and receive text messages via Microsoft Messenger, connect to Facebook (FB) - Get Report and Twitter (TWTR) - Get Report to socialize with friends and surf the Web via the pre-installed Opera Mini browser (that means no Oracle (ORCL) - Get Report Java or Adobe (ADBE) - Get Report Flash support). Other simple applets include titles such as Recorder, Calculator, Clock, Calendar, Converter, Reminders, Phonebook (for as many as to 1,000 entries), Alarm clock with ringtones, Flashlight, Notifications and MSN Weather.
Microsoft has included short-range connectivity technology it calls SLAM. The idea is to bring two SLAM-enabled devices near each other to send or receive files The addition of Bluetooth lets you pair a Nokia 215 with devices ranging from headsets to external speakers.
While very similar to older Asha-branded models, the big difference for the 215 is the asking price. $29 (before local taxes, fees and subsidies) is designed to be super-affordable in its target markets. Microsoft plans to roll-out the phone in "select markets" such asthe Middle East, Africa, Asia, and Europe in the first quarter of 2015. Microsoft admits that the target audience is "first-time mobile phone buyers" or "just about anyone" looking for a secondary phone.
While not the cheapest phone in the line (Microsoft announced the $25 Nokia 130 a few months ago) this slightly more expensive 215 hopefully adds just enough new social media features to extend the brand to a more technologically advanced audience.
-- Written by Gary Krakow in New York.
To submit a news tip, send an email to tips@thestreet.com.
Gary Krakow is TheStreet's Senior Technology Correspondent
This article is commentary by an independent contributor. At the time of publication, the author held no positions in the stocks mentioned.