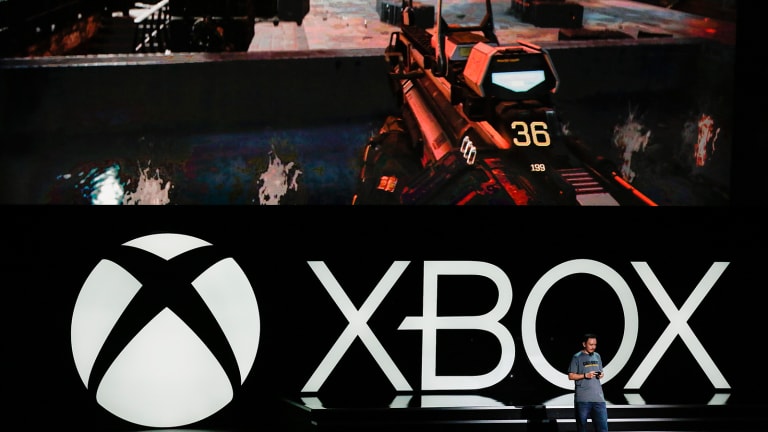 Microsoft's Gaming Strategy, Revealed at E3, Goes Beyond Building a Better Xbox
In addition to a next-gen Xbox, a cloud gaming service, new game-download subscription services and an extensive array of 2019 and 2020 game launches are all part of Microsoft's gaming roadmap.
Microsoft (MSFT) shared a lot on Sunday about its plans for growing and expanding the reach of its gaming business in the coming years. But for now, it's keeping a few key details close to the vest.
During a news-filled press event held on Sunday ahead of the gaming industry's E3 conference, the software giant shared technical details about its next-gen Xbox, code named "Project Scarlett", and said it would be available during the 2020 holiday season. Microsoft also provided a couple of details about its game-streaming plans, announced new subscription gaming services that rely on downloads rather than streaming, disclosed that it's buying indie gaming studio Double Fine and shared plans for a number of 2019 and 2020 game launches, including a new title for its age-old Flight Simulator franchise.
The specs that Microsoft disclosed for its next flagship Xbox have a lot in common with the ones that Sony shared in April for its next-gen PlayStation, which is also expected in 2020. Like Sony's next PlayStation, Microsoft next Xbox will be powered by a custom AMD (AMD) processor that pairs a CPU featuring AMD's Zen 2 CPU cores -- also used in the third-gen Ryzen desktop CPUs that the company recently unveiled -- with a GPU relying on AMD's new Navi architecture. In addition, both consoles will support 8K gameplay (provided you have an 8K-resolution TV or monitor), real-time ray tracing and frame rates of up to 120 frames per second (fps), be backwards-compatible with prior-gen console games and rely on solid-state drives (SSDs) rather than hard drives.
For now, however, Microsoft isn't sharing how much Scarlett, which is promised to be four times as powerful as the Xbox One X, will cost. The company also isn't disclosing whether it will launch (as some reports have suggested) a cheaper Xbox that's more focused on cloud gaming and video streaming.
Regarding its game-streaming efforts, Microsoft announced that in addition to launching a service that streams games from its cloud data centers -- it has been codenamed Project xCloud -- it would (like Sony's Remote Play feature for the PlayStation 4, which unlike Microsoft's planned solution only works on home networks) let consumers stream games from their Xboxes to other devices. Public trials of both offerings are set to start later this year, with the console streaming feature entering trials in October.
However, Microsoft didn't share a formal launch date or pricing for xCloud. And while last week's somewhat underwhelming reveal for Alphabet/Google's (GOOGL) Stadia service created an opening for Microsoft in cloud gaming, Microsoft suggested its initial focus for xCloud will be on streaming games to mobile devices, which don't have the processing power to run cutting-edge PC and console titles locally. Notably, the xCloud demo that Microsoft has shown off at E3 involves streaming games to a Samsung smartphone.
Meanwhile, Microsoft has made it quite clear that it remains committed to its Xbox Game Pass service, which to date has provided a library of 100-plus Xbox titles -- including titles from Microsoft's game-studio unit the day they launch -- for download at a price of $10 per month. The company unveiled a version of Xbox Game Pass for PC games as well as Xbox Game Pass Ultimate, which provides both versions of Game Pass along with the Xbox Live Gold service for $15 per month.
Overall, there's some haziness here about the degree to which Microsoft wants to promote the streaming of games to Xboxes and PCs, as opposed to creating better user experiences and more compelling subscription options for playing locally-installed games. For now at least, the company might be wagering that for PC and console gamers, a combo of Game Pass subscriptions and a free console streaming feature provides a better overall user experience and value proposition than a game-streaming service that consumes cloud server resources and is dependent on having a fast, reliable, low-latency network connection to work.
On the other hand, what Microsoft
did
do a good job of at its E3 event is to show how the whole of its gaming empire -- its installed bases of Xbox and Windows gamers, its game studios, its cloud infrastructure, Xbox Live and Game Pass -- is more than the sum of its parts. The company's new Game Pass offerings, its xCloud plans and its 2019/2020 game launch schedule for Xboxes and PCs all drove this home.
While Microsoft's next flagship Xbox looks like a quality product, its strategy for growing its gaming business doesn't simply boil down to winning a hardware spec battle against Sony.

Microsoft and Alphabet are holdings in Jim Cramer's Action Alerts PLUS member club. Want to be alerted before Jim Cramer buys or sells MSFT or GOOGL? Learn more now.