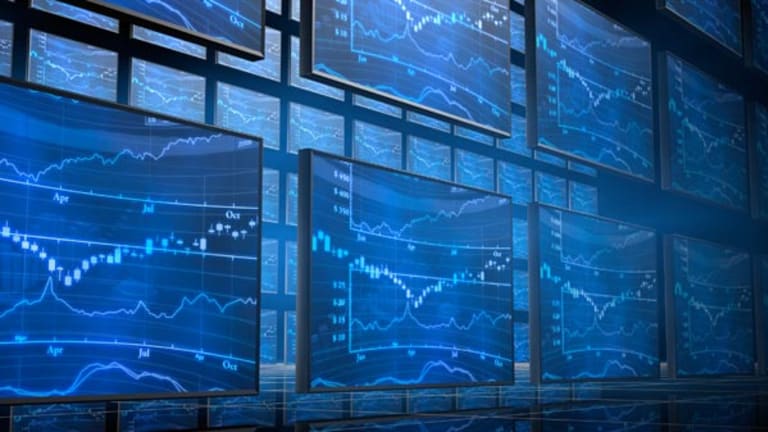 Microsoft's Earnings: Weekly Tech Recap
Microsoft earnings tripped up the market this week. Here's a recap of TheStreet's top tech stories.
NEW YORK (
) --
Microsoft
(MSFT)
posted better-than-expected
Thursday, but faced somewhat of a stock selloff due most to its Windows 7 sales miss.
The software giant's numbers, which were leaked during trading, saw the company post an adjusted profit of 77 cents per share on sales of $19.95 billion, up from 74 cents EPS on sales of $19 billion in the year-ago quarter. Analysts were expecting EPS of 68 cents and revenue of $19.14 billion.
The nice sales boost came mostly from Microsoft's entertainment division, which saw 55% growth over the quarter thanks to holiday sales of the Kinect for Xbox 360, Xbox Live subscriptions and Xbox games.
Shares of Microsoft, which has undergone something of a
in recent months, closed down $1.11, or 3.84%, at $27.76 on Friday.
Verizon & AT&T
Telecom rivals
Verizon
(VZ)
and
AT&T
(T)
were both on deck this week, with investors closely monitoring
the potential impact
of the new Verizon iPhone.
Apple's
(AAPL)
new buddy Verizon was up first, reporting its
on Tuesday before market open. The telco raised its growth targets for profits and sales driven largely by wireless and the iPhone.
The telco said sales growth will more than double in 2011. Addressing analysts and investors at a special earnings presentation, Verizon executives said revenue will grow in the range of 4% to 8% this year, driven by an estimated 11 million Apple iPhone sales.
Shares of Verizon, which
to acquire data center specialist
Terremark Worldwide
(TMRK)
on Thursday, ended the week down 86 cents, or 2.36%, at $35.63.
AT&T met Wall Street's targets with its
on Thursday, but guided below analysts' estimates for 2011.
The telco also showed the beginnings of what is expected to be a slowdown in wireless subscriber growth as Verizon starts selling the iPhone next month. AT&T said it added 400,000 post-paid mobile phone subscribers in the fourth quarter, down from 745,000 post-paid customers added in the third quarter.
CEO Randall Stephenson, however, predicted that the smartphone market will continue to be strong for AT&T with the introduction of new smartphones based on
Google's
(GOOG)
Android operating system and other devices.
AT&T's stock closed down 64 cents, or 2.28%, at $27.49 on Friday.
Qualcomm Enjoys Smartphone Boom
Chipmaker
Qualcomm
(QCOM)
on Wednesday, thanks to strong smartphone sales.
"We are very pleased to report record revenues, earnings per share," said Qualcomm CEO Paul Jacobs, in a press release. "Chipset shipments this quarter
were driven by increased demand for smartphones and data-centric devices across an expanding number of regions and price points," Jacobs continued.
Qualcomm shares ended the week down $1.18, or 2.15%, at $53.72.
Symantec's Turnaround Continues
Security specialist
Symantec
(SYMC)
topped Wall Street's third-quarter estimates
and offered healthy guidance Wednesday.
"I think that the company is definitely gaining momentum right now," said Enrique Salem, the Symantec CEO, in an interview with
TheStreet
. "We saw a good spending environment in the December quarter. Growth of information is increasing
and there were also high-profile attacks like WikiLeaks that are making people aware that they have to protect their information."
Symantec shares, however, ended the week down 45 cents, or 2.53%, at $17.46, mirroring the broader retreat in tech stocks.
Tech's State of the Union
The tech sector featured prominently in Tuesday's
with the President stressing the importance of investing in technology and education.
Companies like Google and
Facebook
are models of American success, he said, emphasizing the key role that technology will take towards creating new jobs in the country.
Nokia's OS Plans
Phone maker
Nokia
(NOK)
is expected to announce
a new operating system partnership
during the company's analyst day Feb. 11. Analysts say Microsoft's Windows Phone 7 or Google's Android software are the likely choices.
Nokia shares ended the week up a penny, or 0.09%, at $10.57.
Tech's Week Ahead
It's another big earnings week for tech next week, with U.K. chipmaker
ARM Holdings
(ARMH)
, Chinese search giant
Baidu
(BIDU)
,
Broadcom
undefined
and
Electronic Arts
undefined
posting results on Tuesday.
Take-Two Interactive
(THQI)
,
Sony
undefined
and
Radware
(RDWR)
are also on deck.
On Wednesday, with Apple,
News Corp.'s
(NWSA)
Rupert Murdoch will announce the first iPad-only newspaper,
TheDaily
, at a flashy New York City event.
Thursday, Verizon will start taking pre-orders for the new Apple iPhone.
--Written by James Rogers in New York.
>To follow the writer on Twitter, go to
http://twitter.com/jamesjrogers
.
>To submit a news tip, send an email to: