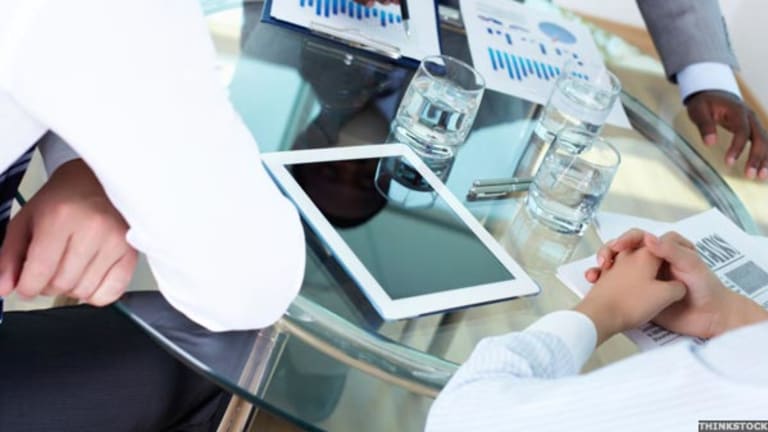 Publish date:
Microsoft's Bing a Google-Slayer in Training
Microsoft will need to do a lot of reps if it expects to out-muscle Google with Bing.
Microsoft will need to do a lot of reps if it expects to out-muscle Google with Bing.
REDMOND, Wash. (
) -- When it comes to
Microsoft's
(MSFT) - Get Report
search efforts, "no pain, no gain" should be the software giant's mantra. With its recently launched
Bing
search engine and its headline-grabbing
with
Yahoo!
(YHOO)
, Microsoft has
Google
(GOOG) - Get Report
firmly in its sights, but the tech bellwether is very much David to Google's
.
Consider the
. Microsoft's
Bing
holds 9.3% of the Internet search market, according to ComScore -- not bad considering it was only launched in
July
.
, however, has almost 65% share, with Yahoo! trailing well behind in second place.
Clearly, Microsoft needs much more than a slingshot and good aim if it wants to topple Google.
"Is there a possibility? Yes," Youssef Squali, Internet analyst at Jefferies & Company, told
TheStreet
. "
But it depends on how much pain Microsoft is willing to withstand -- it depends on how much money they want to commit to it."
Fortunately, Redmond's R&D coffers are vast.
In its
fiscal 2009
, Microsoft reported pretax profit of more than $20 billion but still spent a whopping $9.5 billion on R&D. In a recent interview with
The Washington Post
, CEO Steve Ballmer explained that the firm has 5,000 people researching search, a clear indication of its long-term ambitions.
Microsoft's search challenge also depends on other parts of its business, as technologies such as Office and Windows 7 bankroll its search efforts. In the company's recent fourth-quarter results, for example, its Client and Business divisions generated profits of $2.1 billion, and $2.8 billion, respectively, whereas Online Services, which includes Search and MSN, recorded a loss of $732 million.
NEXT: Google Doesn't Have All the Answers
All the signs suggest that Microsoft is in for the haul. Jefferies & Company's Squali, for example, explains that Microsoft has a history of working in 10-year cycles, and the software behemoth has been discussing search in similar terms.
"If you look out the next ten years we will see more innovation in search, that will be best served by more competition in the market," explained Ballmer, in a recent interview with
TechCrunch
.
Microsoft has taken a gradual approach to its Bing rollout and seems content to chip away at the Google search engine. Initially the software giant targeted Bing -- which it's dubbed as a "decision engine" -- at a handful of functions: making a purchase decision, planning a trip, researching a health condition and finding a local business.
Bing and the Yahoo!
certainly count as
, although Ballmer is not getting carried away. The hard-charging Microsoft chief, famed for his high-octane keynotes, was unwilling to predict the company's 2019 search share in his
Tech Crunch
interview, saying only that it will be "a lot more than we have today."
"We're going to have to hussle to catch up -- we have a lot of years of tuning the relevance algorithms and we have a lot of work to do," he added, but explained that Microsoft has some advantages over
Google
. "We're not an incumbent, so we can play with user interfaces, we can play with business models -- we can do some things that maybe an incumbent can't."
NEXT: Yahoo! Shares Undervalued, Analyst Says
Microsoft, however, also has a broader portfolio of technology to worry about. Whereas Google's world largely revolves around the Internet, Microsoft is juggling a myriad of technologies, from PC to data center operating systems and mobile communications.
"Keeping people focused on this
is the biggest challenge," said Jefferies & Company's Squali. "I remember when they went after
AOL
to be the biggest ASP and they spent tons of money and ended up not winning much."
Microsoft, on the other hand, won its browser war of attrition with
NetScape
, so anything is possible.
Squali also thinks that Microsoft's partnership with Yahoo! will help its search efforts. "Agencies and advertisers are happy to have an alternative to Google," he said. "It looks favorable -- they will win more business through Microsoft/Yahoo! when the deal goes through."
In his
Washington Post
interview, Ballmer said that he sees "real opportunity in search" over the next five years, although shrewd investors will realize that for Microsoft, this is a marathon, not a sprint.
-- Reported by James Rogers in New York