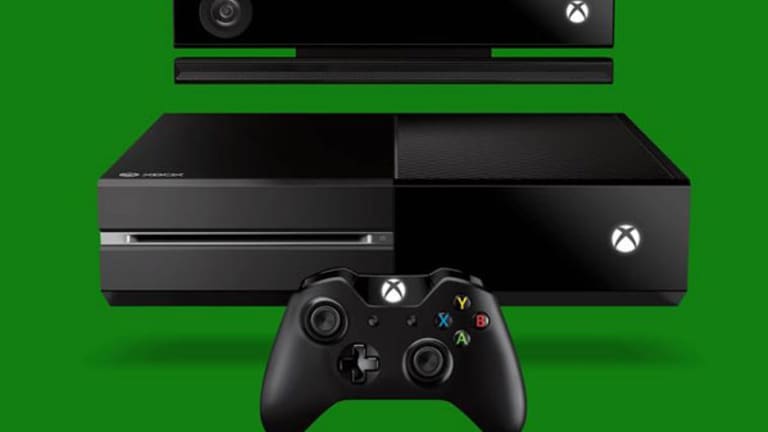 Publish date:
Microsoft Xbox One: Five Best Features
Don't call Microsoft's Xbox One a game console. It's really a home entertainment hub.
Don't call Microsoft's Xbox One a game console. It's really a home entertainment hub.
NEW YORK (TheStreet) -- Microsoft's (MSFT) - Get Report third-generation Xbox One console is a lot more than just a gaming device. Both Microsoft and Sony (SNE) - Get Report are battling for control of your living room with boxes which are capable of streaming video, live TV, games and lots more. It's more about being a homogeneous media hub capable of delivering entertainment in many different ways, than about playing video games.
Xbox One offers advances in five major categories:
Hardware - Microsoft's experiment with PowerPC chips has ended. The Xbox One is headed back to relying on x86-based processing power - this time a 1.7 GHz, x86/64-bit processor made by Advanced Micro Devices (AMD) - Get Report. Video processing is also courtesy of AMD Radeon graphics power.
The Xbox One offers 8 gigabytes of RAM (slightly slower than what's used in rival Sony's new PlayStation 4). Overall, the Xbox One contains a huge increase in fire power over the last-generation device.
Kinect 2.0 - The Kinect is now standard equipment on the Xbox One (it was optional on the last model). Kinect is one of the reasons why Xbox One carries a suggested retail price of $500, compared to the PS4's $400 sticker price.
Kinect is officially a "motion sensing peripheral" which now gives users touch and sight control over built-in features including navigating the user interface as well as controlling game play and most everything else by using voice commands and gestures. It even works with Skype video conference calls. Kinect is the controller you don't have to hold.
Sony's somewhat similar motion-tracking interactive camera costs an extra $60.
Streaming/Sharing Games - Kinect also comes into play here as well. It allows players to record and stream game playing, almost at will. All it takes is for the user to call out the command "Xbox Broadcast," and video highlights are automatically sent to Twitch/TV for sharing. The Xbox One also offers real time live gaming too.
Microsoft included the new Upload Studio software, which allows users to grab Xbox's five-minuter game memory stash and edit/customize/narrate a personal video before sharing it with others.
Smart Glass - Microsoft offers Xbox One SmartGlass which the company boasts turns other devices into a second screen that "intelligently interacts with your Xbox to elevate your entertainment experience." It's actually an app which allows your tablet or smartphone to function as a remote game and TV controller.
SmartGlass is currently available for Windows 8 and Windows RT phones and tables, as well as a number of Apple (AAPL) - Get Report iOS and Google (GOOG) - Get Report Android devices.
Entertainment - Xbox One comes loaded with entertainment channels for users to surf. In addition to the usual streaming offerings such as Netflix (NFLX) - Get Report, Hulu and Amazon (AMZN) - Get Report video, the One also has shortcuts for Fox (FOX) - Get Report, ESPN  (DIS) - Get Report, the CW, and the NFL. HBOGo is reportedly on the way as well.
You can also run and control your cable TV box through the One's HDMI port, and, there's even a Blu-ray disc drive included inside.
The Xbox One officially goes on sale at 12:01 a.m. this Friday.
--Written by Gary Krakow in New York.