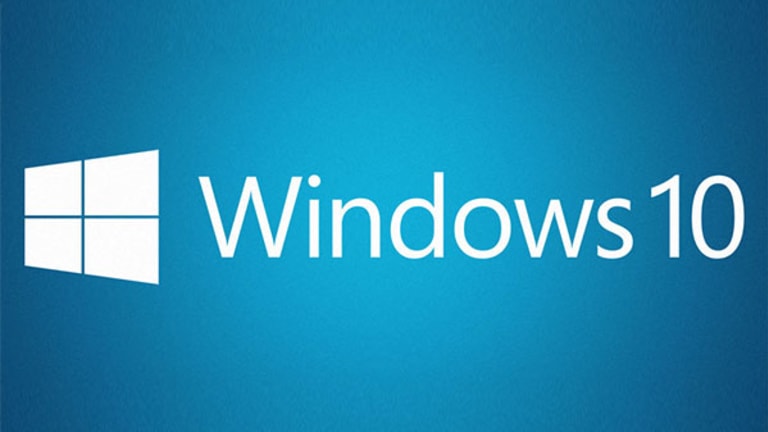 Microsoft Windows 10: Here Are the Latest Features And More
More new features were announced for the next version of Windows including the integration of Cortana voice controls.
Updated from 2:14 p.m. to include additional information in the fifteenth and sixteenth paragraphs.
NEW YORK (TheStreet) -- A few months after releasing an early beta of the next version of its PC operating system, Microsoft (MSFT) - Get Microsoft Corporation Report has announced the Windows 10 Consumer at its headquarters in Redmond, WA., in addition to several new and exciting products, including the Microsoft HoloLens.
Codenamed Windows 10, it is the first Microsoft OS designed to work on all types of popular personal computing devices including PCs, laptops, tablets, phablets, smartphones, Xbox game consoles and other types of devices now being called the "Internet of Things."
Microsoft shares were off 1.41% to $45.74 in early afternoon trading in New York.
Daniel Ives, analyst with FBR Capital Markets called today's announcement "another step forward for Microsoft's CEO Satya Nadella. "It sets the stage around new potential changes that developers/users can look forward to with Microsoft's new flagship operating system ... as we believe reinvigorating the Windows franchise continues to be a key component for Microsoft's success as it looks to offset headwinds from the secular challenges in the PC market," Ives wrote in an email to TheStreet. FBR maintains an outperform rating on Microsoft.
Joe Bellefiore, Microsoft's Windows guru, gave a detailed look at some of the features the new Windows will contain. Some have already been added into the beta software while others, he warned are still in the very early stages of inclusion.
Here are some of the new features available in Windows 10.
Start Menu - It's back in full form after mistakenly being omitted from early versions of Windows 8. The Start Menu in Win10 has the capabliltiy of being viewed full-screen -- a good thing for working on a smaller tablet or smart device.
Cortana - Microsoft's intelligent voice control system will make its debut in PCs running Windows 10. Cortana will be able to do a lot more for computers than it did in its original smartphone version. Based on the Bing search engine, Cortana will be able to handle everything from appointments to large surfaces and even dictated email messages.
Speech Typing - This feature is available for small tablets (less than 8-inch screens) and smartphones. Hands-free messaging makes a leap to voice control and it's also fully integrated with Microsoft's Skype.
Universal Apps - Developers are working on the system that will allow a number of programs which will run on PCs running Windows 10 and will also run on small screen devices. This means that apps such as Microsoft Office will use the same software code in different computing formats.
Internet Explorer - Microsoft unveiled a new version of its Internet browser. Microsoft's Project Spartan adds new features including new reading and sharing capabilities as well as the inclusion of the Cortana personal assistant.
Xbox Appfor PC's/tablets - Phil Spencer, Microsoft's Xbox boss said Windows 10 will also be tuned for PC gaming and connected social interactions. Taking advantage of Direct X 12 allows newly upgraded game titles to obtain new levels of activities on personal computers. Windows 10 PC gamers will be able to play against Xbox One users for the first time. It was also hinted that Xboxes could soon run some popular PC apps.
The new Windows 10 for PC beta next week. Beta OS 10 software for smartphones is coming in early February. The full release version is expected later this year.
In addition to the new features for Windows 10, Microsoft unveiled new products. The Surface Hub is a very large-screen PC monitor of its own, a 4K-enabled 84-inch touch screen monitor. It's designed as an enterprise brainstorming and sharing tool, but could have many other uses in the future.
Perhaps the biggest news of the day was something completely unexpected -- Windows Holographic. It's Microsoft's idea of augmented reality in which the user wears a headset - in this case a lot better looking than Google (GOOG) - Get Alphabet Inc. Class C Report Glass - which adds three-dimensional holograms to your world.
It's an augmented reality experience that employs a headset, much like all the VR goggles that are currently rising in popularity, but Microsoft's solution adds holograms to the world around you. Microsoft engineers describe the HoloLens headset as a "self-contained computer with a CPU and GPU and a (separate) dedicated holographic processor." The dark lenses provide the user with a see-through display and special spacial sound adds to the 3D effect. Expect to hear a lot more about this technology before it's officially released later this year.
-- Written by Gary Krakow in New York.
To submit a news tip, send an email to tips@thestreet.com.
Gary Krakow is TheStreet's Senior Technology Correspondent
This article is commentary by an independent contributor. At the time of publication, the author held no positions in the stocks mentioned.