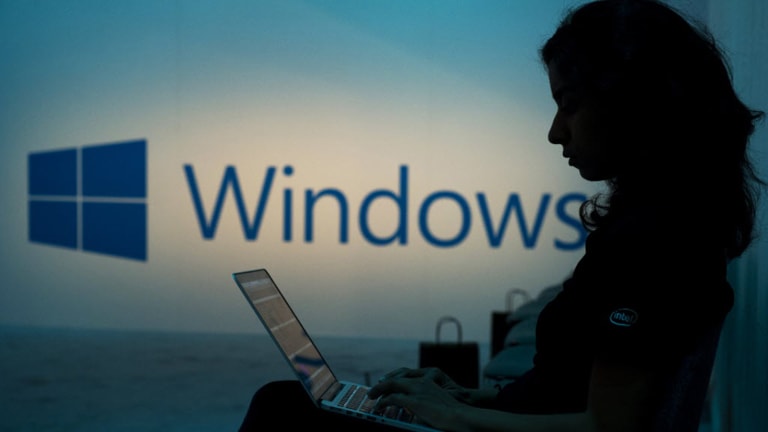 Microsoft Windows 10 -- Could This Next Upgrade Lure Users Back?
New, interconnected operating systems for laptops, tablets and smartphones are coming soon. We've tested the beta versions, and here's what we learned.
Updated from May 26 to add Windows 10 release date in the fourth paragraph.
NEW YORK (TheStreet) -- Microsoft (MSFT) - Get Microsoft Corporation (MSFT) Report is hard at work trying to put travesty called Windows 8 behind it with Windows 10. But with more people using iOS and Android, will Microsoft's attempts be enough to attract people back to what had been the company's -- and the computing industry's -- dominant platform?
We have been testing recent betas of the new operating system and, so far, like what we see.
As we edge closer to its formal release date updates are being offered at a faster pace -- at least for the PC edition. Our Surface Pro 3 test platform is currently running Windows 10 Pro Insider Preview Evaluation Copy 10074 released a month ago.
UPDATE: Microsoft announced Monday that it set the release date for Windows 10 for July 29, releasing the software in 190 countries.
We shouldn't call the new OS retro, but Windows fans will be pleased to know the famous Windows "Start" button in the lower left corner of the screen is back, doing for the most part what you'd expect it to do -- offerings quick links to File Explorer, Documents, Settings, your top eight most used programs and more.
In addition, the new Start offers all of your multi-colored, "Live Tiles" that the company used to offer as its opening home screen when it first introduced Windows 8. Windows 10 opens to the much more familiar home screen that Microsoft pioneered in Windows 95, Windows 98, Vista and Windows 7.
The other major navigational change is that sliding open the panel on the right side of the screen now presents "Notifications" displaying Security and Maintenance messages. There is also a set of buttons which offer quick links to access functions such as Settings, Airplane Mode, Battery Saver, Wi-Fi, Bluetooth, Screen Brightness and more. Windows 8 users know all too well that these settings were a lot more difficult to find in the last OS.
Even though Internet Explorer is still part of this Windows 10 beta release, we got our first real look at Microsoft's next-generation Web browser, known as Microsoft Edge. In our tests, we found a few glitches, but it's quite fast and responsive.
And then there is Cortana, Microsoft's keyboard-driven/voice-activated Bing search assistant.
Cortana has a new look and functions. For instance, it will now try to answer your questions as you're typing them. The Win 10 beta also offers incremental updates to the Music and Video Preview, Xbox and Windows Store apps.
Windows 10, at least for now, appears a whole lot sharper than the OS has looked in its most recent forms. Engineers even brought back "Aero Glass" a popular see-through display feature from Windows 7. And responding to overwhelming requests from developers, Microsoft is finally refreshing its Windows system sounds too. As far as we're concerned, Windows 10 is very, very usable in its current beta form.
Windows 10 Mobile
Even though the desktop version of Windows 10 is pretty much set at this point, the new smartphone OS, Windows 10 Mobile, is at a much earlier stage in its life.
For the past few weeks, we have been testing version 10.0.12562.84 of the Windows 10 Insider Preview on a Nokia Lumia 635 handset. It took quite a few tries to get it to install properly. Once it was up and working, many of our familiar home screen icons were nowhere to be found.
In this early beta, Microsoft has completely overhauled what used to be the standard Mail/Calendar/Contacts apps. The problem is that the previous user account information was not carried over to the new software. That should be fixed as we approach Windows Phone 10's formal release.
There's a new Project Spartan beta for phones too. Its user interface lives up to its name -- it's quite spartan in appearance in this version. But enter a URL or search request and the software comes to life. It's fast and quite good looking. Aside from the additional improvements Microsoft has made to the Messaging, Photos and Skype apps, there are few cues that this new smartphone OS will revolutionize the Windows phone experience. At least, at this point.
Microsoft won't even hint at when Windows 10 Mobile might be released, although it will be surprising if it's not close to or at the same time as the computer OS release. And, for the first year, the new mobile software will be offered as a free upgrade for all phones running Windows Phone 8.1.
This article is commentary by an independent contributor. At the time of publication, the author held no positions in the stocks mentioned.