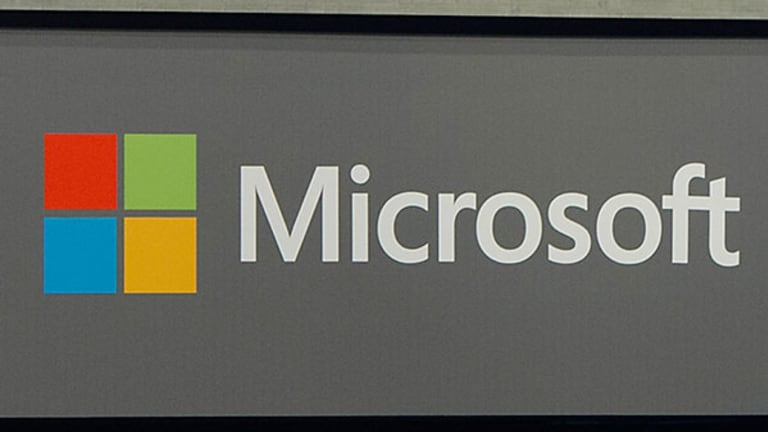 Microsoft Windows 10 and HoloLens Shows Innovation Is Back in Redmond
Microsoft's new announcements yesterday, has helped firmly cement CEO Satya Nadella's vision of bringing innovation back to the forefront at Microsoft.
Updated from 9:46 A.M. to include information from Credit Suisse.
NEW YORK (TheStreet) –– Microsoft's (MSFT) - Get Reportannouncements yesterday, including making Windows 10 a free upgrade and the unveiling of the Microsoft HoloLens, has helped firmly cement CEO Satya Nadella's vision of bringing innovation back to the forefront at the software giant.
Windows 10 is Microsoft's first operating system that will work on any device -- PCs, laptops, tablets, phablets, smartphones, Xbox game consoles and others -- as Microsoft continues to focus on enabling enterprise and consumers to have seamless experiences.
In addition to the new features for Windows 10, Microsoft unveiled some new products. The Surface Hub is a very large-screen PC monitor of its own, a 4K-enabled 84-inch touch screen monitor. It's designed as an enterprise brainstorming and sharing tool, but could have many other uses in the future.
Perhaps the biggest news of the day, though, was Microsoft taking the next leap in augmented reality -- Windows Holographic. The user wears a headset that adds three-dimensional holograms to your world.
Shares of Redmond, WA.-based Microsoft were rising in early Thursday trading, gaining 0.83% to $46.30.
Also included in Windows 10 are Speech Typing (with Microsoft Skype integration), Universal apps, a new version of Internet Explorer, codenamed Project Spartan and the ability to be used with Xbox. Using Direct X 12, this will allow newly upgraded Xbox game titles to be played on PCs. Windows 10 PC gamers will be able to play against Xbox One users for the first time. It was also hinted at Xbox may eventually run select PC applications.
Though the beta version of Windows 10 (PC) is available starting next week and the smartphone version is expected next month, the full version will not come out until the summer of 2015.
Here's what analysts had to say regarding Microsoft's announcements yesterday:
Pacific Crest Securities analyst Brendan Barnicle (Outperform, $58 PT)
"Microsoft will offer free upgrades to Windows 10 for the first year of availability. Microsoft is likely to still charge for new devices that have a Windows operating system, but the company did not specify Windows pricing on new devices. In addition, it said that Windows will be offered as a service. Therefore, Microsoft may charge for subsequent years of support. More importantly, the company is likely to monetize Windows 10 with new applications and services."
Deutsche Bank Karl Keirstead (Hold, $44 PT)
"Initial Peek at Windows 10 MSFT hosted a press event to preview the key consumer features and pricing of its new OS Windows 10 with enterprise customers likely to be highlighted at MSFT's BUILD conference in April 2015. W10 will likely be released in the summer/fall of 2015, is the first OS launch on the new CEO's watch, and is a high strategic priority for MSFT in 2015. MSFT will likely offer added details about W10's financial impact on its F2Q15 earnings call on Monday. We offer our preliminary take in this note."
Jefferies analyst John DiFucci (Underperform, $40 PT)
"MSFT hosted a media briefing on Jan. 21, highlighting the progress and developments of Windows 10, which will be released later this year as a free upgrade to Windows 8/8.1 and Windows 7 for 12 months after release. MSFT also announced the Surface Hub and HoloLens. Our view is unchanged: we still see MSFT as overly dependent on the secularly challenged PC ecosystem and we believe there is material risk to a transition to cloud. Maintain Underperform and $40 PT."
Credit Suisse analyst Philip Winslow (Outperform, $55 PT)
"We are impressed by the new functionality and user experience demonstrated in Windows 10 and HoloLens. Given that Microsoft will provide free upgrades to Windows 10 for devices running Windows 8.1 in the first year
(expanding to Windows 7 devices thereafter), we believe Microsoft can speed the adoption of the Windows platform to consumers at a faster pace than past cycles."
--Written by Chris Ciaccia in New York
>Contact by Email.