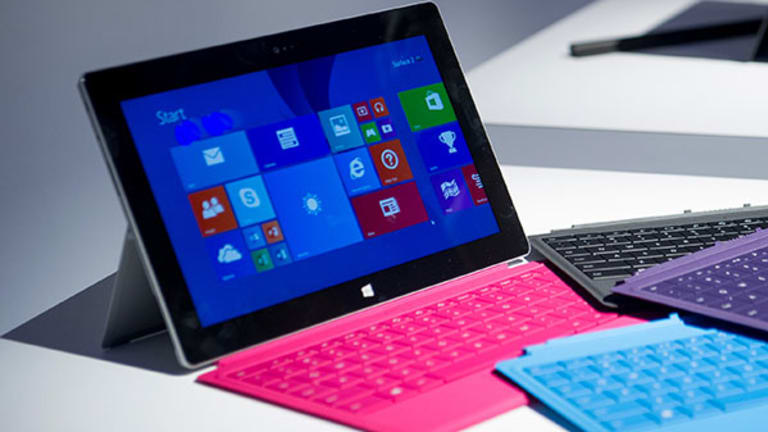 NEW YORK (TheStreet) --  Microsoft (MSFT) - Get Microsoft Corporation (MSFT) Report really wants you to know that it's Surface tablets are the "official tablets of the NFL," as the league takes another step towards embracing technology.
Shown for the first time during last nights' Hall of Fame game between the NY Giants and the Buffalo Bills, it is a huge opportunity for Microsoft to get a lot of TV airtime showing the devices actually being used to do something fans can relate to. It's also a way to keep Apple (AAPL) - Get Apple Inc. (AAPL) Report iPads and Google (GOOG) - Get Alphabet Inc. Class C Report Android devices away from television cameras, with Sterne Agee analyst Robert Breeza noting it's a positive for Microsoft. "Any press is good press," Breeza said in a phone interview.
Microsoft shares were gaining 0.68% to $43.15 in midday trading in New York.
While Microsoft didn't release actual sales numbers when it reported quarterly earnings last month, it did say Surface devices accounted for $409 million in revenues in the quarter. Apple generated $5.589 billion in iPad revenue last quarter, as it shipped 13.28 million units.
The five-year deal was announced by former CEO Steve Ballmer and the league back in May, 2013, and at the time it was thought to be worth upwards of $400 million. Microsoft and the NFL agreed to bring interactive game viewing to the Xbox One, as well as the ability for teams to use Microsoft tablets. Players and coaches have previously been using cameras printers and Polaroids to review plays and tweak formations.
These NFL Surface devices have been specially designed to perform one task - view game photos. No email, Facebook, Twitter, Instagram, Amazon,eBay allowed, and they will not be used to watch other NFL games, nor will they be able to access the Internet. Each tablet is physically protected by a big blue rubber bumper cover which makes them a bit heftier than what the average buyer would find in a retail store.
The Sunday night broadcast showed how the devices would be used, as well as having several shots between plays of players and coaches studying photos on the clearly marked Windows tablets.
Each team will be loaned 25 tablets for the game, with 12 devices used on the sidelines and another 13 available up in the booths for coaches and their assistants. At 32 teams, the initial purchase will be at least 800 tablets, but the opportunity is a great promotional opportunity for Microsoft, said Carolina Milanese Chief of research for Kantar Worldpanel.
"There is no question that seeing the devices out there more is a positive thing especially if linked to popular events like football," Milanese said. However, she warns, "The price of the Pro and the spec fits more with either a professional user or someone looking for a new PC. Having a lower priced device more focused on entertainment/content might be a better fit with the NFL eyeballs-grabbing move."
In addition to the Surface tablets, the NFL has updated its NFL app, NFL Now, for both the Xbox One and Windows 8 devices, as well as Apple, Amazon, Google, Roku devices. This year's app will allow users to select their favorite teams and customize it for fantasy football, as well as having on-demand highlights on gamedays and a video library including footage from the NFL Network and NFL Films Archive.
-- Written by Gary Krakow with additional reporting by Chris Ciaccia in New York.
To submit a news tip, send an email to tips@thestreet.com.
Gary Krakow is TheStreet's Senior Technology Correspondent.