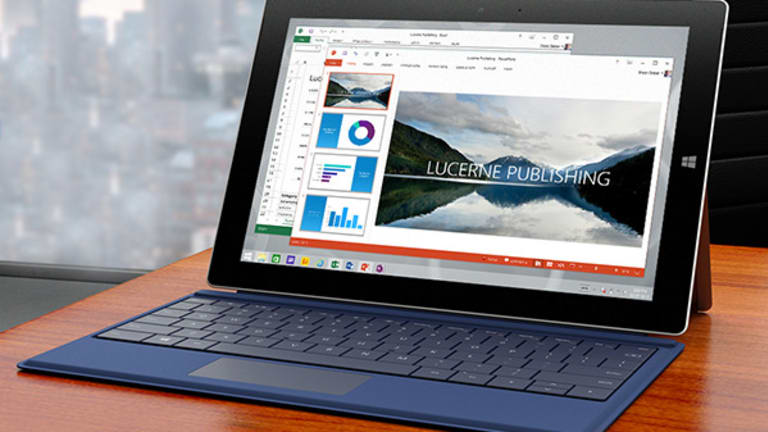 Microsoft Surface 3 Review -- A Less Expensive, Real Windows Tablet
Slightly smaller and even lighter, the new device offers Surface computer design and dumps Windows RT.
NEW YORK (TheStreet) -- When Microsoft (MSFT) - Get Microsoft Corporation (MSFT) Report introduced its first few Surface tablets, there were two model lines -- the Surface Pros, which ran the full version of Windows 8 /8.1 on a PC-stye Intel (INTC) - Get Intel Corporation (INTC) Report Core processors, and the Surface RTs.
These days, the Surface RT, and especially Windows RT, are mostly forgotten remnants of a failed Microsoft experiment. The company's newer produces - the terrific, year-old Surface Pro 3 and now the newly introduced, somewhat smaller and less expensive Surface 3 should help to erase earlier missteps from everyone's memories.
The new Surface 3 tablet is a real Windows computer.
It runs the current Pro version of Windows 8.1 on an Intel Atom processor and is eligible for a free upgrade to Windows 10 during the first year after its release, scheduled for late July. It comes with a 10.8-inch, full HD touchscreen (1920 by 1280 pixels), compared to 12-inches for the Surface Pro. Both screens feature a 3-to-2 height-to-width ratio not the 16-by-9 found on most HDTVs.
In addition to the 1.6 GHz, quad-core Atom processor Surface 3 comes with either 2 GB of RAM and 64 GB of solid-state storage or 4 GB of RAM and 128 GB of storage. For the record, the Pro models offer the possibility of even more RAM plus 256 and 512 GB drives.
The new 3 also offers the latest Wi-Fi and Bluetooth connectivity, a full-size USB 3.0 port, mini DisplayPort, a microSD card reader and a new Micro-USB charging port (like a smartphone) rather than the somewhat balky magnetic charging plug/port in all preview models. There's an 8 megapixel camera on the back and a 3.5 megapixel shooter facing forward.
We really liked our time testing the Surface 3. We found it to be a speedy and smooth operator. Battery life is very good; we found we could get as much as 9 hours of use from a full charge. The Surface 3 has stereo speakers which sound better than they have any right to sound (although don't expect to hear real bass unless you use good headphones. We found the Surface 3's slightly smaller (and lighter) size is a bit more manageable to use as a tablet than its Pro sibling. The Surface 3 weighs 1.37 pounds, compared to 1.76 pounds for the Pro.
The base model Surface 3 starts at $499, while the Surface Pro 3 starts at $799. A 4 GB/64 GB Surface 3 will set you back another $100. These are real Windows computers which can do anything other Windows computers can. In all of our tests, we found the Surface 3 to be a terrific little computer and worthy of serious consideration.
That said, at the prices quoted above, the Surface 3 is first and foremost a tablet. Anything else will cost you extra. Want one of Microsoft's nifty Surface pens to use for tablet input? It's an extra $50. Want to turn the tablet into a laptop? You'll need to pick up one of the colorful, new Surface 3 Type Covers for $130. So, if you choose a few appealing add-ons, that $499 starting price could balloon to the $700 to $800 range. That's not as much as a Surface Pro 3, but it's getting up there. There's also an optional docking station that will set you back an extra $200.
I expect Microsoft will soon be facing some pretty stiff pricing competition for somewhat similar Windows tablet/add-on keyboard products. During the 2014 holiday shopping season, we told you about inexpensive computers (tabtops?laplets?) from Asus and E-Fun running Windows 8.1 and selling for as little as $99. There's nothing to stop others from offering new, similarly outfitted, less expensive Windows products.
At the moment, Microsoft is offering an attractive trade-in deal for those who still own a Surface RT device. They'll give you up to $150 that you can use toward the purchase of a new Surface 3. If you have an RT tablet, this is a great way to get top dollar for it and come away with a new, much more useful device.
Overall Score: 8.8/10
This article is commentary by an independent contributor. At the time of publication, the author held no positions in the stocks mentioned.