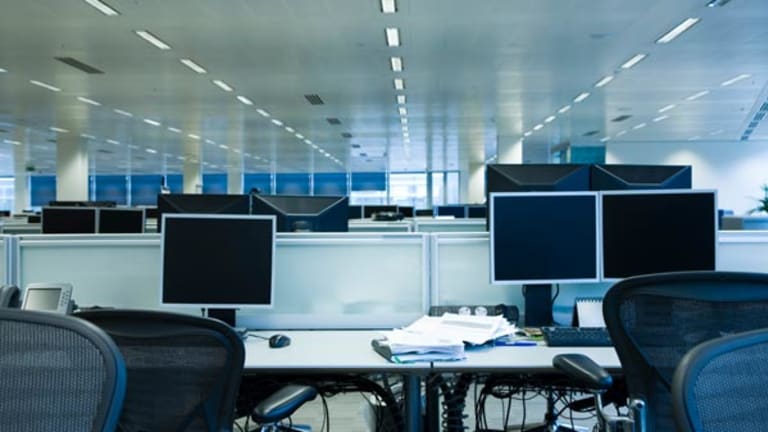 Microsoft, Silver Lake, THL: Where to Yahoo!?
A review of key stakeholders and possible outcomes for Yahoo!
NEW YORK (TheStreet) -- Last night, we learned that Microsoft (MSFT) - Get Report is likely to team up with Silver Lake on a leveraged recapitalization bid for 20% of Yahoo! (YHOO) . Also, THL (formerly known as TH Lee) is thinking of making an outright bid for the company.
There have been a lot of rumors floating around regarding what will happen with Yahoo! Let's review the key players and the possible outcomes.
>>Deals to Watch: M&A Vampires and Undead Deals
The key stakeholders in this drama are:
Jerry Yang and David Filo.
The two co-founders of Yahoo! still own about 9% of the company. Although Yang is the public face of the pair, Filo actually has a much bigger stake in Yahoo! But they typically vote together. They don't want to see their baby dismembered. So their optimal outcome would be to see Yahoo!'s core business undergo a renaissance in the years ahead and returned to its place of prominence in the Silicon Valley hierarchy. Many have guessed that Jerry didn't want to sell the company to Microsoft and wants to be aligned with private equity in order to retain control of his baby.
Capital Research.
This big mutual fund headed up by famed media investor Gordy Crawford has been a large investor in Yahoo! for a while. They've also been a public critic at times. Remember when Gordy called for a recount of the 2008 shareholders' vote and we learned that the votes cast against Chairman Roy Bostock and other directors was much higher than what was initially reported. They own 6.8% of the company and would like to see the highest price possible -- even if they have to wait six months instead of two months.
Third Point.
Dan Loeb is the newest large shareholder in Yahoo! He's now the second largest shareholder giving him a big voice with the board. He's also gone "activist" with Yahoo!, telling them he intends to push for change if he doesn't see the board acting in his (and other shareholders') best interests. He's already asked for two board seats. It's likely he'd launch a proxy contest in the spring if he didn't think the board was moving fast enough.
Lots of people like to say: "Oh, other hedge funds have tried to change Yahoo! and failed so Loeb will too." That's idiotic. Loeb is probably the best activist investor in the world today. Icahn didn't understand Yahoo! and Einhorn never went activist in Yahoo! Loeb wants the maximum price. His average cost is in the low teens and most of his options are in the low to mid-teens, so anything at $20 or more and he's golden.
There are many other shareholders in Yahoo!
Most of them are big mutual funds who won't speak to the management or the board. There are also a handful of hedge funds who will be agitating for change along the lines of Third Point.
Private equity.
The big players are Silver Lake, THL, Providence and several others. They all want a piece of Yahoo!'s core business, which they likely want to pay 5 - 8x EBITDA for and hope they can turn it around and then take it public in the future at 14 - 20x EBITDA.
Marc Andreessen.
The original Mark Zuckerberg, Andreessen is interested in teaming up with Silver Lake as he did on Skype. As a Valley icon, Andreessen has a soft spot in his heart for Yahoo! And his name is tops on the list for all Yahoo!'s shareholders to be CEO. It's not clear if he would take that role or executive chairman.
If he became chairman, Andreessen would likely insist that Jeff Jordan or Ben Horowitz become CEO. The question Andreessen is trying to answer to himself at the moment is: Is Yahoo! fixable, especially since I'm contemplating putting my whole VC firm on hold in order to do this thing?
Jack Ma.
The head of Alibaba Group is the key guy in this process. All roads for a deal have to pass through Hangzhou where Ma is based. Anyone contemplating buying Yahoo! whole would want to know that Ma is going to be friendly to them and not try to pull an Alipay on them. Ma has big ambitions of his own and has said previously that he wants to buy all of Yahoo!
Masayoshi Son of Softbank.
He's not as important as Ma, because he's not as mercurial, but Son is still a key decision maker in this drama. Yahoo! owns a 35% stake in Yahoo! Japan which it wants to monetize. Who Son supports in all this will be critical.
Microsoft.
After being turned down by Yahoo! in 2008 and getting a search deal instead, you'd think Microsoft wouldn't need to buy Yahoo! However, it still would be in a tough spot if someone who was an enemy suddenly controlled its search partner and all of the search, display, and social networking patents it controls.
Facebook.
Although Facebook won't be bidding for Yahoo!, its hopes of going public by next June might be at risk depending on who ends up controlling Yahoo!'s patents around search, display, and social networking. Microsoft and Yahoo! have been lenient toward Facebook on these patents -- as would a private equity backer. But if
Google
(GOOG) - Get Report
,
Apple
(AAPL) - Get Report
or
Alibaba Group
ended up making a play for the patents, they would have Facebook over a barrel before their IPO.
With all that said, here's what I think is most likely:
Yahoo! sells 20% of itself to a consortium of Silver Lake, Microsoft, the Canada Pension Plan Investment Board, and Andreessen Horowitz (call this the Skype consortium, since these were all the players involved in the Skype-Microsoft transaction).
Andreessen would become the next Executive Chairman and Jordan would be appointed CEO. The entire existing Yahoo! board would be replaced except for Yang.
Yahoo! does a massive stock buyback using leverage.
It then enters into agreements to do two cash-rich splits of its stakes in Alibaba Group and Yahoo! Japan. Then, Yahoo! would use the cash from these splits to further shrink its share count.
This could take place over the next five to six months and lead to a significant bump (to $30) in Yahoo!'s stock price -- for those who don't tender their shares earlier.
However, once the wheels are in motion on the plan laid out above, there could be an over-the-transom bid for the company made up of Alibaba Group and/or Softbank with various private equity or other strategic buyers who suddenly decide they don't want to see Yahoo! go to the Skype consortium.
And that's when things could get interesting.
What's in the best interest of Yahoo! shareholders? The highest price possible.
At the time of publication, Eric Jackson was long YHOO.
Eric Jackson is founder and Managing Member of Ironfire Capital and the general partner and investment manager of Ironfire Capital US Fund LP and Ironfire Capital International Fund, Ltd. In January 2007, Jackson started the world's first Internet-based campaign to increase shareholder value at Yahoo!, leading to a change in CEOs in 2007. He also spoke out in favor of Yahoo!'s accepting Microsoft's buyout offer in 2008. Global Proxy Watch named Jackson as one of its 10 "Stars" who positively influenced international corporate governance and shareowner value in 2007.
Prior to founding Ironfire Capital, Jackson was President and CEO of Jackson Leadership Systems, Inc., a leadership, strategy, and governance consulting firm. He completed his Ph.D. in the Management Department at the Columbia University Graduate School of Business in New York, with a specialization in Strategic Management and Corporate Governance, and holds a B.A. from McGill University.
He was previously Vice President of Strategy and Business Development at VoiceGenie Technologies, a software firm now owned by Alcatel-Lucent. In 2004, Jackson founded the Young Patrons' Circle at the Royal Ontario Museum in Toronto, which is now the second-largest social and philanthropic group of its kind in North America, raising $500,000 annually for the museum. You can follow Jackson on Twitter at www.twitter.com/ericjackson or @ericjackson.
You can contact Eric by emailing him at eric.jackson@thestreet.com.