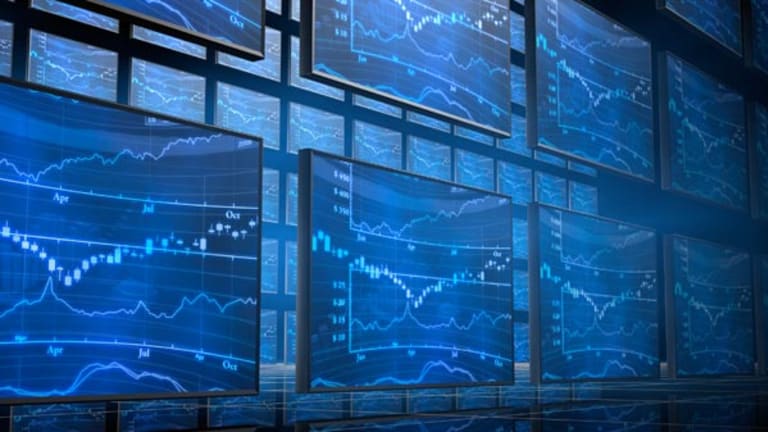 Microsoft Shares Rise on Profit Beat
Microsoft shares surge on the software giant's first-quarter beat.
(Updated with stock and conference call information)
REDMOND, Wash. (
) --
Microsoft's
(MSFT) - Get Free Report
first-quarter results
surpassed Wall Street's expectations Friday.
The tech bellwether's revenue was $12.92 billion, down from $15.06 billion from the same period last year but above Wall Street's estimate of $12.32 billion. Microsoft earned 40 cents a share on net income of $3.57 billion, down from 48 cents a share and $4.37 billion in the prior year's quarter but well above the 32 cents that analysts expected.
Investors responded positively to the results, driving Microsoft's shares up 5.7%, to $28.11. The broader tech market, in contrast, dipped slightly, with the Nasdaq slipping 0.6%.
Microsoft's numbers took a major hit from the launch of its much-hyped
operating system, which debuted earlier this week.
The results include deferral of $1.47 billion of revenue related to the Windows 7 upgrade program and pre-launch sales of the operating system. This also impacted the company's earnings by 12 cents a share. Adding back the revenue, sales would have totaled $14.39 billion, a 4% decline on the prior year's quarter. Earnings would have equaled 52 cents a share, an increase of 8% on the same period last year.
There had been concerns that
could weigh heavily on Microsoft's first quarter. Despite declining sales, the firm has provided some
hints
of an improving computer market.
"We are very pleased with our performance this quarter and particularly by the strong consumer demand for Windows," said Chris Liddell, Microsoft's CFO, in a statement. "We also maintained our cost discipline, which allowed us to drive strong earnings performance despite continued tough overall economic conditions."
Speaking during a conference call to discuss the results, Frank Brod, Microsoft's chief accounting officer, painted a relatively rosy picture of the PC market. Sales of PC-based software are growing significantly, he said, explaining that this grew in the mid-teens sequentially.
Microsoft also reduced its operating expense guidance for fiscal 2010 to between $26.2 billion and $26.5 billion.
The software giant, which clinched
with
Facebook
and
Twitter
earlier this week, is eager to challenge
Google's
(GOOG) - Get Free Report
dominance in search.
Earlier this year Redmond unveiled its
Bing
search engine and forged a
with
Yahoo!
(YHOO)
to boost its Internet presence.
"While it's still early days, we're very happy with the progress of our search engine Bing," said Liddell, during the conference call, alluding to the firm's recent, albeit modest, share gains.
As for the broader economy, the executive is hopeful that the worst may be over. "It's showing signs of stabilization at low levels," he said. "While it's too early to tell, the fourth quarter of fiscal 2009 may have been the bottom of the economic reset."
However, the CFO acknowledged that the corporate spending climate remains challenging despite healthy consumer appetite for offerings such as Xbox and Windows.
-- Reported by James Rogers in New York