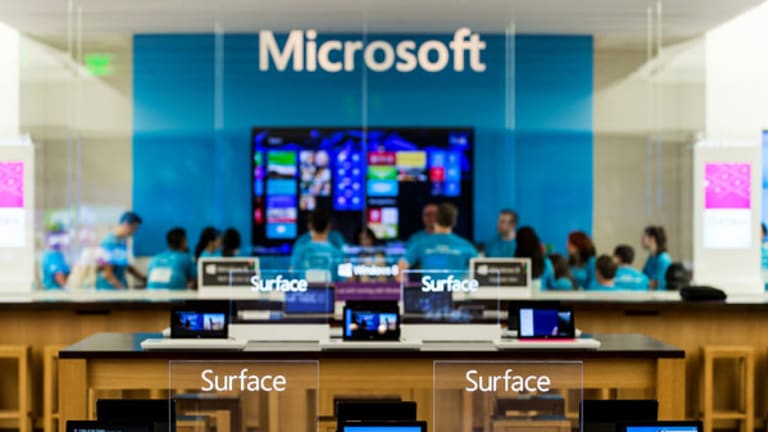 Microsoft Plans to Fight NSA Spying (Update 1)
Microsoft says it's responding to customer concerns over government spying by bolstering security measures.
Microsoft says it's responding to customer concerns over government spying by bolstering security measures.
Updated from 10:01 to include information about other companies in the seventh paragraph.
NEW YORK (TheStreet) -- Microsoft (MSFT) - Get Report said it is preparing a detailed plan to reduce the U.S. government's and National Security Agency's (NSA) ability to spy on its computers.
According to a long, detailed posting on The Official Microsoft Blog, the company said it has heard customer concerns and is "taking steps to ensure governments use legal process rather than technological brute force to access customer data."
Brad Smith, Microsoft's general counsel and executive vice president for legal and corporate affairs, said the company is alarmed by recent allegations of a concerted effort by some governments to "circumvent online security measures ... in order to surreptitiously collect private customer data." He admitted the company is greatly alarmed by reports that the government is gathering that data without warrants or subpoenas.
Smith flatly stated Microsoft's position that government snooping potentially now constitutes an "advanced persistent threat" alongside sophisticated malware and cyber attacks.
The company plans to fight the alleged spying with a three-pronged approach:

Expanding encryption across services on Outlook.com, Office 365, SkyDrive and Windows Azure, and will provide protection across the full lifecycle of customer-created content
Reinforcing legal protections for customers' data by notifying business and government customers upon receipt of legal orders related to their data. Where a gag order attempts to prohibit Microsoft from doing this, the company will challenge it in court.
Enhancing the transparency of Microsoft software code, making it easier for customers to reassure themselves that products do not contain "back doors."
Smith boasted that some of the new safety features are already in place. Office 365 and Outlook.com customer content is said to be encrypted when traveling between customers and Microsoft, and most Office 365 workloads plus Windows Azure storage are encrypted in transit between data centers.
Microsoft isn't the only company with something to say about government snooping. Google (GOOG) - Get Report, Yahoo! (YHOO) , Facebook (FB) - Get Report, Twitter (TWTR) - Get Report and Mozilla have all stated plans to combat unwanted intrusions but Microsoft is alone in promising to alert customers of any court-ordered government requests for data.
Recently released information from former NSA contractor Edward Snowden alleged the government monitors nearly 5 million cellphone calls each day all around the world to gather information concerning the movements of many individuals and how that relates to their relationships with others.
According to a report in The Washington Post, Snowden's information revealed the NSA doesn't target Americans but "incidentally" tracks the location of and information from domestic cell phone customers traveling overseas.
-- Written by Gary Krakow in New York.
To submit a news tip, send an email to tips@thestreet.com.