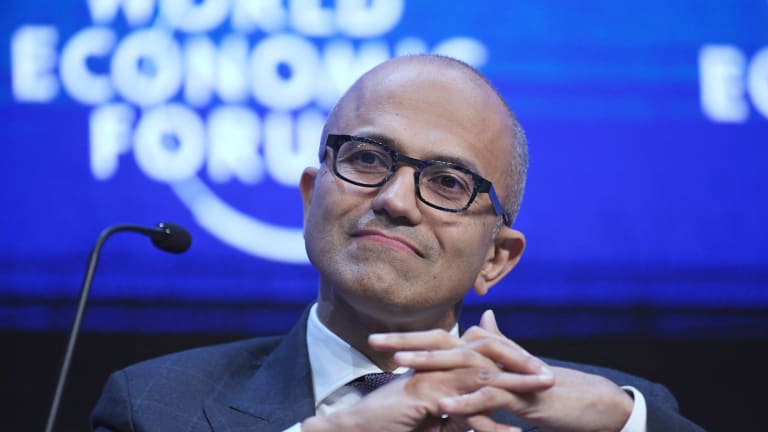 How Microsoft Wound Up as the One Tech Giant Untainted by Scandal
Under Satya Nadella and CFO Amy Hood, Microsoft has managed to grow bigger than all of its mega-cap tech rivals without the slightest whiff of scandal.
The expression "blow out" is one that Wall Street analysts use frequently when they describe a corporate earnings report that was relatively healthy on most fronts, with no major disappointments. It is, in other words, hyperbole that's thrown around a lot.
But when applied to Microsoft (MSFT) , the term actually applies rather well to the entire period of the Nadella Era, as Microsoft has sailed along without the dramas that have beset its mega-cap brethren. 
Alone among mega-cap tech, Microsoft has suffered not one whit of bad publicity or dust-ups with government regulators in any major way. Alphabet's (GOOGL) Google has been fined tens of billions of dollars, Amazon (AMZN) is currently under investigation on competition grounds by the European Commission, and Facebook (FB) has been a PR disaster. For Apple (AAPL) , the biggest product, the iPhone, has been a soap opera, from scandal over the conditions of factories at partner Foxconn to the company's decision to revoke all sales data for the device.
But Microsoft under chief executive Satya Nadella has breezed by unblemished in the five years-plus that he's been at the helm, nary a peep from regulators, no cries of unfair competition. 
And Thursday evening's results were yet another example that the ship under the control of Nadella, and chief financial officer Amy Hood, is a tight ship, moving in the right direction, with revenue growing by double digits and handily beating consensus by almost a billion dollars, the company now having beaten sales expectations in 19 out of the 21 quarters of the Nadella Era. Microsoft shares were up 1.5% at $138.41 Friday afternoon, and up 36% for the year.
The stock is up 280% since Nadella came aboard in early 2014, well ahead of returns on Apple and Alphabet stock, and beating Facebook, beaten only by Amazon's 388% return. Oh, and by the way, it's now bigger than all of them, at a little over $1 trillion in market capitalization.
These are the fruits of not being particularly aggressive as a consumer Internet company. Microsoft's search business is a small affair, roughly $2 billion per quarter on total revenue of over $30 billion, and just a tiny minnow compared to  Google's $36 billion per quarter in mostly advertising revenue. The centerpiece of the advertising story, LinkedIn, purchased back in 2016 for $25 billion, has not drawn any attention by regulators for its use of data, and it's too small relative to Facebook to be a meaningful target.
Microsoft has been instead an enterprise software story through and through, as the Windows franchise and the various server products have transitioned to being subscription-based, cloud-hosted products. It's an incredible pivot by the company, capped by Office 365, the online version of the office productivity suite, the vast majority of which are "commercial" subscriptions for corporations, not for consumers. 
This healthy enterprise software business has expanded revenue by double-digits despite the fact that Microsoft has healthy competition from its traditional foes, such as Oracle (ORCL) , and all kinds of new competitors in the form of software startups such as Twilio (TWLO) and Okta (OKTA) . 
The Wall Street has lavished praise on the company despite the fact that it has masked some of the key financial details of its most exciting new businesses. The most interesting part of Microsoft is arguably its Azure cloud computing operation, which competes with Amazon's AWS. But Microsoft never discloses dollar amounts for the unit, only offering quarterly updates about growth rates. Last quarter, growth slipped to 64%, year over year, down from 73% in the prior quarter, but the Street seemed unperturbed. 
CFO Hood has, over several years of annual presentations to the Street, adroitly cloaked the financials of Azure, instead offering up abstract data points called "KPIs," or Key Performance Indicators, that keep stock analysts feeling good the momentum is continuing at Azure, even if no one knows how much the business actually makes.
As long as the dividends keep flowing -- and they do, albeit not as rich as they could be, at $1.84 per share per year, a 1.3% yield -- and the company keeps buying back stock, which it does in the billions each quarter ($7.7 billion in capital returns last quarter), Wall Street is happy. 
Yes, it's a blow-out performance over five years, reaping the rewards of growth in cloud software, and even enjoying the growth in social networking at LinkedIn, without any of the taint of false promises or mis-used data or bullying competition. Remember this is the company that sixteen years ago was nearly broken in two in a landmark anti-trust trial.
Looking over the results Friday morning, Canaccord Genuity's Richard Davis reiterated a Buy rating on the stock, and hiked his price target to $155 from $145. Microsoft is "more expensive than it has been since 2000," he noted, trading at a multiple of free cash flow of 26 times next year's projections. But then, the whole market is more expensive, he observed. 
For investors who just can't believe who good things are at Microsoft, Davis urged them to "relax and enjoy what looks to us to be several more years of above average growth and price appreciation."
Microsoft, Amazon, Facebook, Alphabet, Apple and Twilio areholdings in Jim Cramer'sAction Alerts PLUS Charitable Trust Portfolio. Want to be alerted before Cramer buys or sells these stocks? Learn more now.
Tiernan Ray neither trades nor owns shares of any companies discussed in this article.