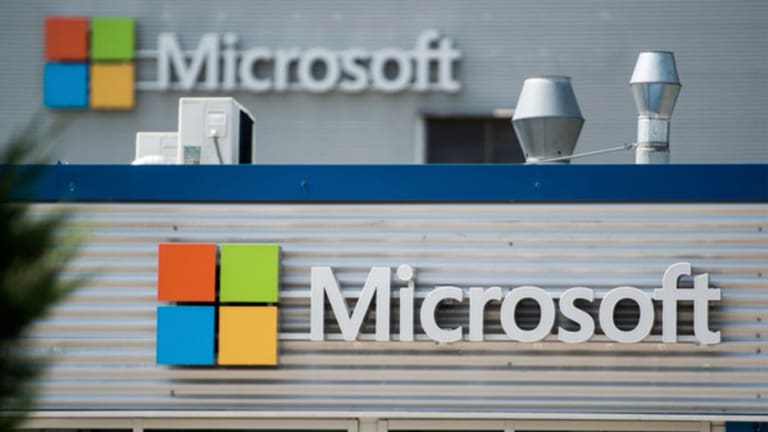 #Build2016 -- Here's Everything Microsoft Announced at Its Huge Developer Conference
At its Build 2016 developer conference, the software giant said Windows 10 is 'off to the fastest adoption' of any version of Windows in history.
Updated from 1:40 p.m. to include additional information about cognitive services.
Microsoft (MSFT) - Get Microsoft Corporation Report Windows 10 really is a viable platform, not just in the eyes of other tech companies, but consumers as well.
At its Build 2016 conference for developers in San Francisco on Wednesday, Microsoft announced that 270 million people are actively using Windows 10, with a new update coming this summer. Microsoft's Terry Myerson said Windows 10 is "off to the fastest adoption" of any version of Windows in history, then followed that up with an announcement of an Anniversary Update coming this summer, free for all users.
In addition, the Anniversary Update will be available for Xbox One, which turns any Xbox One into a developer unit, bringing Windows 10 apps to the gaming console.
With 270 million now actively using Windows 10, tech companies are noticing. At the conference, Microsoft announced not only a new Starbucks app for Windows 10, but Facebook (FB) - Get Meta Platforms Inc. Report , Instagram, and Messenger apps coming to the Windows Store as well. In addition, Facebook's Audience Network will also be available on Windows 10.
The company also announced Windows Ink, which lets Windows users use their upcoming stylus and work on a device that would normally require pencil and paper. "We're going to make sure we solve for the tasks that people are reaching for their pen and paper for," Microsoft's Bryan Roper said during the conference.
There's even the ability to use Ink on the Maps app on mountains, letting you find the best route to hike.
Microsoft's Phil Spencer, who heads up the Xbox unit, announced that not only would games be able to be converted to modern desktop apps thanks to the new universal platform announced, Cortana, Microsof's virtual assistant would be coming to Xbox One. The company announced this at last year's Build conference, but it appears it's worked out the kinks behind getting the assistant onto the platform.
Redmond, WA.-based Microsoft also announced that HoloLens, its augmented reality headset, would be shipping to developers and enterprise partners, starting to day.
HoloLens has received considerable excitement since it was first announced last year. Partners such as Japan Airlines, research universities, Volkswagen, Volvo, NASA and more are using the tech and creating apps for different purposes.


It appears the next big thing out of Silicon Valley is bots or applications that can talk and perform functions for you. With CEO Satya Nadella saying that he wants to turn "conversation as a platform," and following the unsuccessful launch of Tay last week, it appears Bots are getting an inordinate amount of time and money from Silcon Valley.
"We want to build technology so it gets the best of humanity, not the worst," Nadella said during the presentation. With 300 million monthly active users for Skype, it appears Skype is going to be one of the key places for bot usage. You can interact with Cortana through Skype, which thanks to bots, can schedule appointments, contact a friend or interact with businesses to do tasks such as book hotels.
Microsoft showed off a Domino's bot to help you order pizza using natural language. It appears Microsoft wants bots to be the new apps, with the company being at the forefront of the revolution.
Lastly, Microsoft's Cornelia Carapcea showed off the upcoming cognitive services from Microsoft, including 22 API's to help developers use machine learning to power their apps, with things like recognizing pictures or speech-to-text recognition.