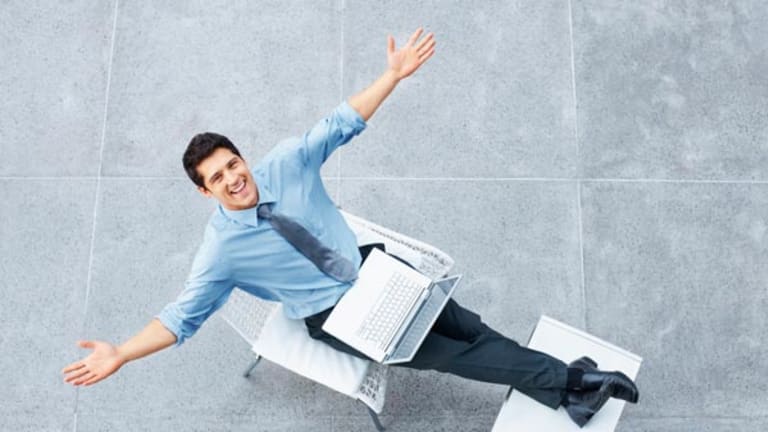 Microsoft Impresses With Surface Tablet Upgrade
Microsoft came to New York again this year to introduce upgraded version of its Surface tablet computers.
NEW YORK (TheStreet) - Thinner. Lighter. Faster. More powerful. That should sum-up the second-generation of Microsoft (MSFT) - Get Microsoft Corporation Report Surface tablets introduced this morning in New York.
Information about the two new products had been leaking for weeks but we finally got to see what Microsoft has been working on. From today's unveiling we learned about the new Surface Pro 2 and the new version of what used to be called Surface RT, renamed Surface 2.
Microsoft shares were little changed at $32.78.
Both computers have received significant upgrades. Both have been slimmed down, have faster processors (new Intel (INTC) - Get Intel Corporation Report i5 for the Pro and Nvidia's (NVDA) - Get NVIDIA Corporation Report Tegra 4 for the Surface 2), sharper 10.6-inch touchscreens, USB 3.0 ports, better battery life and both come with versions of the newly improved Windows 8.1 on board.
Microsoft also improved the accessories available for both tablets. The Touch Cover (flat keyboard) is thinner and lighter and has an entirely new sensor beneath the keys (and promises of great features to come). The Type Cover (with real keys) is thinner and lighter and reportedly improves the typing experience. Also announced another new snap-on keyboard with an extra rechargeable battery inside (Power Cover) and a Surface tablet docking station (with additional USB and HDMI ports) due to reach the marketplace early next year.
Microsoft also stressed the fact that the Surface's flip-open stand has been improved. There are now two settings - narrow and a little wider - to make the devices easier to see when sitting up on a table.
The Surface Pro 2 will run on the soon-to-be-released Windows 8.1 operating system. The Surface 2 tablet will run on Windows RT 8.1.Microsoft plans to offer free 8.1 upgrades for older Windows 8 tablets, laptops and PCs.
As with last year's model, the Surface 2 still comes bundled with a full version of Microsoft Office Both tablets will come with 200 GB of cloud storage (Microsoft SkyDrive) for two years and both will allow buyers to make free international voice calls via Skype for one year.
The demonstrations were terrific. Everything worked as planned (not always the case in a live demo), and showed the new devices in their best light. Based on his performance Panos Panay, the Vice President in charge of Surface looks to be an upcoming Microsoft corporate star.
The new Surface Pro 2 will retail for $899 and up (depending on memory and storage). The Surface 2 will retail for half as much - starting at $449. Microsoft will also continue to sell its back stock of the original Surface RT device for $349. Pre-orders begin tomorrow morning. The new computers officially go on sale in 22 markets beginning October 22.
Written by Gary Krakow in New York.
Gary Krakow is TheStreet's senior technology correspondent.