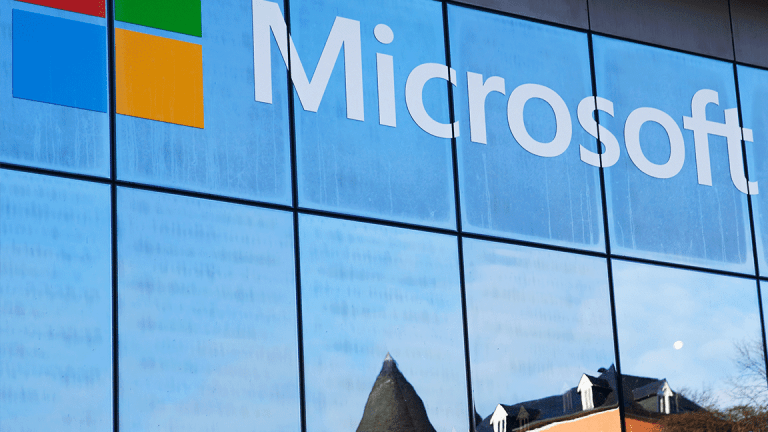 Microsoft Hits New Highs on Robust Results and Guidance: 10 Key Takeaways
The software giant beat estimates with the help of strong corporate demand for a number of different products and services. And it struck an upbeat tone about the upcoming fiscal year.
For the second straight quarter, Microsoft  (MSFT) soundly beat estimates while reporting growth for nearly all of its major businesses.
On Thursday afternoon, the software giant reported June quarter (fiscal fourth quarter) revenue of $33.72 billion (up 12% annually) and non-GAAP EPS of $1.37, beating consensus analyst estimates of $32.77 billion and $1.21. GAAP EPS, which got a boost from a one-time tax benefit, came in at $1.71.
On its earnings call, Microsoft, which has a history of issuing conservative quarterly guidance, forecast its three reporting segments would collectively post September quarter revenue of $31.7 billion to $32.4 billion, in line with a consensus of $31.99 billion and implying 10% growth at the midpoint. Satya Nadella's firm also reiterated it expects both its revenue and operating income to grow at double-digit clips in fiscal 2020 (ends in June 2020).
Microsoft's shares, which were up 35% on the year going into earnings, rose 2.4% in after-hours trading on Thursday and were up a similar amount in pre-market trading on Friday, making new highs in the process. With the qualifier that this estimate is likely to rise a bit as analysts react to earnings, Microsoft now trades for 27 times a consensus fiscal 2020 EPS estimate of $5.11.
Here are some notable takeaways from Microsoft's earnings report and call.
1. All Three Reporting Segments Topped Expectations
Microsoft's Productivity & Business Processes segment, which covers its Office, Dynamics and LinkedIn businesses, saw revenue grow 14% annually to $11 billion, beating a consensus estimate of $10.7 billion. The Intelligent Cloud segment, which includes the Azure cloud services business and Microsoft's traditional server software and enterprise services operations, saw revenue grow 19% to $11.4 billion, beating an $11 billion consensus. And the More Personal Computing segment, which includes Windows, Surface, gaming and Bing, saw revenue grow 4% to $11.3 billion, beating a consensus of $11 billion.
2. Bookings Grew Over 20% Again
After having grown an eye-popping 30% in the March quarter, Microsoft's commercial bookings rose 22% in the June quarter, with the company noting that a pickup in the number of "larger, long-term, Azure contracts" provided a boost. In addition, CFO Amy Hood mentioned on the call that Microsoft's backlog of revenue that has been contracted but not yet recognized rose 25% to $91 billion. The company expects to recognize about half of this revenue over the next 12 months.
At the same time, Hood did caution that "an increasing number of large long-term Azure contracts will drive more quarterly volatility in [Microsoft's] commercial bookings and unearned revenue growth."
Microsoft is a holding in Jim Cramer's Action Alerts PLUS member club. Want to be alerted before Jim Cramer buys or sells MSFT? Learn more now.
3. Azure Growth Slowed a Bit, But Remains Pretty Strong
Azure revenue rose 64% annually (Microsoft doesn't share a revenue figure), after having grown 73% in the March quarter and 76% in the two prior quarters. The fact that installed base growth for Microsoft's Enterprise Mobility + Security (EMS) suite, which is counted as part of Azure, slowed to 41% from the March quarter's 53%, weighed on total Azure growth. But it looks as if revenue for Azure's core cloud infrastructure (IaaS) and developer platform (PaaS) services still grew over 70%.
The disclosure arrives a day after AT&T (T) announced it has inked a multi-year deal with Microsoft under which Microsoft will be AT&T's "preferred cloud provider for non-network applications." The deal has a reported value of more than $2 billion.
4. Office 365's Enterprise Momentum Continues
Microsoft's Office commercial revenue rose 14% annually, after having grown 12% in the March quarter. The business got a 4-percentage-point boost from a greater mix of contracts featuring higher amounts of up-front revenue recognition (more long-term deals helped). But it also benefited from a 23% increase in Office 365 commercial seats, and from continued growth in Office 365's average revenue per user (ARPU) amid rising uptake for the costlier E3 and E5 Office 365 plans.
Office consumer revenue rose a more modest 6%, with Hood stating higher transactional sales in Japan accounted for 4 points of this growth. Consumer Office 365 subscribers grew by another 600,000 sequentially and 3.4 million annually to 34.8 million.
5. Healthy Corporate Demand Drove Windows Growth
A week after research firms IDC and Gartner indicated PC demand was better than expected in Q2, Microsoft reported Windows OEM revenue, which is driven by license sales to PC OEMs, rose 9%. "OEM non-Pro" revenue, which is driven by consumer PC sales, fell 8% due to pressures in the low-end PC market (Chromebooks are a likely headwind here). However, "OEM Pro" revenue, which is driven by business PC sales and is benefiting from companies replacing old Windows 7 systems before Microsoft ends Windows 7 support in Jan. 2020, rose 18%.
In addition, Microsoft's Windows commercial revenue, which involves direct license purchases by businesses, rose 13%. Hood noted this business saw "strong double-digit" billings growth, and is benefiting from the growing adoption of Microsoft 365 subscription plans that combine Windows 10, Office 365 and security offerings.
6. With One Exception, Other Major Businesses Also Grew
With the current game console cycle nearing its end, Microsoft's gaming revenue fell 10% to $2.05 billion, with Xbox software and services revenue dropping 3%. But other major businesses all saw top-line growth.
LinkedIn revenue grew 25%, with Marketing Solutions (ad) revenue growing 42% and user sessions rising 22%. Dynamics revenue grew 12%, with revenue for Dynamics 365 cloud business apps rising 45%. Search ad revenue rose 9% excluding traffic acquisition costs (revenue-sharing payments). Surface revenue, which is benefiting from recent product refreshes, rose 14% to $1.35 billion.
And though these businesses are being cannibalized by Azure and other public cloud platforms, Microsoft's server products revenue rose 5% and its enterprise services revenue rose 4%. The company did note that server products sales are benefiting from the pending end of support for the Windows Server 2008 OS and the SQL Server 2008 database, and from the recent GitHub acquisition.
7. A Strong Dollar Remains a Headwind
As was the case in the March quarter, currency swings had a 2-percentage-point impact on revenue growth: Sales rose 12% in dollars and 16% in constant currency (CC), while commercial bookings grew 22% in dollars and 25% in CC.
Microsoft expects forex to also have a 2-point impact on the September quarter's sales growth, albeit while reducing cost/expense growth by 1 point.
8. Capital Spending Grew Strongly
Microsoft's 54 Azure data center regions don't pay for themselves: After accounting for assets acquired via capital leases, capex rose to $5.3 billion from a March quarter level of $3.4 billion and a year-ago level of $4.1 billion. On the call, Hood forecast capex will also rise in fiscal 2020, but didn't say by how much.
9. Margins Continued Improving
Microsoft's company-wide gross margin (GM) rose by 2 points annually to 69%. Helping out: The company's closely-watched Commercial Cloud GM rose by 6 points to 65%, as improving Azure GMs offset the margin pressure caused by a mix shift towards relatively low-margin Azure IaaS and PaaS revenue.
Hood forecast Microsoft's Commercial Cloud GM will be up "slightly" in fiscal 2020, amid "meaningful improvement" in Azure's GM. She did add, however, that Azure's IaaS/PaaS growth will "create long-term pressure" on GMs, albeit while ultimately growing the number of gross profit dollars Microsoft sees.
10. Buybacks Didn't Let Up
Microsoft's strong 2019 rally didn't stop the company from spending another $4.2 billion on buybacks during the quarter. With Microsoft possessing about $52 billion in net cash (cash minus debt), and with the company expected to produce over $40 billion in free cash flow in fiscal 2020, it can buy back plenty of additional shares if it wishes.
TheStreet's Eric Jhonsa previously covered Microsoft's earnings report and call through a live blog.