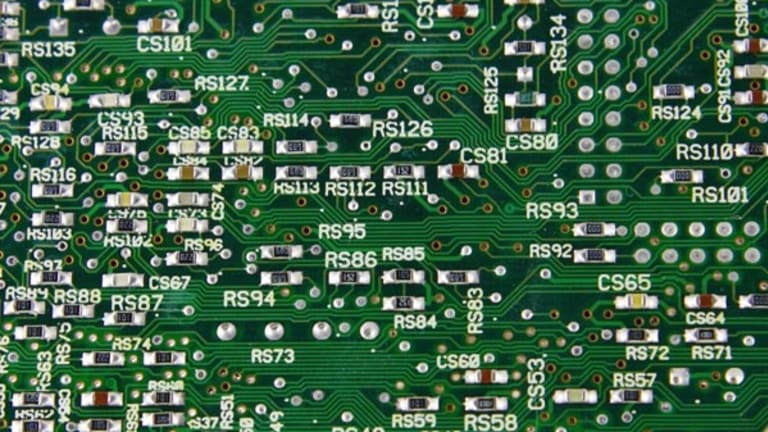 Microsoft Chart Shows Now Isn't a Good Time to Buy
If you are a trader, there are many other stocks that offer more promising setups than Microsoft.
NEW YORK (TheStreet) -- Over time, every star falls. In the stock market, some fall harder than others and some never rise again.
Microsoft was once a star having experienced the meteoric rise to the top in the 1990s and having languished ever since. The company is set to release earnings tonight after the bell and analysts don't seem to have much enthusiasm about the prospects nor do the charts.
To put things into perspective, here is a weekly chart that superimposes the Nasdaq's performance as compared to Microsoft. It expresses the ho-hum expectations and underperformance of the stock quite vividly.
What this chart shows, is an absolute lack of interest in owning Microsoft. Last year, as the general market struggled, Microsoft struggled more deeply. Once the Nasdaq began to rise, Microsoft rose as well -- at least at the beginning. Then it turned and headed south while the general market continued higher. At this juncture it has underperformed to the tune of almost 25% over this time frame. Ouch!
If you pull the chart back further though, it's a very different picture.
Investors in Microsoft had outperformed the Nasdaq hands down until the second quarter of 2010. These two charts underline the importance of timing. Stocks do not rise or fall forever -- they ebb and they flow. So you are probably wondering, given that Microsoft has badly underperformed for the past year, is now the time to be buying Microsoft?
To try and answer this, here is a two-year weekly chart of Microsoft.
What this chart tells me is no, it isn't time to buy yet. Microsoft is stuck in a range. It has two reasonably well defined zones and the range is rather small. Until the stock finds a way to break out (up or down) there isn't much to do but sell the tops of the range and buy the bottoms. Unfortunately, even if your timing is excellent, the odds of making enough money to make this worth the effort is small.
Since the beginning of 2011, there is nothing in the charts to suggest that anything has changed. Until there is some sign of interest -- some pick up in volume along with price that allows the stock to penetrate one of these two zones -- there is little here of interest.
If you are long-term holder, then holding still probably continues to make sense. If you haven't sold by now, there is nothing compelling enough to suggest that you should sell now. If you are a trader, there are many other stocks that offer more promising setups than Microsoft.
Thanks for reading and until next time, just keep trading the charts!
At the time of publication, Little had no position in MSFT.
L.A. Little, author, professional trader and money manager, writes daily on
www.tatoday.com
, a free educational site for traders and investors. He has been featured in numerous publications and is the author of
.
His background includes degrees in philosophy, computer science, computer information systems and telecommunications. With a trading philosophy centered on capital protection first and the accumulation of consistent gains over time, L.A. espouses a simplistic technical approach to trading the markets that is a throwback to the days of past. With a focus on swing points and the qualification of trends, L.A. provides a breath of fresh air to an otherwise crowded room of derivative indicators with the emphasis on technical minutiae.