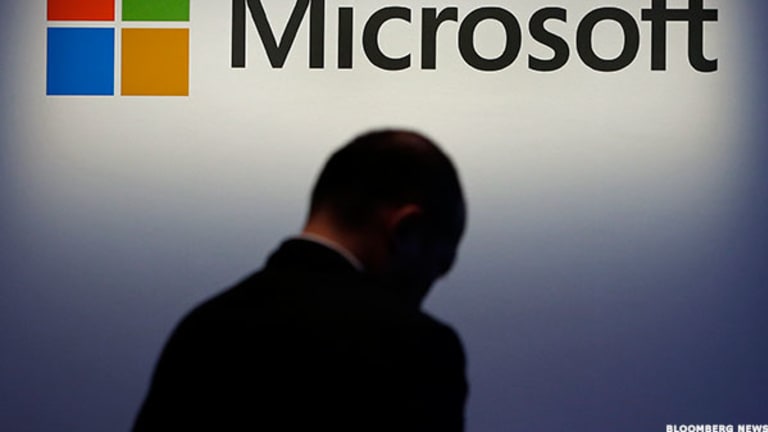 Microsoft CEO Chatter Heats Up Amid Surface Results
As Microsoft Surface sales improve and the company moves closer to concluding its Nokia devices acquisition, all eyes are now pointing towards an internal candidate for the new CEO.
NEW YORK
(
)
--
For some investors,
Microsoft's
(MSFT) - Get Microsoft Corporation Report
Surface has been an embodiment of the technology giant's strategic shift towards combining hardware and software offerings. Microsoft's next CEO must build upon improving sales, as the company moves into new initiatives. 
Prominent Microsoft names being floated around include Stephen Elop, who's returning to Microsoft as the head of the devices division following Microsoft's decision to buy
Nokia's
NOK Devices & Services unit and license patents for $7.2 billion. Elop previously served as a Microsoft executive and Nokia's former CEO.  
There's also Microsoft COO Kevin Turner, and Satya Nadella, Microsoft's executive vice president of the Cloud and Enterprise group. Netflix (NFLX) - Get Netflix, Inc. Report CEO Reed Hastings, a former Microsoft board member, and eBay (EBAY) - Get eBay Inc. Report CEO John Donahoe are speculated as non-related potential choices.
Tony Ursillo, a technology analyst with Loomis, Sayles & Co. said he thinks Nadella would be the most logical candidate given his broad experience and long history within Microsoft itself. "His exposure overlaps strategically with the direction the company would like to go," Ursillo explained. "The strategy is devices and services, and he's certainly on the services side of things ... but that ends up marrying the consumer side with the enterprise side, which is why I think he's uniquely capable as far as internal candidates go."
Jack Gold, the principal analyst at
J. Gold Associates
, believes Elop is the most qualified, having already demonstrated the grit needed to lead large corporations in good times and bad. Combined with his experience managing Nokia's devices team could see Elop bring both the technology and leadership know-how for carrying out Microsoft's mission.
The company's upbeat fiscal first-quarter Surface numbers provide an example of the merits of the massive strategic shift and helps to quash notions that the company will seek out an outsider to step in and enact a major turnaround amid company growth concerns. Instead, it's fueling confidence that the Redmond, Washington company will stay the current course and will promote to chief executive an expert in both hardware and software from within its ranks to replace current CEO Steve Ballmer when he steps down possibly some time next year or even earlier.
Last week Microsoft boasted Surface tablet results that surprised to the upside, with revenues increasing to $400 million for the quarter ended Sept. 30. The number of units sold doubled over the prior quarter, as the holiday season approaches. That's the opposite of Microsoft's previous quarter, when it was forced to take a substantial Surface write-down, leading investors to expect little from the Surface this quarter. In fiscal 2013, Microsoft sold only $853 million worth of Surface tablets.
Morningstar
technology analyst Norman Young notes first-quarter Surface numbers demonstrated "a definite improvement," though stated the progress in absolute terms was a bit more difficult to determine, given the need for more detail on the exact number of units sold and the company's discounting for the back to school season. Kevin Walkush, a business analyst at
Jensen Investment Management
, which owns 6.6 million Microsoft shares, agreed that "it was nice to see a gain on Surface unit sales especially considering that it was a quarter before the launch of the Surface 2 and Surface Pro 2 tablets."
"It just depends on what your perception of Microsoft truly is at the moment," said Daniel Morgan, a fund manager at Synovus Trust Co., an owner of Microsoft. "It kind of goes back to the kind of guy the board feels they need: is it a turnaround guy? Is it a guy that kind of just facilitates what's already in place? Is it somebody that has success in a non-related technology field that seems to be a good overseer? That's the big question."
Morgan says a leader from a non-related technology field would be useful for applying fresh perspectives.  However, he's predicting that Microsoft will promote from within following first quarter results. "It wasn't a quarter where you throw your hands up and say 'Wow, Microsoft still is not on track and they're still heavily tied to the PC cycle, they still have a lot of issues.'"
Meanwhile, prospects of
Ford
(F) - Get Ford Motor Company Report
CEO and former
Boeing
(BA) - Get Boeing Company Report
executive Alan Mulally taking over the reins at Microsoft have begun to fizzle, in light of the company's latest quarterly results and after speculation about his candidacy was widely spoken about. Technology analysts, while lauding his outstanding leadership track record, say Mullaly's set of skills and experiences wouldn't be able to bridge the wide gulf between the vastly different market and product innovation cycles of the technology and airline and auto industries, especially in the face of stiff competition from
Apple
(AAPL) - Get Apple Inc. Report
and
Google
(GOOG) - Get Alphabet Inc. Class C Report
.
"The biggest challenge will be a cultural one," added
Morningstar's
Young regarding the CEO vetting process. "This re-organization is a meaningful change from the past organization and a main part of the change will be changing the employees' mindsets on collaboration."
--
Written by Andrea Tse in New York