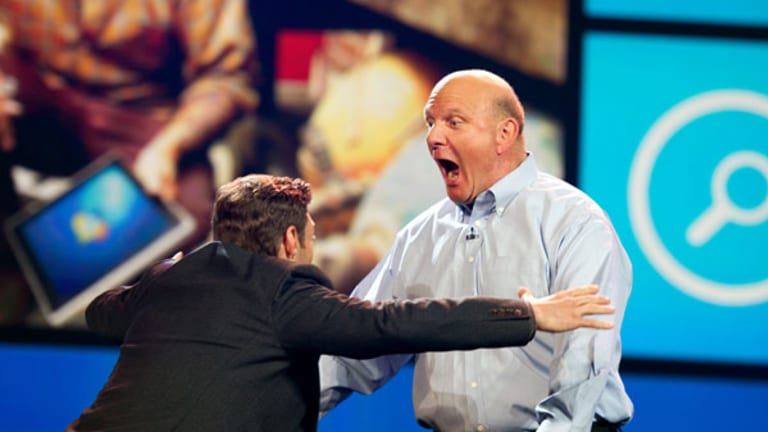 Microsoft: After Ballmer, CEO Questions Remain (Update 1)
With Microsoft CEO Steve Ballmer set to step down there's intense speculation about his replacement.
Updated to include quotes in the last paragraph.
NEW YORK (
) --
Microsoft
(MSFT) - Get Microsoft Corporation Report
CEO Steve Ballmer is set to step down in the next 12 months, as the company tries to remake itself in the eyes of investors, the media and its critics. It's doing this in hopes that it becomes more relevant in an ever-changing technological environment, one which is rapidly shifting towards mobile computing, something Microsoft has badly missed over the years.
Working out Ballmer's most likely replacement, however, is easier said than done.
In a poll on
, 33% of respondents said Ballmer should be replaced by one of the names not on the list. The list comprised former
Apple
(AAPL) - Get Apple Inc. Report
software guru Scott Forstall, former Microsoft executives Ray Ozzie and Steven Sinofsky and
Nokia
CEO Stephen Elop.
However, there was no consensus, further emphasizing that whoever does take the job is going to have incredibly big shoes to fill, and will be heavily scrutinized.
Some names that were mentioned in the comment field were
LinkedIn
(LNKD)
CEO Jeff Weiner, venture capitalist Marc Andreesen of
Andreesen, Horowitz
and even Joe Belfiore, who runs the team doing Windows Phone product definition & design.
Among the names mentioned in the poll, Forstall has received the most support, getting 21% of the votes. Behind Forstall, who was
from Apple in October, was Elop with 17% of the vote. Tied with 14% are Ray Ozzie, Microsoft's former Chief Technical Officer and Chief Software Architect between 2005 and 2010, and Steven Sinofsky, who led the Windows division at Microsoft, before being replaced earlier this year. Some 461 people have voted in the poll.
It's clear that whoever replaces Ballmer will not only have to remake the company into a "successful devices and services company," as the
announcing Ballmer's retirement so aptly stated, but will also have to deal with pressure from activist investor
ValueAct Capital
.
Since Ballmer took over the CEO job in January 2000, Microsoft shares have drastically underperformed the
Nasdaq
. The share price performance, when not including dividend payouts, has been relatively flat over the past decade, signaling that a change was long overdue.
data by
In a
on
AllThingsD
, it's suggested that Ballmer's departure happened faster than the company let on. ValueAct may press the company for a much bigger dividend and stock buyback, and has until Aug. 30 if it plans to wage a proxy war with the Redmond, Wash.-based tech giant. A proxy war is not something the company needs while it searches for a new CEO, whether externally or internally.
Of course, it hasn't been all bad for Microsoft under Ballmer. The company has finally embraced the cloud, moving Office to the cloud with Office 365, albeit years too late. It's the leader in the video game industry with Xbox, though Xbox One has drawn lots of scrutiny prior to its release. Products such as Windows XP and Windows 7 were marked improvements over their predecessors. The company purchased
Skype
to enhance its productivity suite. Like most things Microsoft, you take the good with the bad, and there was plenty of good under Ballmer, but not enough good to make shareholders happy.
What happens next for the software giant remains to be seen, with the looming threat of a ValueAct proxy war, a search for a new CEO, and
. The next man (or woman) who takes over from Steve Ballmer will have their hands full, as the company tries to remain relevant in the 21st century.
Joseph M. Pastore, Jr., professor emeritus in residence at Pace University's Lubin School of Business in New York, said he believes that whoever follows Ballmer will wind up leading the company into a completely new forum, moving away from what Microsoft was founded on.
"Ballmer was left to close the door on the firm's entrepreneurial past," Pastore said in an email. "As for who will open a new door, it's little surprise that there is no 'crowned prince.' Structure follows strategy. Absent the latter, there can be no former. But, we'll know it when we see it."
--
Written by Chris Ciaccia in New York
>Contact by
.