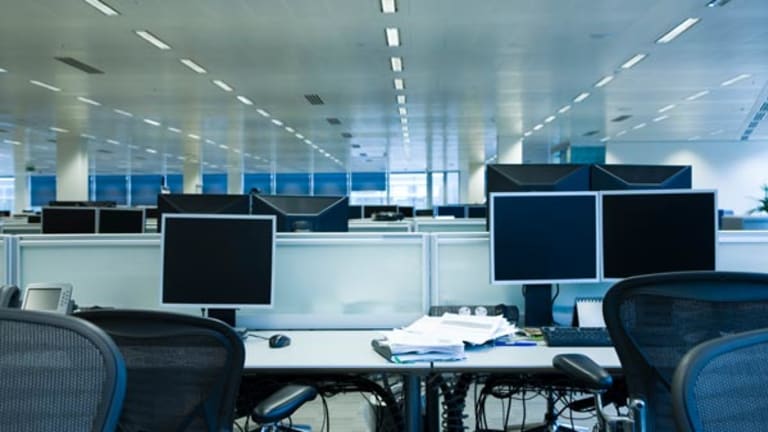 Micron Technology: Bull Case vs. Bear Case
Are you a bull or bear on Micron Technology stock? Read on for analysts' bull and bear views on the stock.
(Micron Technology story updated with most recent Goldman Sachs report detailing a downgrade of the stock)

NEW YORK (
) --
Bull Case Presented by Morningstar's John Ayling:
"NAND-based solid state drives (SSDs) are a growth opportunity for Micron. SSDs, which store information in computers, may replace traditional hard drives."
Bear Case Presented by Morningstar's John Ayling:
"Micron's Lexar subsidiary faces strong buyer power, as it sells its NAND flash products through retail giants such as
Wal-Mart
(WMT) - Get Walmart Inc. Report
."
Auriga USA's Stock Rating:
Maintains buy rating, slashes price target to $11 from $13.
Auriga greatly reduced its revenue and EPS estimates for Micron on fast-declining DRAM and NAND pricing. "Memory fundamentals have slipped more rapidly than we had anticipated due to weak PC and consumer electronics demand," Auriga analyst Daniel Berenbaum wrote in a recent equity research report. "
Still, Berenbaum said his model suggests that even in a weak pricing environment, Micron Technology will continue to produce about $2 billion in free cash flow over the next two years -- even with rising capex requirements. "With the stock trading at tangible book value, we see risk-reward skewed to the upside," Berenbaum said.
Modeling in lower DRAM and NAND pricing, Berenbaum lowered his fiscal year 2010 pro-forma EPS estimate to $1.39 from the previously expected $1.42, and kept his revenue estimate at $8.6 billion. Analysts on average were expecting 2010 earnings of $1.92 a share on revenue of $8.7 billion.
Berenbaum also lowered his fiscal year 2011 EPS estimate -- to 48 cents a share from the previously expected $1.82 a share, and revenue estimate to $8.9 billion from the previously-expected $10.3 billion. The consensus estimate for 2011 was $1.78 a share on revenue of $11.1 billion.
Bull Case Presented by Morningstar's John Ayling:
"Micron is among the industry leaders in DRAM and NAND manufacturing process technology, which allows the company to control costs better than some competitors."
Bear Case Presented by Morningstar's John Ayling:
"In the digital memory market, Micron faces tough competition from Samsung, Hynix, SanDisk and Elpida."
UBS's Stock Rating:
Maintains neutral rating, slashes price target to $7 from $9. UBS reduced the price target amid worse-than-expected September DRAM prices and UBS's cautious view on PCs going into the year end. "Based on the historical relationship between DRAM pricing and Micron stock performance, we believe the declining DRAM ASP trends will continue to exert pressure on Micron shares," UBS analysts Uche Orji and Steven Chin said in a client note.
Micron has also reduced its PC forecast to 15% growth from 18% growth for fiscal year 2010, given poor back-to-school sales, cautious outlook for the fourth quarter, uncertainty around October Golden Week sales, and despite the recent uptick in PC demand due to channel stocking ahead of the fourth quarter. "Our recent Asia trip checks suggest pressure on PC component vendors remains intense as retailers and OEMs are pushing for price cuts in order to provide price promotions in the fourth-quarter shopping season."
The analysts' fiscal year 2011 forecasts were reduced to earnings of 83 cents a share from $1.06 a share and revenue of $9.3 billion from $10.1 billion.
Bull Case Presented by Morningstar's John Ayling:
"Micron has the ability to shift its production capacity between DRAM and NAND, which, theoretically, could allow the company to benefit from focusing on whatever product commands better profitability at a given time."
Bear Case Presented by Morningstar's John Ayling:
"The Numonyx acquisition will expose Micron to the challenges of the NOR flash memory market, which is commodity-like and mature in nature."
Raymond James' Stock Rating:
Strong buy, with $23 price target. "We continue to believe that Micron is in a favorable position," Raymond James analysts Hans Mosesmann and Savanthi Syth wrote in an equity research report, after recently meeting with Micron vice president of investor relations Kipp Bedard.
The analysts said that the favorable position was being driven by supply constraints in DDR3 DRAMs and relatively benign overall supply-demand stability -- even with the recent slowdown in consumer PCs, the early stages of a multi-year O/S (operating system) upgrade PC cycle in Win7, and new capacity from the company's Inotera JV, which is expected to double its DRAM market share by early 2011, the analysts said.
"This planetary alignment has not been seen since the early 1990s and is an opportunity for investors," Mosesmann and Bedard remarked.
Bull Case Presented by Morningstar's John Ayling:
"Micron's planned acquisition of Numonyx would give the firm greater scale, further diversification and access to phase-change memory, which could be a potentially disruptive technology in the industry a few years down the road."
Avian Securities' Stock Rating:
Positive, with $9 price target. "We have recently been increasingly more negative on memory, specifically NAND. As a result, we downgraded
SanDisk
(SNDK)
but feel that downgrading Micron Technology at this point seems counterproductive despite the negative data points," Avian analyst Dunham Winoto told clients in an investor note.
"While there are several reasons for our thinking, the most compelling argument is that in the past whenever Micron Technology is below 1x book -- around where it is now -- it has historically been a signal to go long."
Goldman Sach's Stock Rating:
Neutral, slashes price target to $7.85 from $12. "When we added Micron to the buy list in June, our bullish thesis was premised on margin expansion and upward Street estimate revisions driving the stock higher through the year end," Goldman Sachs analysts Kate Kotlarsky, James Covello and Mark Delaney wrote in an investor note. "We expected the estimate revisions to be driven by favorable DRAM/NAND supply-demand dynamics and significant cost reductions through
the first half of 2011.
However, we underestimated the impact tablets would have on the PC supply chain, with tablets cannibalizing notebooks faster and to a greater degree than we had expected." The analysts added, "Micron's cost reductions were negatively impacted by Inotera's delay of its 50nm transition, leading to margin deterioration" in the third quarter of calendar year 2010.
The Goldman Sachs analysts have lowered their calendar year 2010 and 2011 EPS estimates for Micron to $1.60 and $1.75 respectively, from $1.80 and $2.45 respectively, mainly on lower ASPs.
Kotlarsky, Covello and Delaney said although they continue to believe that Micron's margins will improve in the first half of fiscal year 2011, they expect DRAM fundamentals to be less favorable starting in the fourth quarter of 2010, making it difficult for the stock to outperform peers. They see better relative upside in other semiconductor names and "would put new money to work" in
Texas Instruments
(TXN) - Get Texas Instruments Incorporated Report
,
Broadcom
undefined
and
NXP Semiconductors
(NXPI) - Get NXP Semiconductors NV Report
.
-- Written by Andrea Tse in New York.
>To contact the writer of this article, click here:
Andrea Tse
.
>To follow the writer on Twitter, go to
.
>To submit a news tip, send an email to:
.
RELATED STORIES:
>>Cree Stock: Bull Case vs. Bear Case
>>Coca Cola Stock: Bull Case vs. Bear Case
>>Altria Stock: Bull Case vs. Bear Case
>>Sprint Nextel: Bull and Bear Cases
>>Ford Stock: Bull Case or Bear Case?
Copyright 2010 TheStreet.com Inc. All rights reserved. This material may not be published, broadcast, rewritten, or redistributed.