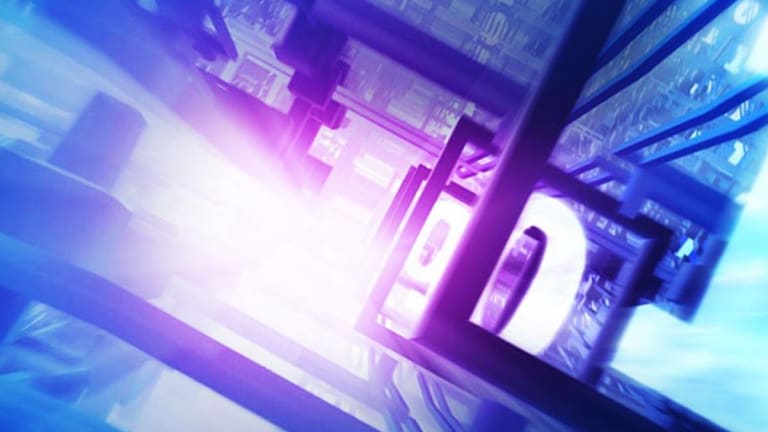 Micron's Plans to Buy Out Intel's JV Stake Strengthen its Data Center Hand
Among other things, the JV is for now the sole manufacturer of a cutting-edge memory technology that could be widely used in enterprise and cloud data centers.
Flush with cash after a major DRAM boom cycle, Micron Technology Inc. (MU) - Get Micron Technology, Inc. Report now plans to use some of its profit windfall to bolster its non-DRAM operations.
There's some risk in such a move, since Micron is committing to upping its exposure to a NAND flash memory market being hit by major price declines that might last well into 2019. However, Micron's move also increases the scale of its non-DRAM operations and gives it stronger exposure to a next-gen memory technology that's likely to play an important role in its efforts to grow data center memory sales.
On Thursday afternoon, Micron announced it plans to exercise a $1.5 billion option to buy Intel's (INTC) - Get Intel Corporation Report 49% stake in the companies' IM Flash Technologies (IMFT) JV. The option is exercisable on Jan. 1, 2019, and Micron says the deal will close six to 12 months after.
In a statement, Intel suggests the timing of the deal's closing is at its discretion for up to a year after the option is exercised, while indicating it long expected Micron's decision. The companies have already made a pair of announcements this year that between them that signal the end of their age-old R&D partnership for developing non-volatile memory technologies.
IMFT owns a manufacturing plant (fab) in Lehi, Utah that both produces NAND flash memory and is for now the sole manufacturer of 3D XPoint (pronounced 3D cross-point), a memory technology that Micron and Intel co-developed and announced to much fanfare in mid-2015. Intel, via its Optane product line, has a head-start on Micron in launching 3D XPoint-based products. However, Micron, via its QuantX brand, plans to launch its own 3D XPoint offerings in late 2019, using a second generatio version of the technology.
What's so great about 3D XPoint? In a nutshell, it carves out a middle ground between DRAM (very fast, but not dense, relatively expensive and volatile, or unable to retain its data when power is lost) and NAND (cheap, dense and non-volatile, but relatively slow). Though more expensive than NAND -- particularly in these early days -- and not as fast as DRAM, 3D XPoint is much faster than NAND and much cheaper than DRAM, and like NAND is non-volatile.
That opens up a lot of potential applications. Games can get a boost from using 3D XPoint solid-state drives (SSDs) for storage rather than conventional NAND SSDs, as could demanding workstation applications. Within data centers -- probably the largest market for the technology over the next few years -- 3D XPoint could improve the performance of demanding AI and high-performance computing (HPC) applications and enable larger deployments of high-speed, in-memory databases than what's possible using DRAM.
And in both the PC/workstation and data center markets, 3D XPoint drives can work in tandem with slower types of storage to act as a high-speed cache for important or frequently-accessed data.
Intel has already rolled out Optane solid-state drives (SSDs) that (for a price) in many benchmarks deliver performance well above that of NAND SSDs. And in the server market, the company has also unveiled Optane main memory sticks (DIMMs) that pack a whopping 512GB of memory. Alphabet/Google (GOOGL) - Get Alphabet Inc. Class A Report is an initial buyer of the DIMMs, which are due to become "generally available" next year.
It should only be a matter of time before Micron, which has made data center sales a priority for both its DRAM and NAND businesses, launches its own 3D XPoint SSDs and DIMMs. And by taking sole ownership of IMFT, it stands to have both greater revenue exposure to 3D XPoint and have full control of how IMFT ramps its 3D XPoint production.
The deal might also give Micron an opportunity over the long run to profit from selling 3D XPoint chips to Intel, given that Intel plans to buy 3D XPoint chips from Micron for a year after the deal's closing and could potentially continue doing so afterwards. However, it wouldn't be surprising if Intel eventually began relying on a giant flash memory plant it has built in Dalian, China to source the chips used by its Optane line.
Either way, the deal looks like a strategically sound one for Micron, which ended its August quarter with $2.7 billion in net cash (cash minus debt) and is expected on average by analysts to produce $8.3 billion in free cash flow (FCF) in fiscal 2019 (it ends in Aug. 2019). Though Micron has also launched a $10 billion stock buyback program and there's some risk that near-term analyst estimates could drop given NAND and (to a lesser extent) DRAM price pressures, the company's cash-flow profile clearly makes its planned IMFT deal an easy one to digest.
And with Micron already eager to grow its sales to a data center memory market set to benefit from rising cloud capital spending, the displacement of hard drives by SSDs and strong uptake for demanding, memory-intensive applications, the deal's timing looks pretty good.
Alphabet is a holding in Jim Cramer's Action Alerts PLUS Charitable Trust Portfolio. Want to be alerted before Cramer buys or sells these stocks? Learn more now.