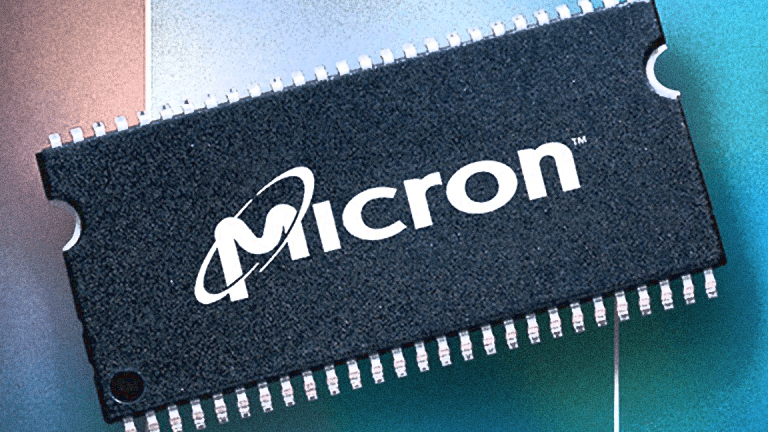 Micron Jumps on Better-Than-Feared Results and Guidance: 7 Key Takeaways
Though Micron is still reporting large revenue and memory price declines, its numbers and DRAM outlook were stronger than many feared.
A May quarter beat and relatively positive DRAM demand outlook are giving a boost to Micron's (MU) - Get Micron Technology, Inc. Report shares post-earnings.
After the bell on Tuesday, Micron reported May quarter (fiscal third quarter) revenue of $4.79 billion (down 39% annually) and non-GAAP EPS of $1.05. Those numbers topped consensus analyst estimates of $4.69 billion and $0.79.
On its earnings call, the memory giant guided for August quarter revenue of $4.3 billion to $4.7 billion (down 47% annually at the midpoint) and EPS of $0.38 to $0.52. Revenue guidance is below a consensus of $4.56 billion at its $4.5 billion midpoint, while EPS guidance is entirely below a consensus of $0.58.
Nonetheless, with Micron's shares having fallen sharply since early May and near-term expectations fairly low, markets are responding positively to the numbers. As of the time of this article, shares are up 8.2% in after-hours trading to $35.35.
Here are some notable takeaways from Micron's earnings report and call.
1. Micron Slightly Improved its DRAM Demand Outlook
In March, Micron forecast DRAM industry bit supply would grow by a mid-to-high teens percentage in 2019, and that industry bit demand would grow by a low-to-mid teens percentage. Now, although Micron admits the DRAM market is still oversupplied for the time being, the company is guiding for mid-teens 2019 bit demand growth, while maintaining its prior bit supply outlook.
Though the Huawei parts ban is a headwind (more on that shortly) and Micron indicated DRAM inventories among enterprise server customers are "taking somewhat longer to normalize than [it] had previously expected," the company sees normalizing customer inventories among cloud and graphics DRAM clients, and also a pickup in PC DRAM demand as Intel  (INTC) - Get Intel Corporation Report CPU shortages ease. As a result, Micron expects "strong growth" for its cloud, graphics and PC DRAM shipments in the August quarter, followed by "more normal bit growth" in the November quarter.
2. Micron Is Maintaining its NAND Supply and Demand Outlooks
As was the case in March, Micron forecasts NAND flash memory industry bit supply will grow by a high-30s percentage in 2019, and that bit demand will grow by a mid-30s percentage. However, with the NAND market also still oversupplied, Micron says it's now cutting its NAND chip wafer starts by about 10%, up from a prior 5%.
DRAM accounted for 64% of Micron's revenue last quarter, and NAND 31% of revenue.

Micron's latest outlook for 2019 DRAM and NAND flash memory supply and demand growth. Source: Micron.
3. Prices and Margins Remain Under Pressure
After having respectively dropped by low-20s and mid-20s percentages sequentially during its February quarter, Micron's DRAM and NAND average selling prices (ASPs) fell by about 20% and a mid-teens percentage during the May quarter.
Thanks in large part to these price declines, Micron's non-GAAP gross margin (GM) fell to 39.3% last quarter from 50.2% in the February quarter and 60.9% a year ago. And for the August quarter, Micron has set a GM guidance range of 27.5% to 30.5%.
The company does note that production ramps for its 1y DRAM manufacturing process and high-density, 96-layer, 3D NAND chips are propping up its margins some, and that its bottom line looks stronger than it did during the last industry downturn, when Micron reported losses for three quarters.
4. Capital Spending Is Expected to Be 'Meaningfully Lower' in Fiscal 2020
After having cut its fiscal 2019 (ends in Aug. 2019) capital spending budget in both December and March, Micron is maintaining fiscal 2019 capex guidance of roughly $9 billion. However, it expects capex to be "meaningfully lower" in fiscal 2020, as the company tries to keep DRAM and NAND supply growth "aligned" with its expectations for demand growth.
For comparison, the consensus was for Micron's capex to drop to $8.5 billion in fiscal 2020. In spite of Micron's capex comments, shares of chip equipment suppliers Applied Materials (AMAT) - Get Applied Materials, Inc. Report and Lam Research  (LRCX) - Get Lam Research Corporation Report both rose about 1% in after-hours trading, as investors took some heart in the company's May quarter beat and DRAM demand outlook. Formal fiscal 2020 capex guidance is likely to be shared at the time of Micron's August quarter report.
5. Inventories Continued Growing
Though Micron is seeing some of its customers' inventories normalize, the company's own inventories rose 12% sequentially and 36% annually to $4.91 billion. Days of inventory outstanding rose by another 8 sequentially to 151.
"To meet expected bit demand growth, we're carrying higher levels of NAND inventory in calendar 2019 and 2020," said CFO Dave Zinser on the call. "We also project to carry higher-than-normal levels of DRAM inventory in calendar 2019 as industry supply and demand work toward getting into balance."
CEO Sanjay Mehrotra did say that Micron expects DRAM inventories to start dropping and be in "a relatively good spot" by the end of calendar 2019, albeit while adding they might not still be at "optimal levels." He also noted elevated inventories factor into Micron's plans to cut its capex in fiscal 2020, and that since Micron's gross margins are still firmly positive, it doesn't expect any to do any write-downs on the value of its inventory due to memory price declines.
6. Micron Is Still Shipping 'A Subset' of Products to Huawei
Not surprisingly, Micron says the export restrictions placed on Huawei in May weighed on last quarter's DRAM and NAND sales -- the company suggests its quarterly revenue would have been at least $200 million higher otherwise -- and that the ban will also affect its August quarter sales. Micron also disclosed that it wrote down about $40 million worth of Huawei-related inventory.
However, Mehrotra did say that after a review, Micron concluded it could "lawfully resume shipping a subset of current products" to Huawei, and that his company began to do so during the last two weeks. He declined to share just how large these shipments are.
7. Stock Buybacks Slowed
Micron spent $157 million on stock buybacks during the May quarter, down from $702 million in the February quarter and about $1.8 billion in the November quarter
Zinser reiterated Micron's goal of spending at least 50% of its annual free cash flow on buybacks. Worth noting here: Though it's likely to rebound when industry conditions improve, Micron's adjusted free cash flow fell to $500 million in the May quarter from $1 billion in the February quarter and $2.2 billion in the year-ago quarter.
This article has been corrected to state Micron's fiscal third quarter consensus EPS estimate was $0.79.
Lam Research is a holding in Jim Cramer'sAction Alerts PLUS Charitable Trust Portfolio. Want to be alerted before Cramer buys or sells LRCX? Save 57% with our July 4th Sale. Join Jim Cramer's Action Alerts PLUS investment club to become a smarter investor! Click here to sign up!