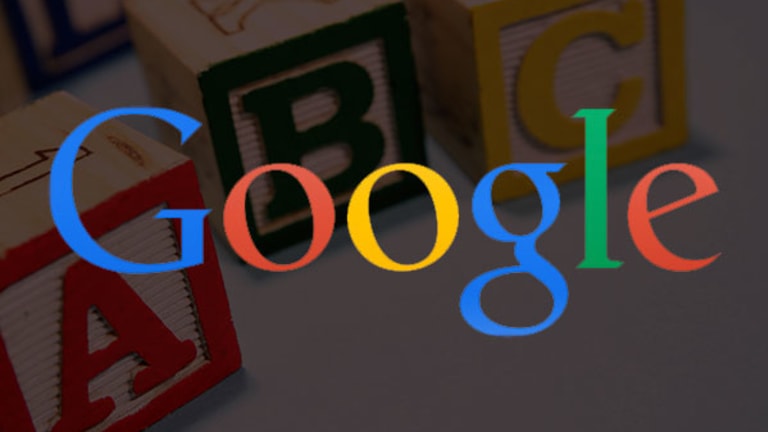 Meet the Former Google Businesses That Will Now Make Up Alphabet
Some of the newly liberated divisions may never make money, but others could become major businesses over time.
NEW YORK ( TheStreet) -- Google (GOOG) - Get Alphabet Inc. Class C Report (GOOGL) - Get Alphabet Inc. Class A Report dropped a bombshell Monday, when it announced it would completely reorganize its operations under a new umbrella company called Alphabet.
As part of the reorganization, a number of businesses will be sliced from Google and transplanted into Alphabet where each will operate as a separate business. Alphabet will be comprised of businesses that weren't tied to Google's core operations like ads and search. 
Google's financials will be reported separately from Alphabet's, beginning in the fourth quarter. All shares of Google will transfer over to shares of Alphabet, and the company will continue to trade on Nasdaq as GOOGL and GOOG.
Deutsche Bank estimates that 2015 net revenue for all Alphabet businesses, excluding Google, will amount to $763 million, while Google's net revenue will amount to $59.3 billion.
Here are the various businesses that will be separating from Google and going to Alphabet:
X Lab
Formerly called Google X, the company's X Lab was created in 2010 and includes a number of far-fetched "science fiction-sounding" projects, such as, self-driving cars, Project Loon (balloon-powered Internet), Google Glass and Wing (Google's drone delivery effort). The secret facility is housed about a half mile from Google's headquarters in Mountain View, Calif., and, as of 2014, was working on eight different projects.
Sergey Brin, Google co-founder and president of Alphabet, will oversee X Lab's efforts, while scientist and entrepreneur Astro Teller will run the day-to-day activities. While Google hasn't shared any numbers for the projects under X Lab, Teller told The New York Times in February that one X Lab project, an artificial intelligence system called the Neural Network Project, "is producing in value for Google something that would be comparable to the total costs of Google X."
"I think generally Google feels the return on investment for Google X has been pretty good so far," he added.
CM Research Managing Director Cyrus Mewawalla agrees that there is definitely a lot of potential with some of the X Lab projects, noting that the potential for both drones and Project Loon, specifically, are huge. But he doubts these projects will turn a profit anytime soon and views them more as long-term investments.
Calico
This division is focused on increasing the human lifespan and slowing aging. Its mission is "to harness advanced technologies to increase our understanding of the biology that controls lifespan." The team is made up of scientists who are experts in medicine, drug development, molecular biology and genetics.
Calico's founder and CEO Arthur Levinson previously served as CEO of Genentech from 1995 to 2009. He also currently serves as chairman of the board at Apple (AAPL) - Get Apple Inc. (AAPL) Report.
Calico is based in San Francisco and was created by Google in 2013. It has since partnered with a number of other companies, such as, AncestryDNA, AbbVie (ABBV) - Get AbbVie, Inc. Report and QB3 to further its research. Calico's partnership with AbbVie, for instance, included a commitment of at least $250 million in investments from each company towards tackling cancer and other diseases.
"At the moment, it'll be cash flow negative I suspect. But, it's quite possible it could be one of their biggest businesses in 15-20 years," CM Research's Mewawalla said.
Google Fiber
Fiber is Google's attempt to make the Internet and television faster using optical fiber. The high-speed broadband business was founded in 2010, with its first launch in the Kansas City area. It now operates in nine U.S. cities, with plans to continue expanding across the country. As of March, Fiber had about 30,000 video subscribers.
Fiber's 1-gigabit Internet service costs $70 a month, and its TV and Internet package costs $120 a month. Consumers have the option of paying a one-time fee of $300 for seven years of slower speeds. Though initially proposed as an experiment, Google has claimed that Fiber can be a viable standalone business.
Nonetheless, some are skeptical. "Fiber is more of a publicity stunt in that Google wants to show the world and telecom operators like AT&T that if you invest heavily in fiber and you invest in the infrastructure software that allows data to move faster, you can achieve wonderful things. I don't think Fiber is a long-term business for Google," CM Research's Mewawalla said. "I don't think it wants to become a telecom operator."
Nest
Nest makes the popular smart thermostat that lets you control the temperature in your apartment from your smartphone. The business also sells smart smoke and carbon monoxide detectors along with a Wi-Fi video streaming camera called Nest Cam (formerly known as Dropcam).
The device maker was founded in 2010 by former Apple engineers Tony Fadell and Matt Rogers. After Google Ventures invested in Nest in 2011, Google wound up acquiring the company in 2014 for $3.2 billion. As the company's main venture into the Internet of Things, Nest taps into an industry that is expected to generate $8.9 trillion in revenue by 2020, according to IDC. Nest is expected to generate $1.4 billion in revenue by 2020, according to Navigant Research.
Nest "is likely to be one of [Alphabet's] most valuable assets," according to CM Research's Mewawalla. "In terms of market share, Nest is a leader in home thermostats and maybe in more of the automated home later on."
Google Ventures
Google's corporate venture capital investment arm Google Ventures was founded in 2009, with a $100 million funding commitment. It operates independently from Google and invests in a variety of early-stage technology startups.
So far, it has invested in more than 300 different companies, including Uber, popular messaging platform Slack, and DocuSign, which enables digital signatures in electronic documents. Google Ventures is particularly focused on machine learning and life science investing.
Today, Google Ventures has about $1.5 billion under management and its initial $100 million commitment has grown to $300 million a year, plus an additional $125 million for European companies. Google Ventures has offices in Mountain View, San Francisco, New York, Cambridge and London.
With these kinds of investments, it's too early to tell whether most will have any return for Google. It usually takes at least 3 to 5 years to evaluate a venture investment, said CM Research's Mewawalla.
Google Capital
Google Capital is a late-stage venture capital fund financed by Google and founded in 2013 with $300 million. The Mountain View-based fund is focused on larger technology companies that are further along in their growth stage than the companies that Google Ventures will fund. Typically, Google Capital will invest in companies for their profit potential, rather than for a strategic fit with Google's operations. In addition to cash, Google Capital offers the expertise of advisers, such as, Google CEO Sundar Pichai.
So far, the fund has invested in 12 companies, including SurveyMonkey, Credit Karma, and Lending Club. It is led by partners David Lawee, Scott Tierney and Gene Frantz.

Life Sciences
This subset of X Lab works on projects that includes smart contact lenses that can sense glucose levels. In 2014, this division also acquired startup Lift Labs, which creates silverware that counters tremors and shaking. Life Sciences has also been working to collect genetic and molecular information through its Baseline Study to create a picture of what a healthy human would look like. Other projects in Life Sciences include a disease-detecting nanoparticle platform and a health-tracking wristband.
The team is led by Andrew Conrad, who co-founded the National Genetics Institute in 1991 and helped set up the North Carolina Research Campus in 2005.