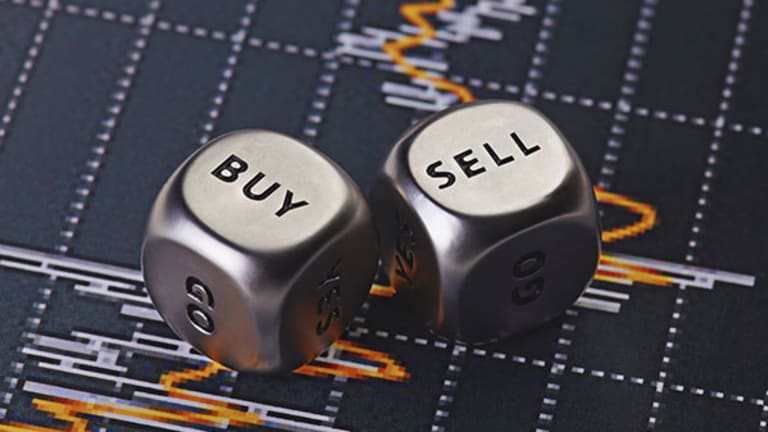 New York (TheStreet) -- Media stocks are looking like they belong in the oil patch. 
Both sectors, media and energy, are being rocked by technological changes overturning traditional ways of doing business. Both are expected to undergo increased consolidation at various points in their respective supply and distribution chains. And stocks in both industries are dragging their knuckles through equity markets.
The S&P 500's Media Index has fallen more than 15% since the sector reported its second-quarter earnings in early August. The S&P 500 undefined , by comparison, has declined 8.7% over the same period. Disney (DIS) - Get Walt Disney Company Report  has tumbled 16% since Aug. 4 while Viacom (VIAB) - Get Viacom Inc. Class B Report has slumped 23% and CBS (CBS) - Get CBS Corporation Class B Report  has dropped a full quarter of its value. That's CBS, the most-watched TV network and owner of a handsome National Football League contract.
Meanwhile, the major oil companies, in the midst of a global supply glut in crude oil that's likely to endure for some time, has sustained even more profound losses. The SPDR S&P Oil and Gas Exploration & Production ETF (XOP) - Get SPDR S&P Oil & Gas Exploration & Production ETF Report is down 31% since the beginning of 2015. Exxon Mobil (XOM) - Get Exxon Mobil Corporation Report has fallen 10% since the end of June while Chevron (CVX) - Get Chevron Corporation Report has dropped almost 16%.
While the parallels between oil and media aren't going unnoticed, analysts are less than keen to make the comparison.
"This is a point of huge instability across the media industry," Cyrus Mewawalla, senior analyst of CM Research, said in a phone call from London. "We're negative on a lot of media because we expect ad revenues and audience numbers to keep going down."
Media companies have been buffeted by the movement of viewers and advertising dollars to streaming services led by Netflix (NFLX) - Get Netflix, Inc. (NFLX) Report and Google's (GOOG) - Get Alphabet Inc. Class C Report (GOOGL) - Get Alphabet Inc. Class A Report YouTube as well as popular sites such as Facebook (FB) - Get Facebook, Inc. Class A Report and those operated byVerizon's (VZ) - Get Verizon Communications Inc. Report Aol.
No distribution channel appears to be safe: Even ESPN, the crown jewel of Disney's media networks business, experienced what CEO Robert Iger called "some modest sub losses" during an Aug. 4 conference call, comments that sent the entire industry into a tailspin. 
"We are realists about the business and about the impact technology has had on how product is distributed, marketed and consumed," Iger said.
The price-to-earnings multiples are similarly depressed. Time Warner  (TWX)  is trading at 13.4 times projected earnings, near its lowest point since November 2012. Fox's (FOX) - Get Fox Corporation Class B Report  is trading at 15.9 estimated earnings, near its lowest point since late 2012. Disney's closed on Friday at 21.22 future earnings, close to its lowest point in 12 months.
With media stocks trading at levels that are attractive on an historic basis, some investors are buying-in, convinced that creators of the most widely consumed content will ultimately be paid fair value for their programming.
"Investors have forgotten why they own these companies," Larry Haverty, a portfolio manager at the Gabelli Multimedia Trust, said in a phone interview. "It's because they produce content and have monstrous libraries. They'll monetize in various ways as the industry moves forward, but the content is what's important."
Fear the Walking Dead, which airs on AMC (AMCX) - Get AMC Networks Inc. Class A Report , was able to draw 10.1 million viewers for its debut, shattering cable records in an age when the pay-TV model is eroding. Star-laden, premium shows like Transparent on Amazon Prime (AMZN) - Get Amazon.com, Inc. Report , House of Cards on Netflix (NFLX) - Get Netflix, Inc. (NFLX) Report and Game of Thrones on HBO GO have proven their ability to draw viewers onto entirely new platforms and services. While the economics of those services is still developing, analysts agree that their shows will be the fundamental driver of their success.
"The valuations of the major media companies are mind-bogglingly low, especially when you look at the cash flows they generate," Haverty added. "With Star Wars on the horizon, Disney is one of the most attractive companies in the space, and Comcast's (CMCSA) - Get Comcast Corporation Class A Report cash flow is very underappreciated."
Media stocks could get a bounce from some longer-term macroeconomic forces, as well. Well-insulated from the turbulence in China that sent markets roiling in late August, media stocks depend fundamentally on the health of the U.S. consumer. This isn't true for the oil sector, whose principal commodity is subject to global fluctuations in supply and demand, as well as international politics and the pace of development in emerging markets.
"Consumer discretionary stocks are still fundamentally strong," said Charlie Bilello, director of research at Pension Partners in New York, "even though the sentiment out there is pretty bearish."
Haverty concurred: "The U.S. consumer is in very good shape," he said, "and that augurs well for the U.S. advertising business."
If the raw commodity of the media trade is content, then quality TV shows, movies and live events can be refined into profits regardless of all the distribution chaos. Unlike with oil, Wall Street is hoping that content will buoy the media trade, instead dragging it into oblivion.