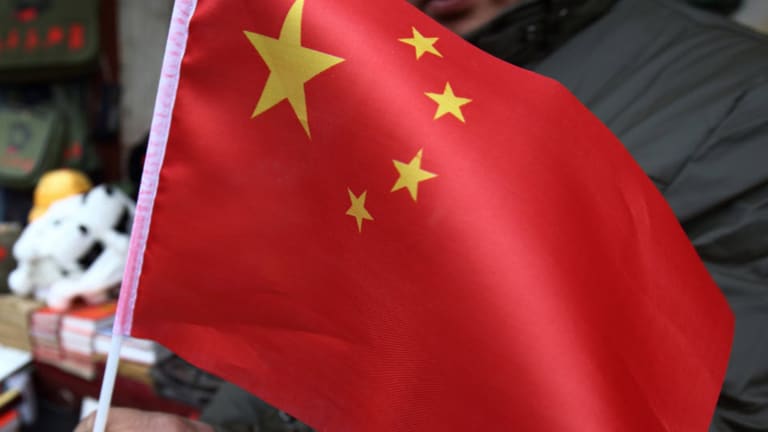 Mary Meeker Report Highlights China's Continued Internet Sector Growth
Kleiner Perkins partner and Internet specialist Mary Meeker says China still showing Internet growth as worldwide usage exhibits signs of slowing down.
NEW YORK (TheStreet) -- For two decades, Mary Meeker's words on the state of the Internet have been held as nearly Gospel by industry executives, analysts and investors.
So it should come as no surprise that Meeker's Internet Trends presentation on Wednesday at the Code Conference in Palos Verdes, Calif., would garner a great deal of attention across the online business sector. Meeker, a partner with the Silicon Valley venture capital firm Kleiner Perkins Caulfield & Byers, brought 197 slides to boost her presentation, which included a detailed look at the rise of Internet and smartphone usage in China.
Among the data points raised by Meeker was the phenomenal growth of Internet users in China compared with 20 years ago. Meeker, who initially made her name as the star Internet analyst at Morgan Stanley (MS) - Get Morgan Stanley Report in the 1990s, said that in 2014, China accounted for 23% of the worlds' 2.8 billion Internet users. The U.S. was the second-largest individual country with 10% of the Internet users worldwide.
Those numbers can be contrasted with the concentration of the world's Internet 35 million users in 1995, when U.S. users made up 61% and Chinese users scarcely figured into the picture.
Meeker said overall Internet user growth remains strong around the world but is showing signs of slowing down. The number of Internet users grew 8% in 2014, but not as much as the 10% increase in 2013 and 11% rise in 2012. Meeker said the number of new Internet users in China increased 7% last year, compared with a 2% rise in the U.S. and 33% spike in India.
Commenting on smartphone subscription growth, Meeker said the situation mirrors that of overall Internet use. According to Meeker, the number of worldwide smartphone subscribers climbed 23% in 2014, to 2.1 billion, but the growth rate was less than the 27% increase in 2013 and the 65% rise in subscribers in 2012. In China, new smartphone subscriber additions surged  21% last year, while the U.S. experienced a 9% increase and India's new smartphone subscribers climbed 55% from a year ago.
The number of what Meeker called "global public Internet companies" based in China provides an indication of how the country's strength in the online sector continues to grow.
As of May, several Chinese companies entered the top 15 companies based on market capitalization. Chinese e-commerce giant Alibaba (BABA) - Get Alibaba Group Holding Ltd. Report is the third-largest company, with a market cap of $232.8 billion, while Internet holding company Tencent is now the sixth-most valuable such company, with a $190 billion market cap. Among Tencent's holdings is the WeChat messaging platform, which Meeker said has almost 550 million monthly users on average.
Chinese Internet search leader Baidu (BIDU) - Get Baidu Inc. Report came in eighth place with a market cap of $71.6 billion, and e-commerce retailer JD.com (JD) - Get JD.com Inc. Report claimed the 11th spot on Meeker's list with its $47.7 billion market capitalization.
Apple (AAPL) - Get Apple Inc. Report holds the top spot with a market cap of $763.6 billion, and Google (GOOG) - Get Alphabet Inc. Class C Report scored the second place with its $373.4 billion market cap.
This article is commentary by an independent contributor. At the time of publication, the author held no positions in the stocks mentioned.