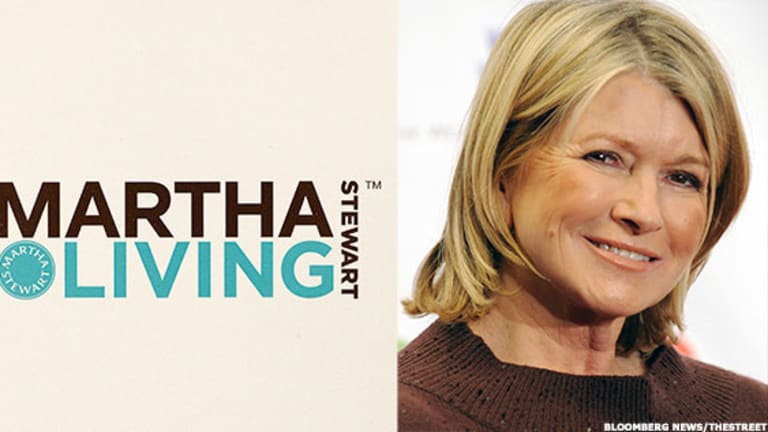 Martha Stewart's Star Falls Hard as Takeover Price Underwhelms Shareholders
Martha Stewart was once a celebrity goddess, but that was before a series of missteps, and legal troubles, sent her star falling.
NEW YORK (TheStreet) -- Martha Stewart has ended up in the bargain bin.
Some 15 years after Martha Stewart Omnimedia (MSO) went public trumpeting the exploits of its namesake superstar celebrity chef and all-around homemaker, the New York-based company is being sold at rock bottom. 
Shares of Martha Stewart's cooking and homemaker business were tumbling Monday as Sequential Brands Group (SQBG) - Get Sequential Brands Group, Inc. Report said it would buy the company for $6.15 a share, well below its Friday closing price of $6.98, and even further below its 1999 opening price of $49.50.
Valuing the company at $353 million is sure to disappoint investors who were looking for as much as $10 per shares. For the moment, the Sequential deal makes plain that Martha Stewart, for all her early firepower, was unable to make the transition to build on her early fame and more recently, make the transition to digital platforms.
"Martha was incredibly innovative in creating the Omnimedia model of connecting television and magazines and books with retail merchandising," said Peter Kreisky, a media strategy consultant, in a phone interview. "But ultimately, Martha Stewart turned out to be the company's greatest asset and its greatest liability. The model needed to be reinvented, and it wasn't."
New York-based Martha Stewart Omnimedia was falling 14% to $6.02 while Sequential's shares were adding 0.3% to $17.05, its investors apparently satisfied it's acquiring a brand with enough firepower to sell licensed product at mass-market retail chains. New York-based Sequential also owns the Jessica Simpson brand as well as the Avia workout gear and Caribbean Joe.
The past year has been a difficult one for Martha Stewart. she was forced to hand over her magazine business to Meredith (MDP) - Get Meredith Corporation Report, owner of Better Homes & Gardens, and first quarter sales fell by 48% to $17.1 million. This was a company that posted sales of $328 million back in 2007. 
Even so, Martha Stewart's stock closed at $5.10 on Wednesday, an 18% gain in 2015, fueled in part by speculation of a impending sale. And indeed when reports surfaced on thursday that Sequential was near to announcing an acquisition for the company, shares in Martha Stewart surged, with investors speculating that a buyout could drive the stock up to $8 or even $9 a share.
But such valuations may have proved to be terribly inflated.
Of course, 15 and 20 years ago, Martha Stewart, 73, was as popular and famous as any celebrity in music or the movies. Her television show Martha Stewart Living was must-see TV, and The Apprentice: Martha Stewart on NBC was watched by more than two million people. The Connecticut-bred stockbroker turned enterprising homemaker was everywhere. Martha Stewart Omnimedia had a market capitalization over $2 billion.
Everything Stewart touched seemed to turn to gold, or just golden fruitcakes. 
"The Omnimedia model was created in the mid-1990s when the Internet was still a toy," Kreisky added. "She did a fantastic job but the company was more an extension of the print and TV product, and digital never became a separate and distinguished platform."
In retrospect, the company never completely recovered from the announcement in 2002 that Stewart was being charged with insider trading in shares of the biotech company ImClone Systems, which was owned by a friend, Samuel D. Waksal, who happened to be dating her daughter. 
Two years later, Stewart was convicted on four counts of obstructing justice and lying to investigators about the conspicuously well-timed stock sale. As a result, she resigned from the company's board and the cosmetics powerhouse, Revlon (REV) - Get Revlon, Inc. Class A Report. For that crime, Stewart served five months in a West Virginia prison. Her show was promptly taken off the air, and in later years became caught in a legal tug-of-war involving Macy's (M) - Get Macy's Inc Report and J.C. Penney (JCP) - Get J. C. Penney Company, Inc. Report.
In the process, Stewart's brand weakened, allowing a whole new generation of would-be celebrity cooks to eclipse the onetime homemaker superstar. 
Building off the Martha Stewart model, Scripps Network Interactive's (SNI) Food Channel has developed a whole stable of celebrity chefs. Food on television and online has transcended recipes, turning the kitchen into a place of entertainment. 
Food and recipes and homemaker offerings are now commonplace, with any number of online options -- UrbanSpoon, Chow -- producing content as easy to share and access as anything coming from Martha Stewart Omnimedia.
"What Food Network has done has really had an impact on Martha Stewart and the whole sector," said Derek Baine, an analyst at SNL Kagan, in a phone interview. "They build a brand around someone, and then come out with cookbooks and web pages. It's definitely more competitive, and in many cases, it's free. For Martha Stewart, it was very difficult to compete with free."
Stewart is to become a "significant stockholder of the new public holding company," and will be nominated to serve on its board as the deal closes, Sequential said in a statement.