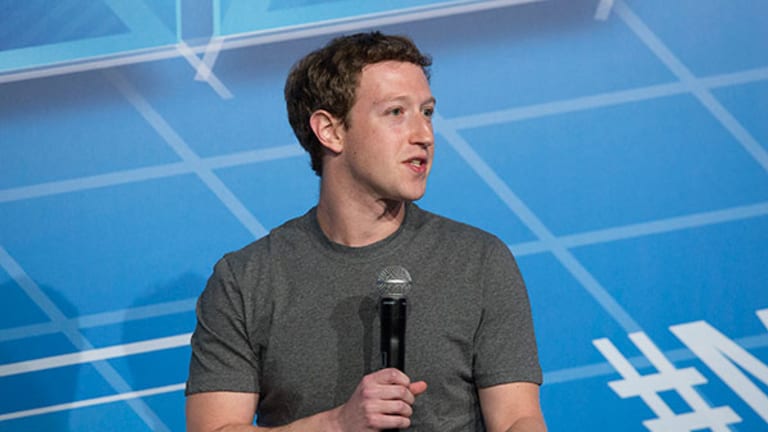 Mark Zuckerberg: The Future of Facebook Will Be Wearable
The Facebook chief tells a live audience at a Colombian university that we're going to see a new computing platform emerge in 10 to 15 years.
The Facebook chief tells a live audience at a Colombian university that we're going to see a new computing platform emerge in 10 to 15 years.
SAN DIEGO, CALIF. (TheStreet) -- In 2025 you could be wearing Facebook (FB) - Get Report on your face if CEO Mark Zuckerberg's vision comes to fruition.
"In another 10 to 15 years ... there will be another platform which is even more natural and even more built into our lives than mobile phones are," Zuckerberg said Wednesday when asked about his 10-year vision for Facebook. "It's pretty easy to imagine that in the future, we will have something that ... we can wear."
The statements, made during in a townhall question-and-answer session held at Pontificia Universidad Javeriana in Bogota, Colombia, echo the CEO's previous remarks on his reasoning behind spending $2 billion on Oculus, which makes a virtual-reality head-mounted display known as the Oculus Rift. Oculus, he asserted Wednesday, is by "far the leader in virtual reality," even though VR technology is still in its very early stages.
Zuckerberg's vision around exactly what we will be wearing to Facebook with each other in 10 years, however, is still pretty fuzzy. Maybe the wearable will look like a normal pair of glasses, he said. But don't worry, those glasses won't look "weird like some of the stuff that exists today. You'll just be able to have context about what's going on around you in the world, and communicate with people, and not have to disrupt your conversations by looking down."
In other words, Oculus is not Google (GOOG) - Get Report (GOOGL) - Get Report Glass.
Zuckerberg's visit to the Columbian university was timed around the launch of Internet.org's services in the country. The social network, in partnership with the government and Tigo, launched the Internet.org app, which comes with free access to government services, Facebook, Facebook Messenger, Wikipedia, AccuWeather, and other Internet services.
The company, said Zuckerberg, doesn't plan to ever provide full access to the Internet for free, but is committed to bringing basic services to everyone in the world free of charge. In addition, once Facebook delivers these connectivity features to the world, the company will turn its attention to driving down the cost of smartphones, Zuckerberg said. The social networking chief hoped to reassure the local audience that the company is thinking about the real challenges lower income people face in gaining access to the Internet, and is genuine in its aims to connect the world.
"If I cared about making more money, I'd take the engineers and people who are working on Internet.org ... and go have them just go work on our ad products," he said.
During the Q&A session, Zuckerberg also fielded questions on News Feed's ranking philosophy, his policy for commenting publicly on terrorist actions (as he did recently), and the launch of Amber Alerts in News Feed. Zuckerberg, however, wasn't asked about, nor did he address, the Wednesday pilot launch of his workplace social network Facebook at Work.
Facebook's stock closed down Wednesday around a quarter of a percent at $76.27. Share prices are off by around 2% since the beginning of the year, and are still down by more than 5% since Facebook's third-quarter earnings report when the company told Wall Street that it planned to spend as much as 75% more in 2015.
--Written by Jennifer Van Grove in San Diego, Calif.
>Contact by Email.